The Most Amazing Product Description EVER.
My friends, you're in for a hell of a treat today, for I stumbled onto a costume accessory at the local Halloween Club seasonal shop that will absolutely astound you. This is something that has ravaged my mind for the past week and only now am I able to even muster the strength... no... the courage to post about it. What I thought was a mere pirate sword turned out to be much, much more upon closer inspection. Let's start with the actual product first: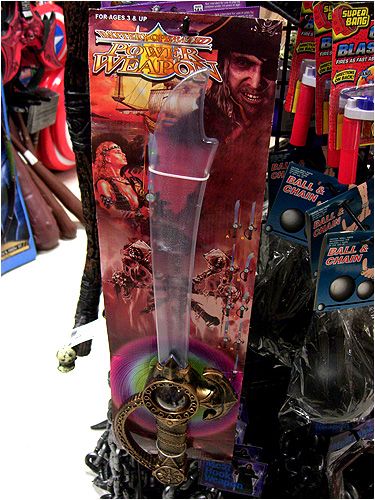 You'd think it would be called something simple like "Pirate Sword" or "Pirate Scimitar", but no, they went with the far more intriguing "Battery Operated Power Weapon" instead. A name like that really makes you believe you're about to purchase more than a mere sword... you're purchasing a weapon with powers that are only limited by the quality of the batteries found within. And then there's the matter of the packaging artwork: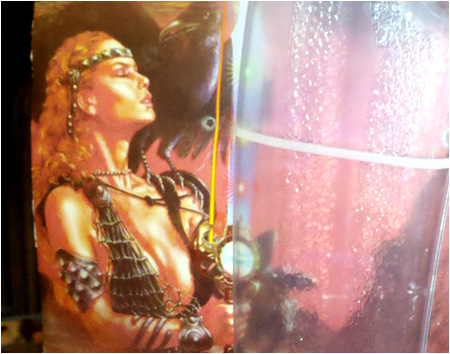 Who is this warrior woman who appears to be straight out of a Conan film? What is the sword doing to her? Is she drawing powers from it? What's with the bird perched upon her shoulders? Is her backstory something akin to The Crow, and now she's back for revenge with the help of her Battery Operated Power Weapon? All I know is, I would stay the hell out of her way, because when she's done having orgasmic reactions to her weapon, chances are she's gonna go out and murder people for fun.
None of this, and I mean NONE OF THIS compares to what I found on the back of the package. Click "more" to hit the jump and have your life changed forever: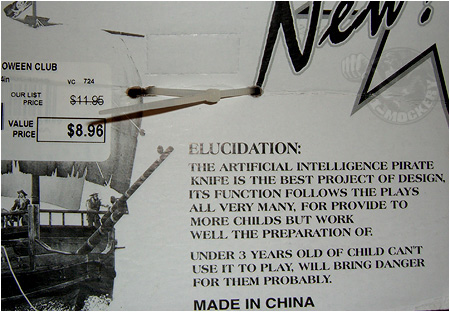 Your eyes do not deceive you. This actually exists. Those words were actually arranged like that. This is real life.
"Elucidation: The artificial intelligence pirate knife is the best project of design, its function follows the plays all very many, for provide to more childs but work well the preparation of. Under 3 years old of child can't use it to play, will bring danger for them probably."
What's amazing is that they introduce it with the word "elucidation", suggesting that the text which follows would make things clearer. In reality, the text raised so many questions that my world came crumbling down, and I was later found huddled, naked and trembling in a crawlspace I apparently dug with my bare hands and no recollection of how I ended up there.
Your help is needed in getting to the bottom of what message the Battery Operated Power Weapon is trying to convey to us, but beware! Trying to decipher such a cryptic message will bring danger to you, probably.
Horror. Mystery. Adventure. This is what Halloween is all about folks.
35 comments
Leave a Reply
Previous post: Michaels Is Ready For Halloween: The 2010 Spooky Town Store Displays!
Next post: What Jason Voorhees Was Missing All Along: Strobe Lights. Time To Dance!