What Jason Voorhees Was Missing All Along: Strobe Lights. Time To Dance!
So I found this "Light Up Goalie Mask" in the closeout section at one of the local seasonal Halloween shops and I just couldn't help myself from buying it. True, I'm a big fan of Jason Voorhees as you already know, but the idea of him having a mask that lights up too? This is clearly something he's needed for ages. Just imagine how his victims would react if he approached them wearing a mask that had built-in strobe light effects. They wouldn't run in terror... they'd just stand there, hypnotized like deer in headlights by the rhythmic movements of his flashy mask, and that would make his job of killing them even easier. But let's take a look at the mask itself: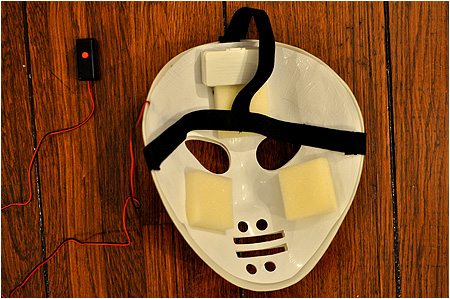 If you enjoy the comfort of a plastic block wedged against your forehead, then THIS is your mask! I appreciate that they tried to put foam padding in it, but the battery pack definitely gets in the way. Granted, there aren't many places to put a battery pack, but i don't see why they couldn't put the foam padding on top of it, instead of below it. The wire to activate the mask is long enough that it can fit down through the sleeve of a shirt and be concealed in the palm of your hand. Unfortunately, there's no way to keep the mask lights going nonstop. The strobes flash for about ten seconds straight, so you have to keep pushing the button if you want to keep it going. Still, these are minor complaints when you only spent a few bucks on a Jason Voorhees mask that has built in strobe lights.
Since the mask has strobe lights, I guess the real question we have to ask here is: Have you ever wanted to see Jason Voorhees dance at a rave? Well, regardless of your answer, you're about to see him do that very thing. Hope none of you are epileptic.
You know, when I wake up in the morning, I usually have some general idea of what I'm going to be working on that day. I never predicted I'd be up at 2am dancing with Re in a Jason Voorhees hockey mask with built-in strobe lights.
28 comments
Leave a Reply
Previous post: The Most Amazing Product Description EVER.
Next post: The Miami Sound Machine And Halloween - Together At Long Last!