Eat Your Brains I Will, Yes.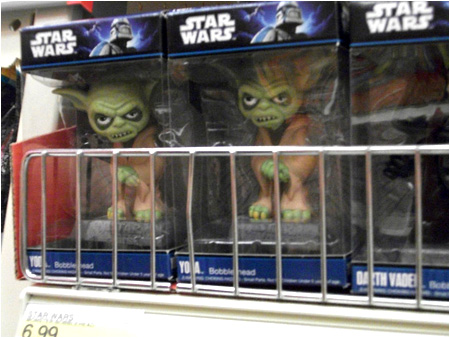 Ok, so this doesn't look like a Halloween product at first glance, but Target store managers realized it belonged with all the Halloween merchandise, because that's exactly where they put this Yoda bobblehead figure. What the hell happened to him? I know the guy lives in the swamps of Dagobah, not exactly the nicest place to vacation, but he's clearly seen better days than this. Let's just come right out and say it: Yoda looks like a zombie.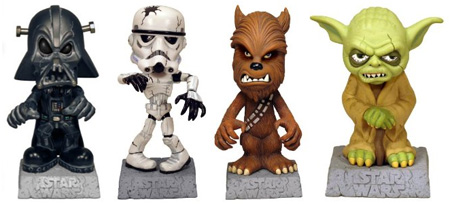 Well, it turns out this is part of a new line of Funko Star Wars "Monster Mash-Ups" bobblehead figures, and while it's funny seeing Darth Vader as Frankenstein's monster, a Stormtrooper as a Skeleton (Skeletrooper?), and Chewbacca as the Wolfman, the "bloodthirsty gargoyle" Yoda is just downright frightening.
I've always loved Yoda, what with the amusing way he communicates in reversed fragments and enjoys riding on Luke piggyback style, but this twisted rendition of his face is the last thing I want to see bobbling around on my dashboard every day. Seriously, just look at it: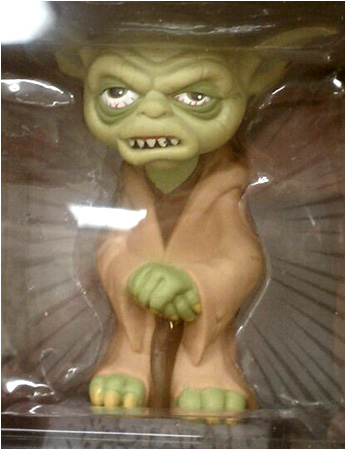 Look at those eyes... bloodshot, lifeless and I'm sure they'd show absolutely no remorse over eating you and your loved ones alive. And honestly, is there a scarier thought than that of a zombie with Grand Master Jedi powers? One minute you're walking down the road, minding your own business, the next you're willfully handing over your guts on a platter because some zombie pulled the ol' Jedi mind trick on you. Sorry, but a Jedi craves not these things. Big thanks to both Ava and Brad for pointing out this disturbance in the Force to me.
SURVEY: If you were going to turn a character from the Star Wars universe into a monster, what would you turn them into and why? I'll start us off. I'd turn a Jawa into one of the dwarfs from Phantasm. Hell, they're already the same height and wearing the same outfit... all they'd need is the Tall Man to lead them. BOYYYYY! OOTINI!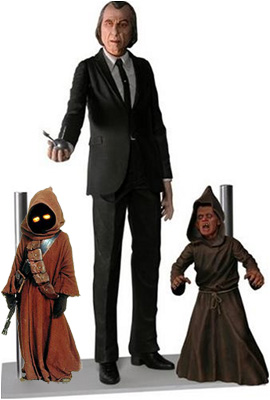 25 comments
Leave a Reply
Previous post: If You Can Read This, You're Dead.
Next post: This Halloween, You Can Eat The Green Lantern's Balls. Finally.