This Halloween, You Can Eat The Green Lantern's Balls. Finally.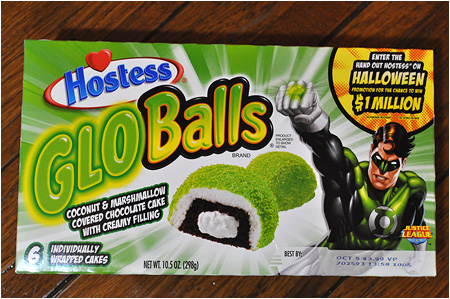 I know superhero products don't look Halloweeny at first glance, but when you find green Hostess snack cakes in the Halloween section of your local Target store, and the box refers to them as "Individually Wrapped Scary Cakes"... they are decidedly a Halloween treat. Ok, it's actually The Flash who has cupcakes (Flash Cakes) that are referred to as "Scary Cakes", but they clearly meant to do that with the Green Lantern ones too since they came out at the same time and mention the Halloween contest. I'm guessing the package designers were probably just too distracted by the horror that is glowing green spongy cake orbs to remember to change the description. And really, what could be scarier than being offered a mouthful of the Green Lantern's glowing balls? Granted, these snack cakes don't actually glow, but "GLO" is so heavily emphasized on the packaging that they should be able to glow. Just look at 'em: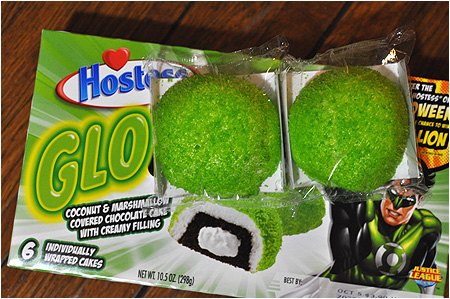 I thought the packaging was maybe an exaggeration, but holy balls, these things are bright green! We're talking borderline neon here, folks. I just wish they weren't covered in coconut, because I hate coconut and can't give anything with coconut an unbiased review. Suffice to say, they taste exactly like every other Sno Ball I've ever tried, so if you're a fan of the original ones, you'll be a fan of these Glo Balls too.
Of course, Hostess changing the name of their Sno Balls for various promotions is nothing new. They've done official orange Halloween Glo Balls in the past, complete with "scream" filling, and even created monstrosities like blue B.O.B. Cakes. I think we can all agree that Sno Balls are one of the most unnatural food creations to ever walk the earth, and these Green Lantern Glo testicl... er... Balls are just the latest incarnation in a long lineage of taste bud terror. And yes, they can walk the earth. We haven't seen them do it, but we know they can. It's like that old adage: When the humans are away, the Sno Balls will come out and play.
Scary as these Glo Balls may be, they're still an homage to Hal Jordan and Halloween, and I feel as though I need do something to pay tribute to them. So here's a special video I made just for you:
Now then... who's hungry for some Green Lantern Glo Balls? Any takers?
22 comments
Leave a Reply
Previous post: Eat Your Brains I Will, Yes.
Next post: Freddy Krueger And Jason Voorhees Now Live In A Van Down By The River.