The Fright Light: A Halloween Flashlight.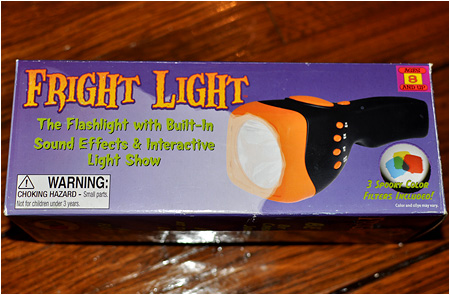 For those of you who've been looking for a flashlight with built-in horror sound effects, I'm happy to report your search is over, for I have discovered the Fright Light! Considering I'll review just about any product on earth if it's been modified for the Halloween season and I didn't already own a flashlight, purchasing the Fright Light made perfect sense to me. Sure, I could've gone with one of those giant Maglites that take thirty D-cell batteries so you can cave in somebody's skull with it, but I like to think a flashlight that makes cackling witch sounds will send an intruder running for the hills just as well.
Plus, the promotional text on the box is brilliantly crafted: "Can you imagine a flashlight that is actually a 'fright light' as well? We Did!" and "MARVEL at the Interactive Light Show!" Impeccable, right? With a pitch like that, you should be impressed that I exercised the self-restraint to not buy every last Fright Light the Halloween shop had in stock.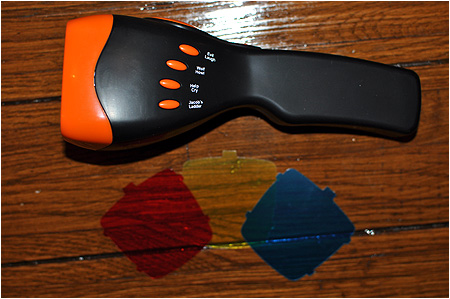 The Fright Light comes with eight built-in sound effects: thunder storm, creaking door, witch cackle, ghost moan, evil laugh, wolf howl, help cry and Jacob's Ladder. In my case, it's only seven sound effects, because when I push the "evil laugh" button, it plays the same sound as the "help cry". Boo. So, in addition to functioning as a normal flashlight, whenever you press one of the sound effect buttons, the flashlight will flicker synchronously with the sound being played. As an added bonus, they include three color filters (blue, yellow and red) so you can change how the light appears. I combined the yellow and blue to make my light shine green. Yes indeed, the knowledge I gained from those elementary level art classes has finally begun to pay off!
So how does the Fright Light perform? Well, you're in luck, because I filmed the thing in action... if you can handle the terror!
18 comments
Leave a Reply
Previous post: Halloween Edition Color Blanks!
Next post: The Stare Of The Twix Halloween Girl.