Halloween Character Makeup For Dummies And A Donkey Riding Reaper.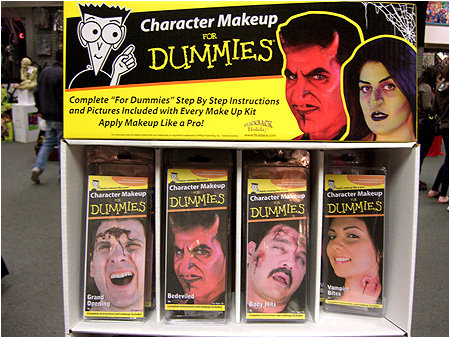 Yep... that pretty much covers it. There's now a "For Dummies" series for everything in existence. Spotted a rack of these makeup kits in a Halloween shop over the weekend, and while they don't look any better or worse than other brands, they're not really offering anything new.
You'd think if the Dummies people wanted to break into the Halloween market, they'd show up with wicked new prosthetics instead of just slapping their logo on generic wounds. You know, makeup kits with names like "Psycho Leech Attack Victim!", "Eyes Gouged by Defective Robots!" and "Vomited on by Lava Monsters!". Those are the kind of products that would truly take seasonal Halloween stores by storm. But hey, if they want to release bland kits like "Body Hits" and "Vampire Bites", I suppose that's their prerogative. I just think that by choosing such a route, it becomes clear to us all who the real dummies are.
There are plenty of new things in Halloween stores this year that are well worth your attention though. After all, have you ever seen an inflatable Grim Reaper riding an evil donkey while looking both ways before crossing the street? Well, you're about to:
Safety first. Murder later.
12 comments
Leave a Reply
Previous post: The Stare Of The Twix Halloween Girl.
Next post: Our Halloween Jack-O-Lanterns!