Our Halloween Jack-O-Lanterns!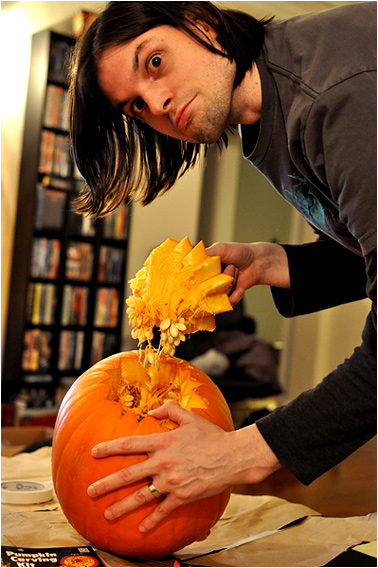 On Sunday night, Re and I picked up some pumpkins, loaded up an episode of Dexter, covered the table with cut-up paper bags and started hacking away at our future jack-o-lanterns. Since we recently moved to a new place, we decided the front steps needed to be adorned with some pumpkins for Halloween, so these ones simply had to be good. If they turned out bad, this new home would forever be cursed and we would have to move out immediately. I don't make the rules of Halloween, I just abide by them.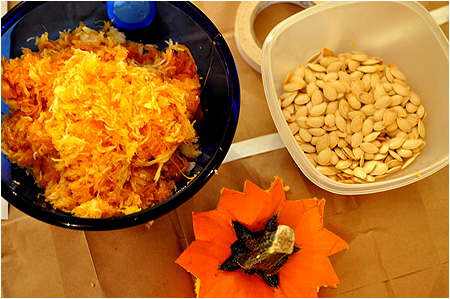 We spent a good while gutting the things and made sure to separate the seeds, because Re wanted to roast them. Up until now, I had never had fresh roasted pumpkin seeds, and I gotta say... they're pretty good and I highly recommend you try it. Here's how Re roasts pumpkin seeds: all you gotta do is get a pumpkin, remove the seeds, wash them off, spread them out on a cooking sheet covered with tin foil, lightly spray them with Pam or any cooking oil, add a lil' salt, roast them at 300 degrees for 20 minutes, then stir them up and roast for another 20 minutes. Lastly, turn the oven off and let them sit in there for another 5-10 minutes and then they should be ready to devour. Try it out, because it's way better than buying prepackaged ones.
Anyway, after a lot of carving and even hammering nails into the pumpkins (another first for me), I'm really happy with the results of our 2010 jack-o-lanterns:
She decided to create an expressive jack-o-lantern with some seriously sharp teeth, and I decided to make one based on my favorite Jason Voorhees mask. Not too shabby, eh? Click here to see a larger view of them. Lemme know what you guys think.
Also, if any of you have carved up your jack-o-lanterns already, please share them here in this blog thread... I'd love to see 'em!
19 comments
Leave a Reply
Previous post: Halloween Character Makeup For Dummies And A Donkey Riding Reaper.
Next post: Just Another Afternoon In October…