The Incredible Remote Control Zombie With Dry Humping Action!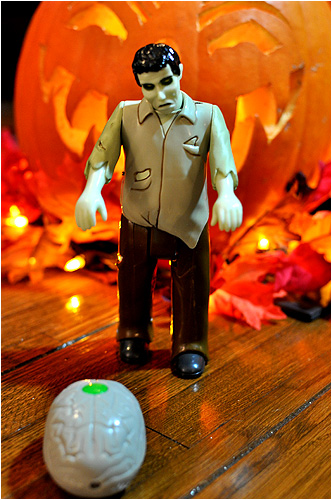 I was recently given this awesome Halloween gift from one of I-Mockery's longtime readers by the name of Ava. She was generous enough to send it in the mail along with some other Halloween goodies, and I simply couldn't wait to try out my new Remote Control Zombie from the Archie McPhee novelty company. Why? Because if I truly was going to be able to control this mindless undead entity, I was going to turn him into my zombie butler. Sure, I couldn't command him to bring me full meals, but I was positive I could get him to bring me some cracked pepper & olive oil flavor Triscuits with sharp cheddar cheese. Nothing says "classy" like having a zombie butler bringing you hors d'oeuvres... one at a time.
I can't even begin to explain to you how thrilling it is to point a miniature brain remote control at a zombie, push a button and then have it walk towards you. Actually, I can. Upon pressing the button, the zombie lets out a droning moan (which sounds like a moped engine going bad) and tries his best to walk towards you, but never really makes any progress. In fact, most of the time he ends up just falling flat on his back or on his face. I've tried repositioning his arms every which way, but the result is always the same, with my zombie toppling over as if he suffers from a severe case of vertigo.
Well, I've decided that my zombie is not fit to buttle my needs. How can he be expected to deliver me delicious treats when he can't even walk a few steps without collapsing? He appears to be either defective or a major pervert (possibly both), for you see, while he isn't much for walking, he'll dry hump the hell out of anything near him. I guess before he was turned into a zombie, he was a really sexually active guy when he was alive, and perhaps some of those old habits stayed with him post-zombification. And no, I'm not crazy... I have video proof:
Bet you never thought you'd see a zombie humping the Iron Sheik this Halloween, did you? We always try to keep you on your toes, here on I-Mockery.
19 comments
Leave a Reply
Previous post: Just Another Afternoon In October…
Next post: New Video: Halloween Justice Squad!