New Video: Halloween Justice Squad!
Have you ever gone trick-or-treating and received a crappy substitute for candy in your treat bucket? It's time to set the record straight and make sure people only hand out the finest treats money can buy, for we trick-or-treaters put a lot of effort into our costumes and expect to be rewarded accordingly! And that's exactly what our new music video is all about! I'm proud to unveil to you all: Halloween Justice Squad!

Watch it in HD here: www.youtube.com/watch?v=sPCn_jnP9cc&hd=1
Hope you guys enjoyed it! We'll be posting a "behind the scenes" video and more soon, so keep an eye out for it. Huge thanks to my buddy Andre "BlackNerd" Meadows for doing this collaboration with me... we definitely had too much fun filming this. Also, big thanks to our actors Maxwell Glick, Elizabeth Mercer, Katie Wilson and Re for appearing in our music video and helping us out so much! We really couldn't have done it without you guys.
To all you trick-or-treaters out there, please let us know what you thought of the video! Also, what are the worst Halloween "treats" you've ever received while out trick-or-treating?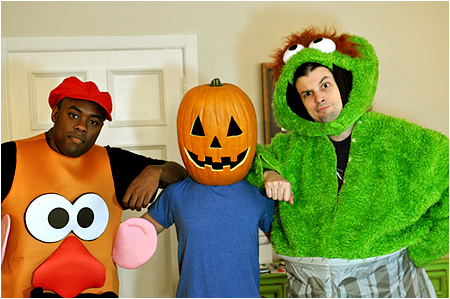 Again, let this be a lesson to those of you who dare to hand out bad treats come October 31st... the Halloween Justice Squad is watching you.
15 comments
Leave a Reply
Previous post: The Incredible Remote Control Zombie With Dry Humping Action!
Next post: Happy Halloweeeeeen And Thank You!