Happy Halloweeeeeen And Thank You!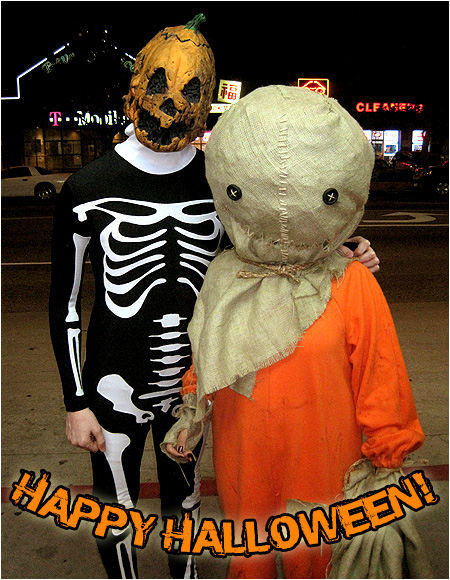 Thanks so much for hanging around with us for our annual "Two Months of Halloween" celebration here on I-Mockery. It always puts a smile on my jack-o-lantern to hear how many of you consider it to be a staple of your Halloween season every year. We really bust our asses to bring you constant Halloween coverage & comedy that you won't find anywhere else on the web, so I hope it was a memorable time for all. I'm really happy with how this season turned out, as we featured a LOT of material I had been wanting to cover for years, visited some new haunts, survived another massive Halloween candy taste test, made a new music video, learned what will bring danger for them probably, met Christopher Lloyd, learned more about the Hoff, saw the return of Count Pop and more. How do I know we covered a lot, because I still have a pile of Halloween things I didn't even have a chance to get to this season! No problem though... I'll just save them for next year.
Anyway, today is Halloween and I hope that wherever you are in the world, you'll find your own special way to celebrate the greatest of all holidays. Whether you're going out trick-or-treating, going to a party, handing out candy or simply having an all-night horror movie marathon, I hope you all have a great time.
Even though this holiday is a celebration of all things dead and spooky, I never feel more alive than during this time of the year and I can't wait to get out tonight and celebrate in style. We're going to the giant annual West Hollywood Costume Carnival once again and that photo at the top of this post is what I'll be wearing - the skeleton pumpkin costume. I have to send a huge thank you to 80sTees for their support and for sending me the killer Skeleton Bodysuit, which is a stunningly perfect replica of the ones from The Karate Kid. I've been looking for a perfect skeleton bodysuit for ages, and this is absolutely it. Bones hand-sewn onto the costume, all the way up and down, and the classic white hoodie built into it.
In case you're interested (and you should be), the person next to me, dressed as Sam from Trick 'r Treat, was the winner of a costume contest at the New Beverly Cinema when they were showing a Trick 'r Treat / Halloween III double feature. Pretty awesome, eh? Couldn't believe what a nice job she did on her costume.
I'll be sure to post some more photos from our Halloween costumes during the week and we have more big updates coming to I-Mockery soon, so don't go anywhere. And speaking of updates, I have to thank everybody who volunteered to write updates for our Weeklies section this Halloween season. We all enjoyed reading your reviews of your favorite spooky games, comics, movies and music. Of course, I also must thank Dr. Boogie and Protoclown for writing some great articles this season as well. Dr. Boogie, in particular, really went above and beyond, sending in multiple articles every week. Last but not least, thanks for Re for putting up with all of my crazy Halloween antics. Two months of celebratory madness is surely no easy thing to endure... she's a tough Halloween cookie, that one.
Please drop a post (whether you're logged in or not) in our blog and let us know what you thought of the Halloween season and what your favorite articles were. Also, let us know what your Halloween plans are and feel free to post photos of your costumes if you're dressing up!
Thanks again all and Happy Halloweeeeeeeeeen!
29 comments
Leave a Reply
Previous post: New Video: Halloween Justice Squad!
Next post: Halloween Is Over… Now What?