Halloween Is Over… Now What?
Another Halloween season has come and gone, and while it was a lot of work as always, it was fun work and I'm already missing it. The annual Halloween Costume Carnival in West Hollywood did not disappoint. We went with some friends (as seen in the photos above) to walk up and down Santa Monica Boulevard all night long, checking out the amazing costumes people came up with. I had a blast scaring the crap out of people with my "jack-o-skeleton" costume too. Whenever somebody would stare at me for a little too long, I took that as my cue to go right up to them, contort my head and make some wicked screeching sounds as if I was an agonized trick-or-treat demon in search of blood. Sometimes they would laugh, other times they would scream and try running away as I followed them around the streets for several minutes. Do that on any other day, and you get arrested... on Halloween, however, scaring people is the name of the game.
In case you're wondering, the Halloween costumes pictured above from left to right are as follows:
Re as a Gold-Faced Ghost. Me as Jack-O-Skeleton. Dr. Boogie as Boo Berry. Shannon as one of the Frog Brothers. Scott as a Hypno-Bishop.
This Halloween, I also got to live out life dream #874: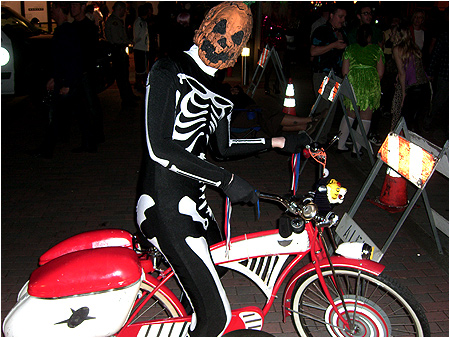 I got to ride on Pee-wee Herman's Bicycle! As soon as I sat down, I wanted to ride that bike all the way to the Alamo, but with all the pedestrian street traffic in West Hollywood that night, I wasn't going to get very far. Still, it was fantastic to see in person and it had every little detail, including the extremely hard-to-find tiger siren. And yes, I brushed its teeth once when nobody was looking. Couldn't help it.
Being one who always believes in rewarding trick-or-treaters for their efforts, I wasn't able to let them walk away from our house empty handed even though we weren't going to be home. So I decided to cover our front steps with Boo Berry cereal boxes and a huge box filled with all kinds of candies. I even made signs explaining how much each person could take, and even took my recently acquired discount bin zombie head (who I named "Bob") and made a sign for him warning individuals not to take more than the allotted amount. Everybody was telling me I was nuts for putting that much out and that we probably wouldn't even get any trick-or-treaters, but I did what I always do: ignore everybody and let the voices in my head guide me. I was determined that this would be a home that trick-or-treaters would talk about amongst themselves for years to come, as if it were an urban legend... The house that gave away full boxes of monster cereal and tons of candy!
Keep in mind, I had a lot riding on this. If only a few or none of the treats were taken, all my friends would mock me 'til sunrise and beyond. So what did we come home to after being out all night long for our own Halloween celebration?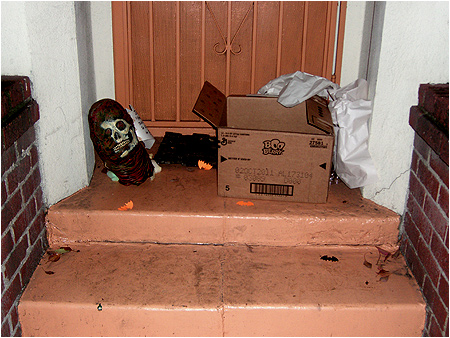 WE WERE RANSACKED! Every single cereal box was gone and the huge cardboard box I had filled with assorted candies was completely emptied with the paper lining strewn about. It was as if a bunch of Gremlins had come by, had a Halloween party on our front steps and then left the mess behind for us to clean up. My chums were shocked that none of the treats were left and that the severed head of Bob the zombie wasn't taken. It was a sweet victory indeed, but I'm just glad we had some kids come by and enjoy all the treats I put out for 'em. Of course, if it was one kid or one group that took it all, I'm sure Bob will hunt them down and forever haunt their every waking moment. Either way, the Great Pumpkin has smiled down upon me for doing the holiday and trick-or-treating some justice, and I'm confident that our front steps will forever be a thing of legend come Halloween each year.
Now we find ourselves in November. November has always been a somewhat unimportant month to me. Sure, the first week usually serves as an adjustment period where my life no longer revolves around writing about old horror b-movies and bizarre Halloween costume accessories from China; a return to normalcy, if you will. The rest of the month, however, just feels like the lull before Christmas. There's Thanksgiving, of course, but that never felt like a holiday as much as it felt like a ridiculous feast, and I've never been a big fan of turkey anyway. I'd gladly trade in my turkey & gravy portions for an authentic Philly cheesesteak any day of the week.
Fortunately, even with Halloween over, we have a lot of new things in the works. We'll be launching a new flash game this month that I think you're all gonna have fun with, we'll be starting up our annual Secret Santa event and we're putting that wraps on a brand new pixel poster! This one is going to be a winter / xmas themed one, so we plan to have it available for purchase well before the holidays so you can hang it above your fireplace and stare at it over the holidays as you drink egg nog from moose mugs. And to those of you Halloween fanatics who still haven't had your fill, you'll be glad to know that Dr. Boogie wrote an extra in-depth horror movie feature that we didn't even have time to put up in October, so you can expect to see that up online sometime within the next 48 hours. I'll also be posted the uncensored version of the Halloween Justice Squad video (no bleeped-out lyrics) and a downloadable mp3.
Yep, it's looking like November will be just as busy as September and October were... and that's a good thing. Stick around.
20 comments
Leave a Reply
Previous post: Happy Halloweeeeeen And Thank You!
Next post: Our New Winter Holiday Pixel Poster! Now Available To Order!