Our New Winter Holiday Pixel Poster! Now Available To Order!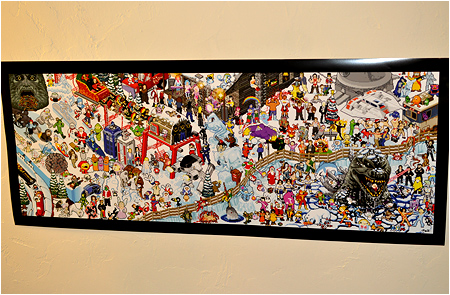 [click here to see the full-sized photo!]
It's finally ready! Pox and I spent a long time planning out our latest pixel poster and I'm really glad we finished it up in time for the holidays this year. The new poster has a winter holiday theme, so it's perfect for any of you looking to buy some gifts for Christmas, Hanukkah, Kwanzaa, Festivus or whatever the hell you feel like celebrating when the weather turns painfully cold. The winter wonderland pixel poster is the exact same size as our original retro beach party pixel poster (34" x 13.5") and we managed to squeeze even MORE colorful characters into this one than last time. Just click on the image above to enlarge it and see what I'm talking about.
For the first time ever, we're taking pre-orders here on I-Mockery because we know these are gonna sell just as well as the original posters did, so we wanna make sure we have more than enough in stock to guarantee that you'll receive them before the holidays come around. And just like last time, anybody who purchases our new winter pixel poster will be given a secret link to a page containing the complete legend for the poster to help you identify all the characters.
So please help show your support and pre-order a poster (or two... or fifty) whether it's a gift for yourself or for somebody else. I guarantee you'll end up staring at it for a loooooong time to come and it makes for a hell of a conversation piece for whenever you have friends over. If you're a fan of isometric pixel art along with basically anything we've ever written about on this site, then you're going to LOVE this poster. You'll love it so much, you should consider buying more than one, so you can sleep with one of them and not worry about how it's getting all crinkled up.
Ultimate Retro Winter Wonderland Pixel Poster:
United States Orders
Ultimate Retro Winter Wonderland Pixel Poster:
International Orders
Also, for those of you who've still put off buying the original pixel poster, it's time to stop procrastinating, because we're doing a 2-Pack (not to be confused with Tupac) where you get both of our pixel posters for cheaper than they would cost to buy separately. Plus, we're only charging you the cost of shipping one of them, so you'll save on shipping as well. And just look how nice they look when hung closely: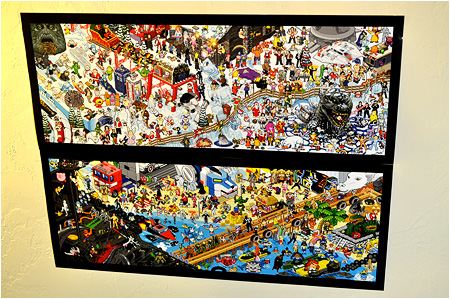 [click here to see the full-sized photo!]
Don't they look happy together? Wouldn't they make you happier having them hanging on your wall? Don't you want to be happy? The answer to all of these questions is obviously YES, so pre-order them both before your brain explodes into chunks of 8-bit goo!
Pixel Poster 2-Pack:
United States Orders
Pixel Poster 2-Pack:
International Orders
As long as you order by December 15th, they're guaranteed to be in your hands in time for Christmas... after that, I can't make any promises. Thanks in advance to all of you who pre-order these posters and may all of your stockings be stuffed with pixelated goodness come December!
Survey: We'd love to hear what you all think of the new winter wonderland pixel poster, so please drop a comment below!
42 comments
Leave a Reply
Previous post: Halloween Is Over… Now What?
Next post: This Thanksgiving, I Feast On Gumballs!