This Thanksgiving, I Feast On Gumballs!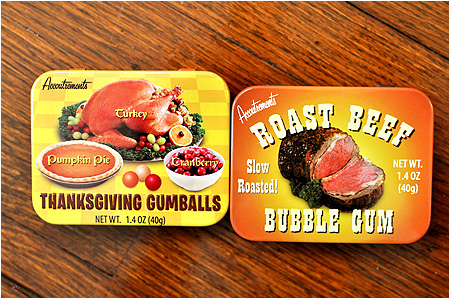 Thanksgiving dinner is served... and it's chewy! Remember in Charlie and the Chocolate Factory when Violet Beauregarde takes the three-course dinner chewing gum and describes all the flavors it changes to? It was hard to imagine gum tasting like roast beef, but thanks to Accoutrements (Archie McPhee), it actually exists now, along with turkey, pumpkin pie and cranberry flavors. And it's a good thing too, because Jones Soda appears to have given up on making their annual holiday soda packs which we dared to review, so somebody else needed to step up to the plate to deliver us our Thanksgiving meals in unconventional forms.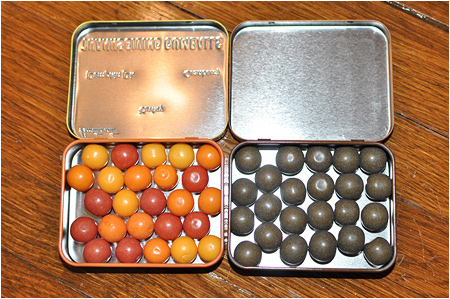 The Thanksgiving Gumballs are obviously more colorful since it comes with turkey, cranberry and pumpkin pie flavors. They even embossed their names on the tin container to remind you that YOU ARE ABOUT TO EAT THANKSGIVING GUMBALLS. Not ready to dive right into the poultry, I started off with the cranberry flavored gumballs - they were sweet with just a faint hint of cranberry flavoring... quite tasty. Next up was the pumpkin pie, and the flavor was definitely stronger with this one, instantly reminding me of pumpkins, but still surprisingly good. Then it was time for the turkey. Oh my god, these were absolutely DISGUSTING. If a computer decided to interpret what it thought a turkey might taste like and produce it in pellet form, then you'd have these gumballs. They actually have a smokey flavor to them. I had to spit the turkey gumball out, because if I kept it in my mouth any longer, I think I would've puked. Horrible.
Saving what I assumed would be the worst for last, I popped open the Roast Beef Gumballs and I could already smell the artificial roast beef flavoring with a hint of salt & pepper. Never thought I'd be saying that about gumballs. EUGH. I immediately regretted biting into the roast beef gumballs; it's scary how they actually taste like roast beef in a weird way, unlike the turkey ones. Look, I enjoy roast beef, but it just doesn't work as bubble gum... and while it's not as bad as those bastard turkey balls, that doesn't mean I'm going to chow down on these ever again.
So just to recap:
Cranberry gum = Tasty
Pumpkin Pie gum = Good
Roast Beef gum = Pretty bad
Turkey gum = Tastebud Poison
So there you have it. These Thanksgiving Gumballs are by no means a substitute for a meal... not even if you're an astronaut, but I applaud Archie McPhee for daring to turn those festive dinner items into gumballs. I wonder if they'll make stuffing & gravy, brussels sprouts or green bean casserole flavors in the future. For the sake of my taste buds, I hope not, because if they do, I'll have no choice but to do another one of these taste tests.
Anyway, I hope all of you have a fantastic Thanksgiving holiday whether you're eating gumballs, turkey dinners, turkey pot pies, tacos or nothing at all. And even if you don't live in the States, you can still make an excuse to celebrate by watching the Doc Mock's Movie Mausoleum Thanksgiving Special or a great flick like Planes, Trains and Automobiles.
Be sure to share in the comments section what you ended up eating and what you ended up doing for Thanksgiving. Gobble, gobble.
23 comments
Leave a Reply
Previous post: Our New Winter Holiday Pixel Poster! Now Available To Order!
Next post: Hallmark's Galaga Christmas Ornament!