Hallmark's Galaga Christmas Ornament!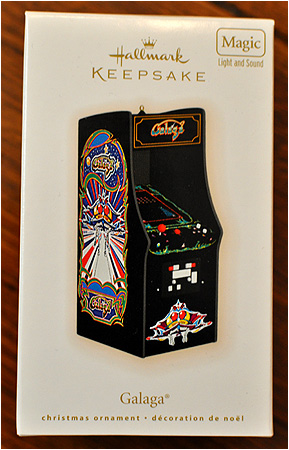 So Hallmark made the incredibly poor decision of not releasing a new arcade cabinet keepsake ornament for the 2010 Christmas season. As a result, they received a lot of complaints from ornament and arcade enthusiasts alike, and will hopefully release a new one for the holidays in 2011. But what about this year?
Well, back in 2008, I reviewed Hallmark's Pac-Man Christmas tree ornament and showed you all the classic bleeps 'n bloops it made. In 2009, however, I somehow completely forgot to feature their Galaga arcade ornament. So let's take a look at it now, shall we?
Unlike with Pac-Man, they reproduced the original Galaga arcade cabinet artwork perfectly this time, right down to the bezel and the control panel layouts. The joystick still doesn't move, so I can't help but wonder how many kids have tried to play the game and snap it off. Of course, the real beauty of this ornament is when you press the fire button and it lights up the entire cabinet while playing a variety of sound effects from Galaga. I gotta say, as good as the Pac-Man one was, this Galaga one makes noise for even longer and it's LOUD, so that's a big thumbs up right there. Here's a look at the Galaga keepsake ornament in action:
Whether you celebrate Christmas or not, this is simply one ornament that everybody should own. Hallmark, we'll give you a pass just this one year in the spirit of Christmas, but you had better not let us down in 2011. I have plans to have a full arcade on my Christmas tree by the year 2020, so if you want my quarters, you've got some work to do.
Survey: What classic arcade cabinets would you like to see made into a Christmas tree ornament?
32 comments
Leave a Reply
Previous post: This Thanksgiving, I Feast On Gumballs!
Next post: Santa Claus Is Coming To Town 8-Bit MP3! Download And Be Jolly!