"Forbidden Love" Valentine's Day Sale!
Love is in the air... or it could just be another deadly airborne virus. Either way, I wanted to help you spread the disease... er... pixels this coming Valentine's Day by having a special sale on our "Forbidden Love" t-shirts! I've temporarily reduced the price of the shirts all the way down to 10 bux for any of you who place orders between now and Valentine's Day. What better way is there to say "I love you" than with the gift of a spatula pixelated retro romance shirt?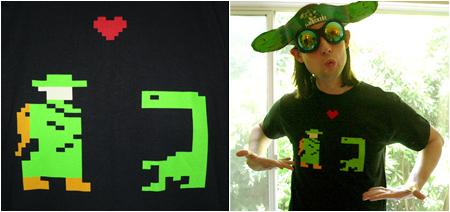 "Forbidden Love" T-Shirt:
United States Orders - $10.00 (plus s&h)
"Forbidden Love" T-Shirt:
International Orders - $10.00 (plus additional s&h fees, of course)
If you definitely want to receive your shirt in time for Valentine's Day, I'd suggest placing your orders by February 8th to allow time for shipping. That said, the sale will go on through Valentine's Day, so feel free to order any time between now and February 14th. If you don't have a lover to buy a t-shirt for, you can still buy one for yourself. I won't tell.
4 comments
Leave a Reply
Previous post: Oh The Dangers To Come…
Next post: Abobo's Big Adventure Will Be At SC3 On Saturday, March 5th!