The Great Friday The 13th Debate!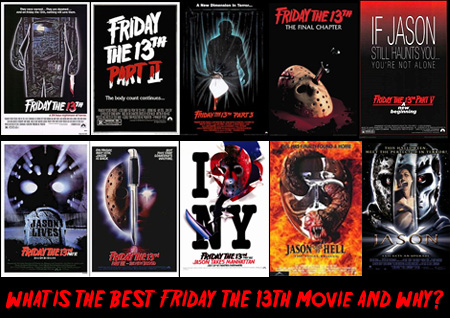 Alright folks, today is the 13th of May and it's a Friday, so there's no way in hell we're not gonna talk about the Friday the 13th films. I've written about the movies before, including Jason's 10 Best Kills, but it's high time we have a bigger discussion about the franchise as a whole. With decades of death on his resume, Jason Voorhees will forever be one of the all-time greatest horror movie icons, but the question I'd like to pose today is simple: What is the best Friday the 13th movie and why?
Now before you rush to answer right away, think about all the films for a minute. Do you like the original where Jason's role was more of a tragic back-story or maybe you're all about him wearing a potato sack on his head in part II. Maybe you relish seeing his kills in a gloriously cheesy 3D presentation. Perhaps you're a big fan of "The Final Chapter" which was anything but and featured Crispin Glover's infamous dance, or maybe you have a pure adoration for the almighty Reggie in part V. What about Jason's graveyard resurrection in part VI or his battle against the telekinesis girl in part VII? And let's not forget his excursions outside of Camp Crystal Lake to Manhattan, hell and outer space! That's quite a hefty load of murder and mayhem to consider, so take your time.
For the purpose of this discussion, let's leave out the Freddy vs. Jason flick since that's more of a blend of two franchises, and let's leave out the remake since Jason taking a prisoner for an entire film instead of killing her goes against everything we love about the guy. So yeah, keep the discussion to the classic Friday the 13th films - part 1 through Jason X.
Also, don't just list off your favorite film in the series and nothing more. Back up your choice with an explanation of exactly why you think it's the best Friday the 13th movie and stands above the rest. Alright, sharpen up those machetes and hack away at your keyboards. Go!
43 comments
Leave a Reply
Previous post: Re Sings "Kiss Off".
Next post: I'm Setting Booty Traps!