Make Suggestions For Our Upcoming Halloween Pixel Poster!
Due to popular demand, we're officially working on a new pixel poster... and this time it's going to be a Halloween themed one!
With that in mind, please post your suggestions for characters, monsters and any generally spooky things you'd love to see in a Halloween pixel print! Be sure to make as many suggestions as you can come up with... the more we receive, the more likely it is that we'll include some of 'em on this poster. And to help get your creative juices flowing, here's a little preview of a few things you can expect to see on the finished print: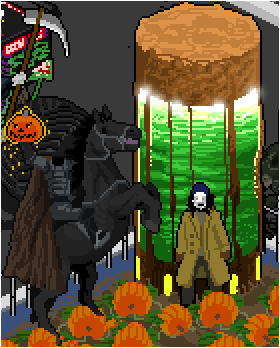 I'm really excited about this latest one since Halloween is pretty much my favorite thing in the world and we already have some killer plans for it. And yes, for those of you who haven't had a chance to pick up our summer or winter themed prints, they're still available.
Alright, start posting your suggestions here in this thread and maybe your ideas will end up on our big Halloween print!
125 comments
Leave a Reply
Previous post: I'm Setting Booty Traps!
Next post: Big League Chew's Hidden Phallus Invades Target Stores!