Today We Must Discuss This Glass Of… Orange Juice?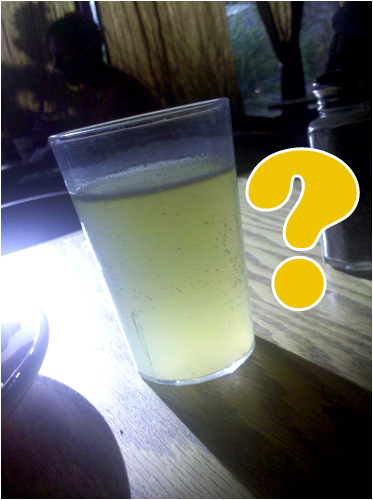 Whenever I'm on the road, I always love it when a hotel offers a complimentary breakfast with a room. Wait, did I say always? I meant to say, almost always. You see, sometimes the complimentary breakfast isn't so complimentary to my pallet or to my stomach. The above glass of liquid was from a recent stay at a hotel which proudly displayed a "100% Natural Florida Orange Juice" sign above the dispenser. Everybody in the dining room was staring at their glasses of juice with perplexed looks on their faces. I heard one old guy nervously say, "I think it's juice," to which his wife responded, "Please don't drink that."
I should also note that the liquid smelled almost soap-like, but that may have simply been because they didn't rinse the glasses thoroughly. Either way, I opted not to drink it.
So yes, today we discuss the aforementioned glass of what the hotel claimed to be orange juice. Also, feel free to share any of your own horrific complimentary breakfast stories from past hotel stays. From foiled Belgian waffle making attempts to scrambled eggs that appeared to be from another planet, we've all had at least one bad free breakfast experience.
29 comments
Leave a Reply
Previous post: Proof That He-Man And Prince Adam Are Two Completely Different People!
Next post: Dig A Grave! I-Mockery's 2011 Halloween Season Has Begun!