My Take On Freddy Krueger Appearing In Mortal Kombat.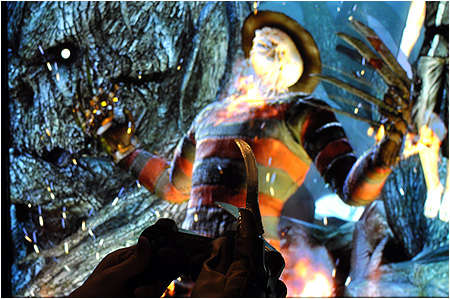 You should all know by now that Freddy Krueger was recently added to the roster of playable characters in the latest Mortal Kombat game. Talk about something that's loooooong overdue. If there was anybody worthy of being in a deadly fighting game, it has to be Freddy. I'm sure you remember seeing him pulling all kinds of martial arts moves on Jason Voorhees in their showdown towards the end of Freddy vs. Jason, so Mortal Kombat character purists be damned... this makes perfect sense to me.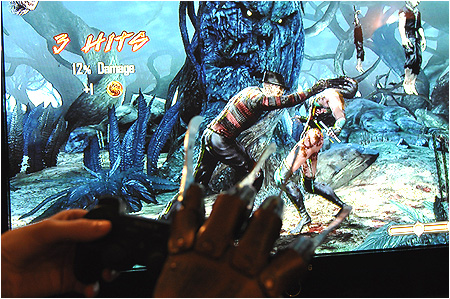 What doesn't make sense is why they chose to use Freddy from the remake of A Nightmare on Elm Street to base the character model on, instead of the classic Robert Englund version that we all love. Hell, at the very least, they could offer a free downloadable "Classic Freddy" costume for those of us who want to play him that way since they have a variety of custom costumes for every other character in the game. Freddy also now has two gloves instead of his traditional one, but that's a very minor gripe... and a nitpicky one at that.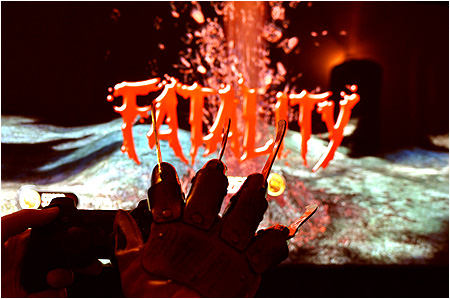 Once you look past the complaints that any hardcore Freddy fan would make, playing as him is a blast. He gets super bloody with all the slashing going on in each round, they gave him his own storyline for the challenge ladder, his Fatalities are amusing as hell to watch, and you haven't lived until you've seen a Babality performed on Freddy. Not bad for a five dollar download.
Obviously, the one thing every horror and gaming fan wants now is for them to add Jason Voorhees to the game so we can finally take control of them both and have our own gory 2-player battles. Frankly, they'd be absolute fools not to put Jason (and other horror film characters) in the game. With Halloween right around the corner, they're sitting on a goldmine if they'd just give us fans what we really want.
Speaking of fans, I have to mention that there is a fan-made horror fighting game called TerrorDrome and it's an absolutely fantastic project that some annoying film studio lawyers sadly put the kibosh on. Still, the screenshots and videos from the project are on the official site and it's really worth checking out. I'm dead serious when I say that it is the one game that every horror fan has always dreamed of: a fighting game that allows you to pick your favorite horror icon and go head to head with all the other big horror movie baddies including Michael Myers, Chucky, Jason Voorhees, Pinhead, Leatherface and even the Tall Man. I still hope they fine a way to "leak" the game onto the web, because too much work has been put into it to never see the light of day. It's a labor of love and they're not trying to profit from it.
SURVEY: What are some other horror characters that you'd like to see in Mortal Kombat and what would their Fatality be?
Also, hit the jump to see a video of all the Fatalities that Freddy Krueger can perform in Mortal Kombat...
24 comments
Leave a Reply
Previous post: Tour Detour: The Goonies House.
Next post: Fritos Mini-Monster: Gay Blade!