Tales From The Candelabra!
Here's a little something I simply had to share this with you guys. When I got back home from the road trip with Keith Apicary, Re had a nifty little surprise waiting for me: she tracked down this awesome vintage Tales From The Crypt candelabra! I was a huge fan of the HBO series (I have all the seasons on DVD) and looked forward to all the corny one-liners that the Crypt Keeper would deliver each week back when it was still on TV. Some people are greeted with hugs and kisses when they return from a long trip; I'm greeted with an ancient corpse who tells bad jokes in a televised horror anthology series. Awesome. Let's take a look... or as the Crypt Keeper would say, "let's take a hook!" or something like that.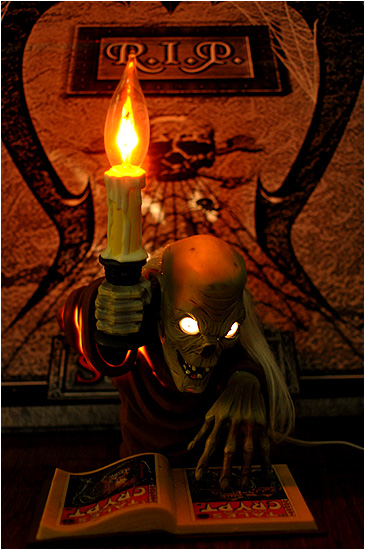 Perfecto! The Crypt Keeper's eyes glow, his candle comes with a flickering bulb, and his hands rest nicely atop his his book of tales - what more could one ask from a lamp? It's as if he's lit a candle beside your bed to tell you some horrific tales to ensure that you'll never sleep again. I can almost hear John Kassir's voice cackling away whenever I turn this thing on, and I plan on surrounding him with Halloween candies for the rest of the month. Who better to guard them, right? Between this, my Halloween Bubble Light, and my Blinky Glow Lite, I think I'm set for spooky indoor illuminations this season.
SURVEY: While we're on the subject of Tales From the Crypt, what are some of your favorite episodes and why? I've always had a soft spot for the "And All Through The House" episode since it was my introduction to the series.
19 comments
Leave a Reply
Previous post: I Ate Frankenstein's Brains!
Next post: The Newport Beach Ghost Ship Halloween Haunt Is Incredibly Bad.