Boo Berry Is Back Again For Halloween!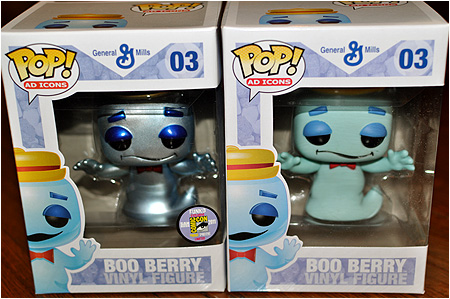 You guys know I love Boo Berry, and after fighting for so many years just to keep his cereal in circulation, it's nice living in a time now when it's fairly easy to find come Halloween. Plus, nowadays we can look forward to other Boo Berry products being released each year as well. Last year was a good year for Boo Berry; he was officially declared the best monster cereal, some Fruit Roll-Ups were made in his honor, and he even got a brand new Boo Berry Halloween costume. This year, he's back again with two new Boo Berry vinyl toys from Funko as part of their new Pop! Ad Icons collection.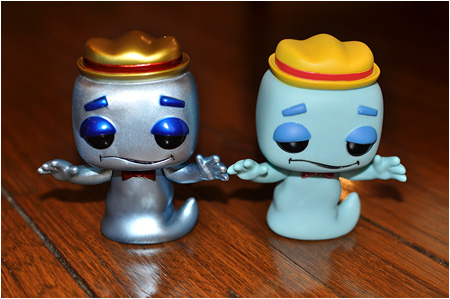 As you can see, there are two versions of him - the standard Boo Berry and the shiny 2011 Comic-Con variant. They clearly went for the classic Boo Berry look with the droopy eyelids 'n all, so any hardcore fan should be real happy with how these figures turned out. Both of them look great (and ridiculously adorable), so it's absolutely worth tracking each one down if you ask me. Be aware that the Comic-Con variant is a bit tougher to track down as they're part of a limited edition set with only 480 figures ever produced, but I've still seen a few pop up on eBay here 'n there for about 20 bux or so. Did I mention how sickeningly adorable these figures are? I can almost picture them hanging out with Glo Worm, that's how adorable they are.
But vinyl figures aren't the only new Boo Berry product for the 2011 Halloween season...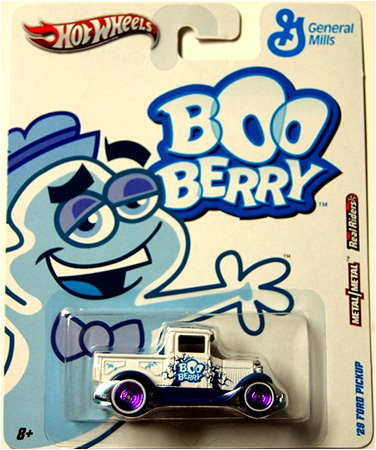 Hot Wheels has released a special Boo Berry edition of a 1929 Ford pickup truck. Gotta love how they went with the classic look for Boo Berry on the packaging. The truck itself has a really nice overall design which includes the cereal logo in between some creepy old trees on the doors, a few blue bats scattered around, shiny purple hubcaps, and a picture of Boo Berry hovering around a haunted house on the roof. My only wish is that they had filled up the back of the truck with miniature boxes of Boo Berry cereal, as if to suggest it was out making a delivery, but I'm sure anybody who is into papercrafts could make that happen... and they should. Also, if any of you happen to own a 1929 Ford pickup truck, you'd be a fool not to paint it like this. A fool!
Lastly, for those of you wondering about the cereal itself this season, I'm happy to report that it's now more widely available in stores than probably any other year in recent memory. Almost every grocery store in town had some boxes of it, as did Target and Walgreens, so you shouldn't have any trouble finding it. I'd show a picture of the 2011 cereal box, but it's the exact same one from last year when they made Boo Berry look like he has fish lips for some unknown reason. Disappointingly lazy on General Mills' part, so here's hoping they come out with a new box design next year - sans fish lips of course.
All in all, another very solid Halloween season for fans of Boo Berry.
15 comments
Leave a Reply
Previous post: The Newport Beach Ghost Ship Halloween Haunt Is Incredibly Bad.
Next post: Krispy Kreme Halloween Donuts!