Happy Halloweeeeeeeeeen!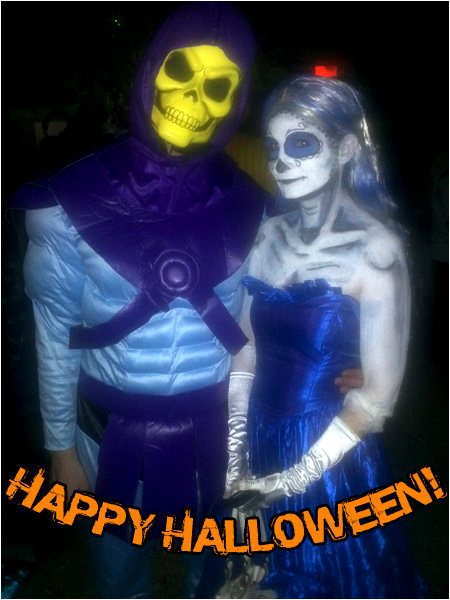 Monday be damned! Who cares if it's the start of the work week, for tonight we honor the dead by going to the homes of complete strangers and confiscating their sugary treats. And if you're not going trick-or-treating, that's perfectly fine... you can always your own personal Halloween party with an all-night horror movie marathon. Whatever rattles your bones.
As you can see above, Re and I already celebrated Halloween in style over the weekend; I dressed up as Skeletor and she made an awesome costume inspired by Dia de los Muertos. What was cool is that our colors ended up matching, so I just told everybody she was Skeletor's bride. I'm sure this comes as a shock to all of you, cuz after all these years I thought for sure Skeletor would've ended up with Evil-Lyn, but no... he dumped her for Re. Good choice, me thinks. Speaking of our outfits, I have to send another huge thank you to 80sTees for their support and for sending me the Skeletor costume. As you can see, it's pretty much the best Skeletor costume out there, and I'm sure I could walk into Snake Mountain and fool all of his minions into beliving I was the real deal. Well... Beast Man would fooled at the very least.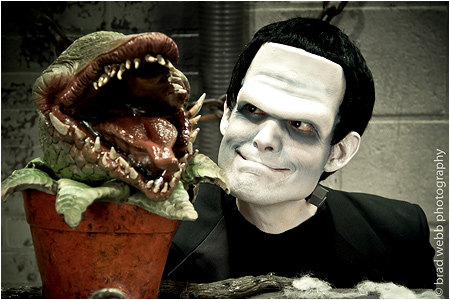 (I was also Frankenstein's Monster. Audrey II approves.)
Over the past two months, we've covered a hell of a lot of Halloweeny material, and I hope you've all enjoyed every gruesome minute of it. Here's a recap of some of the highlights this season:
-We learned important lessons about Ernest Scared Stupid and Troll 2.
-We devoured loads of new Halloween candies.
-We learned never to take a cat on a yacht.
-We visited Monsterpalooza and Halloween Horror Nights.
-We rejoiced upon finding out that there is an official Halloween soda.
-We still never unraveled the secrets of Secret Ghostdom.
-We went on the worst Halloween boat ride ever.
-We decided it was best to never buy a cheap Freddy Krueger make-up kit.
-We gouged your eyes out with more greatest horror movie moments.
-We read up on the history of Splatterhouse.
-We splattered your walls with our new Halloween pixel posters.
-We drooled over a coffin full of donuts.
-We laughed at what some people try to pass off as sexy Halloween costumes.
-We witnessed the madness that was the 1987 Joe Piscopo Halloween Party.
This is my absolute favorite time of the year and it always makes me smile to know that so many of you have made I-Mockery your online Halloween home. I really try to give you guys the best and widest variety of Halloween coverage you'll find anywhere online every season - from visiting haunts and reviewing movies, to taste testing candies and tracking down the most absurd novelties and more, I always aim to give you every spooky lil' thing I can get my bony hands on. I'll do my best to keep that tradition going strong.
I'll have some post-Halloween photos and videos to put up on I-Mockery soon too, so don't go anywhere. Once more, I must thank Dr. Boogie and Protoclown for their awesome contributions to our Halloween celebration. Also, a huge thanks to Re for uploading all the Halloween content to the site while I was on tour around the country in September.
Of course, a huge thanks again to you for sticking with us during our annual "Two Months of Halloween" celebration. It's a lot of work to put all this content together, but it's a lot of fun too, and your feedback definitely helps keep our macabre mojo flowing.
Oh, and in case you're wondering about what we're going to be doing once Halloween has passed... let's just say that there's a little project you may have heard of that we'll be putting the wraps on. Not sure what I'm talking about? Okay, how about I show you a special little jack-o-lantern as a hint: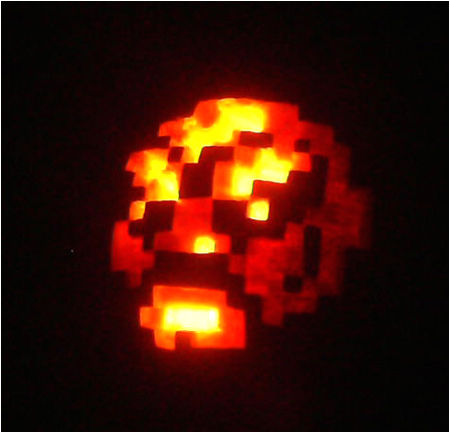 Oh yes, it is happening. It is happening very, very soon.
Please drop a comment (whether you're logged in or not) in our blog and let us know what you thought of the Halloween season and what your favorite articles were. Also, let us know what your Halloween plans are and feel free to post photos of your costumes if you're dressing up!
Thanks again everyone and Happy Halloweeeeeeeeeeeeeeen!
25 comments
Leave a Reply
Previous post: My All-Too-Disappointing Journey To Hell.
Next post: Halloween 2011: The Aftermath.