Halloween 2011: The Aftermath.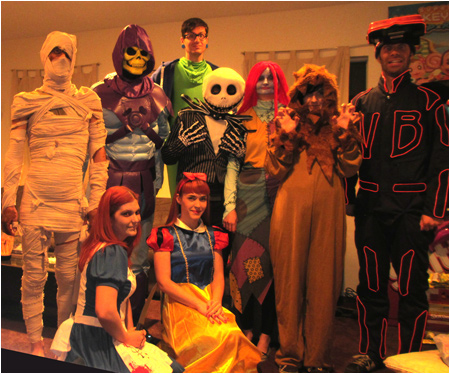 So Halloween has come and gone and I had another fantastic time celebrating my favorite day of the year by going out trick-or-treating with the chums you see pictured above. While I'm now recovering from the past two months of nonstop Halloween madness, and preparing to wrap up a certain huuuuge game whose titular character kinda rhymes with "Robohobo" (which sounds like an awesome sequel to Robocop, doesn't it?), I thought I'd share with you some photos from our October 31st trick-or-treating adventure. So continue after the jump to see all the pics for one last dose of Halloweeny goodness.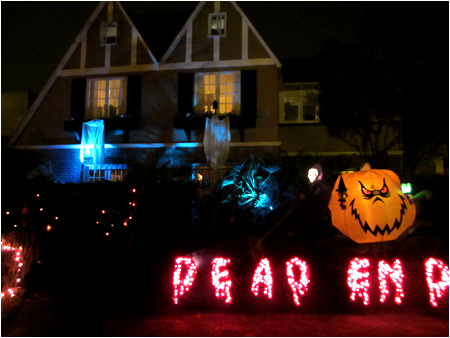 So we decided to go trick-or-treating in Brentwood, because it's one of the rich neighborhoods in LA (which neighborhood isn't?) and some friends had gone there in previous years and had a lot of success. We heard that the decorations on many of the homes were amazing and tons of people go trick-or-treating there, so off into the night we went. This was one of the first homes we came to, and despite the glowing "Dead End" warning, we scored a nice handful of candy from 'em. A fine start!
This house had a large portion of their decorations surrounded by a circle of lights, as if to suggest it was some kind of sacred burial ground. Or perhaps it was an ancient sacrificial site? Either way, we dared not step within its boundaries, for we were sure that anybody who did would be cursed with an awful candy haul that night.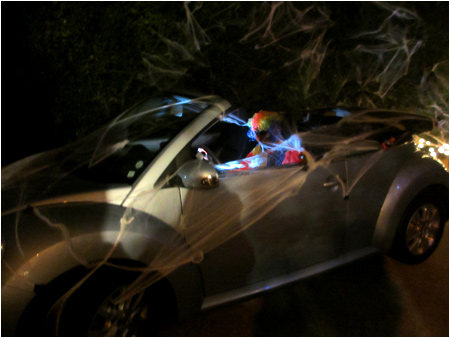 Some people went the extra mile with their decorations, like this family who even covered their Volkswagen Bug in spider webs and stuffed a psycho killer clown into the driver seat. Gotta love it.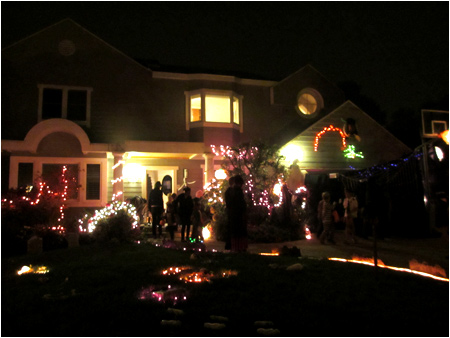 It's a little hard to see, but this was probably my favorite home of the night, for not only did they have great decorations and candy for us, they also converted their garage into a miniature walk-through haunted house. If you look to the right, you can see where there's a dark covered entrance to the garage, and as small as the space was, they had people jumping at you from every angle along with some great decorations. And just when I thought it was over as I lifted the black curtain to exit the mini-maze, a hand draped in black fabric popped out to grab me. Awesome. I had more fun in that little garage than I had at the Ghost Ship. Seriously.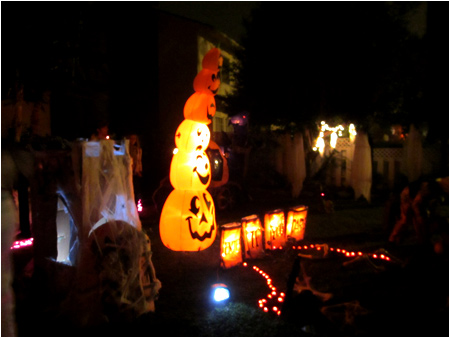 Yet another front yard with killer decorations. I particularly liked the stack of pumpkins that reminded me of a Halloweeny version of Pokey from Super Mario Bros. 2.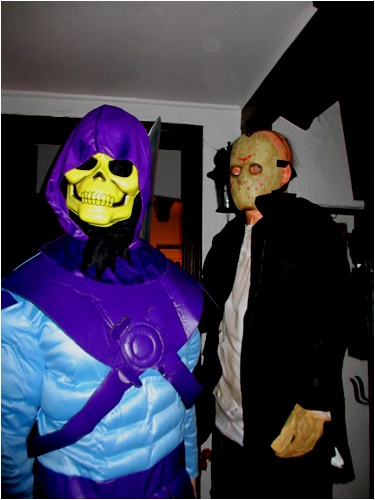 Someone had an animatronic Jason Voorhees that I've been wanting for ages on their front porch. I saw these on sale for $200 at K-Mart a few years back, but this was the first time I saw one being used as part of somebody's Halloween yard decorations. I walked up to the front door, got my candies, and then he chopped my head with his machete just as this photo was being taken. Talk about perfect timing. Well played, Mr. Voorhees.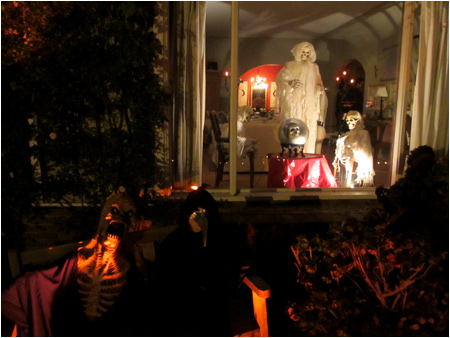 Some places like this one not only made use of their front yards, but they also created eerie little scenarios inside their front windows. Fortuneteller skele-ghosts with a skull inside the crystal ball? You just can't go wrong with that.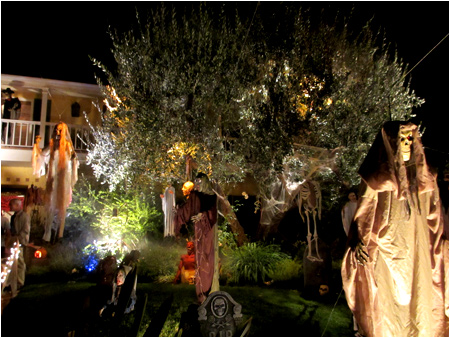 Other yards had so much stuff hanging from trees, you had to watch your step or your walk straight into the crotch of some random goblin hanging from a wire. Believe me, nothing is scarier than running into an undead crotch.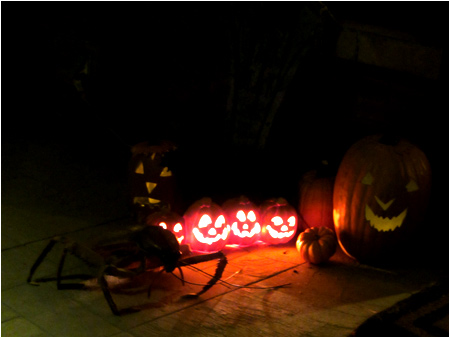 There were loads of jack-o-lanterns... but it's a rare occasion when you find them being guarded by a giant cockroach. Oh the wonderful sights of Halloween.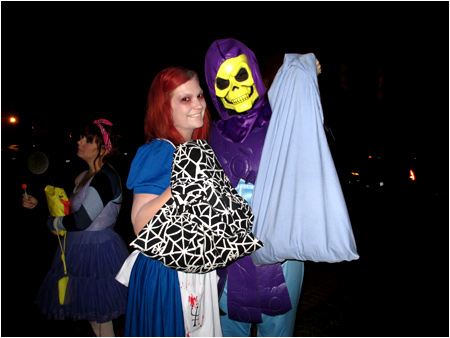 As you can see, we amassed a very respectable amount of candy in our pillowcases over the course of the night. Granted, they would've been even more full if we hadn't eaten much of the treats while we were walking around. But hey, such nutrients are necessary if one is going to keep up such a feverish pace of visiting countless homes throughout the night.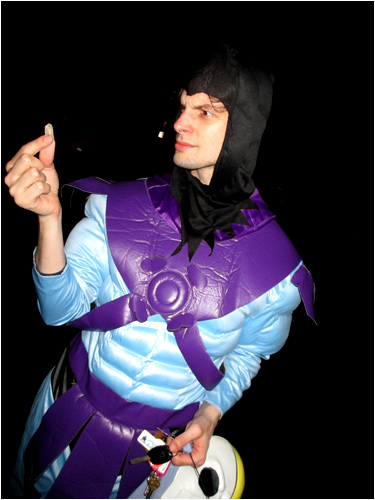 One of my favorite memories was from the end of the night, when I reached into my bag and actually found that somebody had given me a rock. A ROCK! That's right... I had an actual real life "It's the Great Pumpkin, Charlie Brown" moment! Good grief. Absolutely amazing.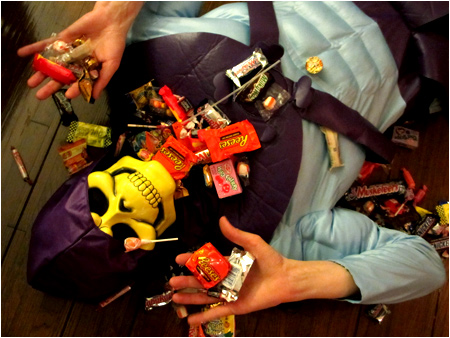 Of course, when I got back home, rocks were the last thing on my mind. Oh yes, Skeletor had himself quite a sugary feast back at Snake Mountain that night.
Sadly, reality eventually sets back in when Halloween draws to an end and we realize it's time to get back to our regular daily routines - like grocery shopping.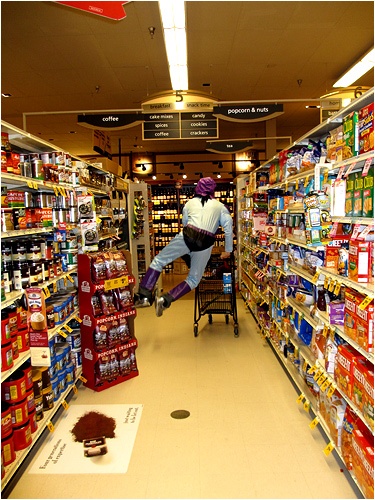 But Skeletor didn't let that get him down, so you shouldn't either... for Halloween shall return for all us ghoulies to enjoy once again next year. Here's hoping you all had a happy Halloween!
18 comments
Leave a Reply
Previous post: Happy Halloweeeeeeeeeen!
Next post: Abobo's Big Adventure: The Official Trailer!