I-Mockery Game On The Simpsons!
Somebody in our message forums just let me know that in a recent episode of The Simpsons called "The Food Wife", Homer and his kids went to the E4 convention to check out all the latest games. Obviously a spoof on the E3 Expo, upon their arrival, they see a variety of upcoming games such as Guts of War III, World of Krustcraft, Dig Dug: Revelations, and more. But check out what other game they had on display: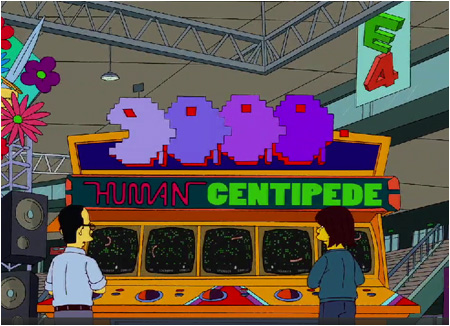 Yes indeedy, they included the Human Centipede parody game that we made! You can even see the little white Dr. Heiter at the bottom of the screen shooting up at the centipede. Of course, they couldn't show a close-up of the gameplay as I'm sure it wouldn't fly with the ratings board, but it's still pretty cool to see that one of their writers likes what we're doing.
Good news like this almost makes me want to do the Bartman.
17 comments
Leave a Reply
Previous post: Abobo's Big Adventure: The Official Trailer!
Next post: I-Mockery's 2011 Secret Santa Event Sign-Ups Have Begun!