Happy Christmas: Holiday Color Blanks And Some New Videos!
Wow, Christmas really sneaked up on us quickly this month, didn't it? I guess time flies when one is preoccupied with all things Abobo. Well, I hope you guys enjoyed the two huge pictorials from our trip to South Korea, including the latest one from Lotte World in which I shared videos of their insane Christmas parades at night and more. And speaking of Christmas goodies, check this out: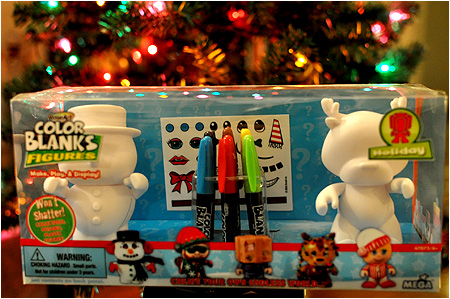 We found this new Color Blanks 2011 Special Holiday Pack at Target a few weeks back and simply had to pick it up. Some of you may recall the Halloween Color Blanks from last year, so it's good to see them releasing some Christmas ones too. This particular pack came with a blank snowman and a blank reindeer figure. Of course, I could've just slapped on the cheap stickers that were included with the set and ruined them, but I live with an artist, so I decided to have Re color them in. I clearly chose wisely, for here they are: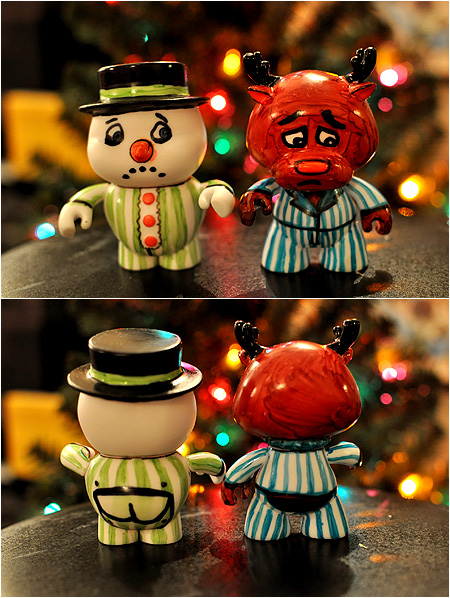 As you can see, Re made a wonderful little snowman and reindeer, who are both feeling a bit embarrassed about their poop chutes being left open. Pretty nifty, especially when you consider that the markers they include with these Color Blanks sets are awful.
In other news, I recorded some brand new Christmas videos with my buddy Andre "BlackNerd" Meadows and they're finally up online just in time for the holidays. Behold!
Anyway, I survived some hellish Christmas holiday travel, but I'm drinking some black cherry flavored ginger ale out of my moose mugs and am now feeling peachy keen. Gonna watch some of my favorite Christmas holiday flicks over the next 24 hours like Jack Frost: The Mutant Killer Snowman, Scrooged, and Silent Night, Deadly Night to name a few. Hope you're all having a great holiday season so far and I hope Santa treats you well.
And yes, we'll have another one of our traditional "Christmas Aftermath" threads in the next day or two so you'll be able to share all the goodies you received. Until then, may you all find your way out from underneath a mountain of discarded Christmas present wrapping papers. The journey is long and hard, but you must continue dig, dig, dig... for oxygen awaits! And maybe even an Astro-Weenie Christmas Tree.
As they say in Seoul - Happy Christmas!
p.s.: Hit the jump for two more goodies - outtakes from our Christmas videos!
3 comments
Leave a Reply
Previous post: 8-Bit Rock Around The Christmas Tree MP3! Download And Be Jolly!
Next post: Christmas Aftermath 2011.