Protoclown's Top Tens For 2011.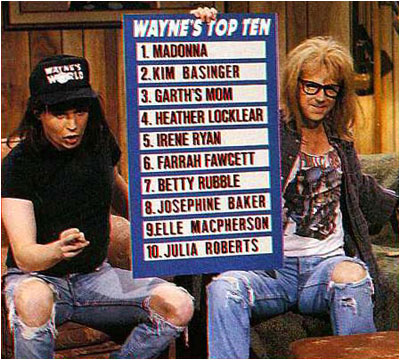 I didn't do a Top Ten list for 2010 because I was lazy, but this year I am back! Here are my Top Ten lists of movies, music, and video games that came out in 2011. These are ranked in the order of how I enjoyed them.
Movies:
1. Captain America
2. Hugo
3. X-Men: First Class
4. Thor
5. Sherlock Holmes: A Game of Shadows
6. Conan the Barbarian
7. The Debt
8. Super 8
9. Pirates of the Caribbean: On Stranger Tides
10. Cowboys and Aliens
Most disappointing movies I saw this year were Your Highness (which wasn't nearly as funny as it should have been considering the talent), Sucker Punch (which wasn't pretty enough to make up for the crappy story), and Priest (which should have embraced how bad it was, and then it could have been wonderfully hilarious). This really wasn't a terribly exciting year for movies. I only saw a few more than ten movies in the theater in 2011, which is kind of a low number for me. I still haven't even seen Green Lantern yet. I heard it's really bad though. The majority of my list is made of bombastic popcorn flicks, but I guess that's primarily what I saw in the theater last year.
Music:
1. Tom Waits - Bad As Me
2. The Mountain Goats - All Eternals Deck
3. Florence + the Machine - Ceremonials
4. Bon Iver - Bon Iver
5. Childish Gambino - Camp
6. PJ Harvey - Let England Shake
7. Radiohead - The King of Limbs
8. The Decemberists - The King is Dead
9. Amanda Palmer - Amanda Palmer Goes Down Under
10. TV on the Radio - Nine Types of Light
There were plenty of other albums I enjoyed this year, by Juliana Hatfield (which I only just purchased, so it may actually belong on the list after a few more listens), Social Distortion, Dropkick Murphys, R.E.M., The Dears, Okkervil River, Beastie Boys, St. Vincent, The Sounds, The Strokes, and yes, even Lady Gaga. The most disappointing albums for me this year were the new Cake and Aquabats albums. Just nowhere near as good as what they've done before. The new Dead Milkmen album isn't bad, but it's just not on par with their older stuff. I'm just thrilled to see them back though after a sixteen year hiatus. And the new Fleet Foxes and Feist albums didn't really grab me, so I guess those were kind of disappointing as well.
Video Games
And now for video games. At the pace I play games, I don't think there's ever going to be a year where I reach a full ten on my list. I spent most of this year playing Mass Effect 1 and 2 (both fantastic), so I'm a bit behind the times anyway. However, I did play a few games this last year that actually came out in 2011, so I'll put those few on my list. And no, Skyrim is not on my list--I haven't played it yet. Shit, I haven't even played Oblivion, which is in my queue to be played. So cool your jets. If it WAS on my list, it'd probably be ranked 3rd after what I've seen of my roommates playing it (no, it is not better than Portal 2 and Batman will crush all dragons and throw them in Arkham Asylum). And I have the new Deux Ex game but haven't started that one yet either. Same with Dead Space 2 and Dragon Age 2...and a number of others that came out in the last year.
1. Batman: Arkham City
2. Portal 2
3. Limbo
4. Marvel Vs. Capcom 3: Fate of Two Worlds
5. Alice: Madness Returns
50. Duke Nukem Forever (it doesn't deserve to be in the Top Ten but I did play it, so there you go)
Feel free to share your own Top Ten lists in the comments below. I'm curious to see what other people enjoyed, and if there's something you think I should check out in any category, let me know and I'll look into it. Maybe I missed something good.
10 comments
Leave a Reply
Previous post: A New Year's Resolution.
Next post: The Making Of Abobo's Big Adventure: Game Of My Dreams.