Introducing Jack-O-Juke: I-Mockery's Halloween Music Jukebox!
One year ago, I went to the local cemetery during a full moon, dug a grave, and buried a jukebox in it. I would explain why I did this, but why creep you out with the gruesome details of my nocturnal October activities? So anyway, I returned to the cemetery last night, dug up that same jukebox, plugged it in, and discovered something truly horrifying...
It had become the Jack-O-Juke!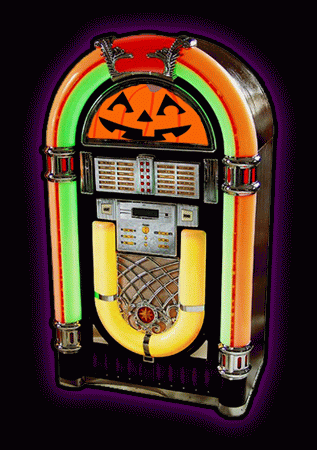 The Jack-O-Juke is a jukebox filled with over 180 horrifying Halloween songs to keep your decaying ears bleeding with ghoulish glee all season long. Feel free to keep the Jack-O-Juke open in a separate window so you can listen to all of the hand-picked tunes while still checking out all the latest article offerings here on I-Mockery.
I've received so many emails over the years from people asking me to set up a Halloween music jukebox on the site, I figured it was high time I oblige you guys before you decided to break into my home and eat my skull. With the help of some kind chums who donated their time, I gathered all kinds of killer Halloween songs, from the classics we all know and love to the completely obscure, and added them to this jukebox. I hope this new feature makes your Halloween season even more enjoyable than it already is... and I also hope it doesn't kill my server with all the bandwidth it's surely going to devour.
If you would like to help me out with the bandwidth costs, please consider purchasing our official 8-Bit Halloween print or anything else from our store. Every purchase helps cover my hefty hosting bills!
Have a song to suggest? If there's a Halloween tune that you feel is worthy of a permanent spot in the Jack-O-Juke, please post it here in this blog thread. This thread will be the permanent home for all spooky song suggestions, so feel free to return with all the ideas you can come up with. I can't promise I'll add anything you suggest, but I'll certainly keep an open mind about any haunted Halloween anthems you can come up with.
Alright, that's enough blabber. Start listening to the Halloween songs, please spread the word, and lemme know what you think!
128 comments
Leave a Reply
Previous post: The 20th Anniversary Halloween VHS Snow Globe Set: Glitter Blood!
Next post: The Stay Puft Marshmallow Man Now Lives Inside My Home.