My Halloween Doritos Proposal.
Of all the snack brands out there, it seems like Doritos is one of the biggest to have never truly embraced the Halloween season by offering a limited edition spooky flavor of their chips. Sorry, but that is totally unacceptable. Halloween Doritos need to happen. And don't think I'm here just to complain without offering any solutions. No, I've actually drawn up an idea that came to me right after I finished my recent article about Halloween snack chips, and I think it's something everyone can get on board with.
So it seems to me that if the Frito-Lay company wants to claim their place in the pantheon of great Halloween snacks, they're really going to have to go all out with something that both captures the spirit of the season and the attention of everybody who adores it. For example - take the recent Candy Corn Oreo cookies that took the online world by storm. Whether or not you like the taste of candy corn, the cookies still look amazing, and it's the classic candy corn color pattern that people associate so strongly with the Halloween holiday. It's that very look which brings me to what I consider the perfect idea for a Halloween edition of Doritos. Behold!
Beautiful isn't it? We've already seen Doritos release their "Collisions" packages with multiple flavors, so you can't tell me this isn't a completely feasible product. More importantly, it's something that just about anybody would be willing to try. I may love candy corn, but I'm not crazy enough to think there's a way to shoehorn the flavor into tortilla chips and have it work on any level. However, one could easily take the visual of candy corn and have each of the three classic colors represent three flavors that do work. That's exactly what I've done here, using white cheddar, nacho cheese, and yellow corn tortilla - all three of which are very common in the snack arena.
And don't worry, Frito-Lay... I've already taken the liberty to help design the packaging for these new Halloween Doritos and even gave them a name: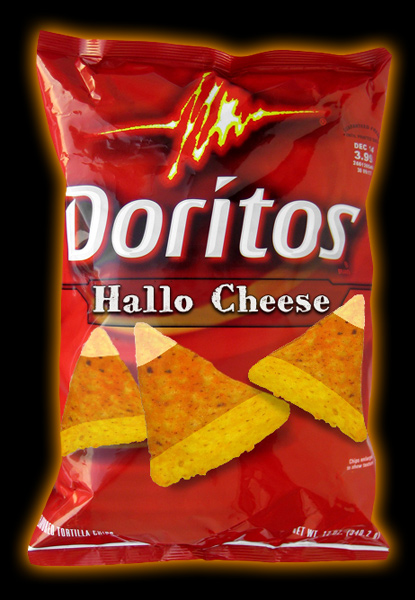 Hallo Cheese! HALLO CHEESE! HALLO CHEEEEEEEESE!!!!
There you have it. "Hallo Cheese" flavored Halloween Doritos! I've come up with the idea and given you the blueprints, it's now up to you, Frito-Lay, to make the Halloween dream of billions (probably an underestimate) come true. Do not let us down.
How you can help: To those of you who are reading this and want to see Hallo Cheese Doritos become a reality, please help out by messaging the official @DoritosUSA Twitter account about them, by posting on the official Doritos Facebook page, and by contacting Frito-Lay directly. They seem to be pretty good about responding to people, so hopefully with enough of us contacting them, the right set of eyeballs will see these Hallo Cheese chips and maybe we'll see them put into production sometime.
Here's hoping we'll all be wiping Hallo Cheese dust off our fingers next Halloween!
15 comments
Leave a Reply
Previous post: The Stay Puft Marshmallow Man Now Lives Inside My Home.
Next post: Freddy's Bubble Gum! A Topps Nightmare On Elm Street Candy Circa 1988!