Happy Halloweeeeeeeeeeen!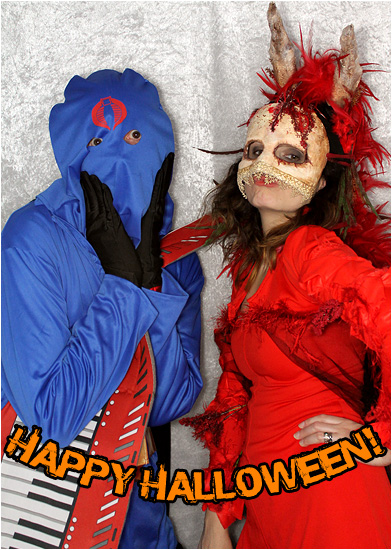 Elections? Pfft! Frankenstorms? Pshaw! We are all here to celebrate the most important holiday in history, and nothing is going to prevent us from doing so... not even having the holiday take place smack dab in the middle of the work week! This is the time when we toss aside those brains of ours that are constantly trying to grow up. This is the time when we pay complete strangers a visit and demand they give us all the sugary treats in their possession or face the wrath of having their property adorned with eggs and toilet paper! This is the time when we watch countless horror films, because they may not always scare us, but they feel like a familiar old friend returning home to keep us company. This is Halloween.
I already went out in costume with Re and some friends this past weekend to various Halloween yard haunts and gatherings, and we still plan on going trick-or-treating tonight. This year, I am Keytar Commander (yes, Cobra Commander with a keytar) and Re created her own interpretation of a red devil with a Venetian carnival mask. It wasn't planned, but I love how our red and blue outfits really seem to go together... it must be the keytar. Yeah, I'm gonna credit the keytar for being the glue that makes our costumes work. Once again, I have to send a big thank you to 80sTees for sending me the Cobra Commander costume. As you can see, it's the only official costume out there that features him with his hood instead of his traditional mirror mask helmet. If you grew up playing with G.I. Joe toys like I did, this version of the Commander was your most cherished one because he was only available for a limited time via a mail-away offer. Sadly, he was never available with a keytar.
As you probably know, I dedicate an entire two months to Halloween every year. It's a huge undertaking that swallows my life from September 1st - October 31st, but I have an incredible amount of fun doing it. This year, I feel like I wrote more "big" feature articles than I have in quite a while. Not sure what it is, but my energy and excitement for Halloween this season just has not waned at all over the past two months. We've covered a ton of ghoulish ground, and I hope you've all enjoyed every macabre minute of it. Here's a recap of some of the highlights this season:
-We discovered that the L.A. County Fair had not one, but three haunted attractions. And then we yelled at them.
-We were reminded that Hausu is an absolutely insane Japanese horror film.
-We learned never to take a cat on a yacht.
-We looked back at Supernaturals Ghostlings and realized they just might be the greatest holographic Halloween ghost toys ever made. Okay, they're also the only ones.
-We were one of the first to taste test the Candy Corn Oreo Cookies that became an internet phenomenon and the article appeared on a CNN broadcast about them.
-We unveiled the Jack-O-Juke - a Halloween music jukebox with over 180 spooky songs and counting.
-We learned some important life lessons from Beetlejuice.
-We found that Slash Dance was no replacement for a Horror Workout.
-We realized that the Ghoul Log is pretty much the worst thing ever made.
-We battered your brains with more Greatest Horror Movie Moments.
-We made the case for Halloween Doritos and expect the Frito-Lay company to deliver next year when we remind them about it again and again.
-We visited Knott's Scary Farm for their 40th annual Halloween Haunt.
-We laughed once again at what some people try to pass off as sexy Halloween costumes.
-We were hypnotized by the glitter blood in the Michael Myers Halloween Snow Globe from the special 20th anniversary VHS set.
-We saw a Blaxploitation ripoff of the Exorcist called Abby.
-We saw the construction of a Haunted Gingerbread Mansion.
-We remembered that Vintage Halloween Cards are far creepier than any modern horrors.
-We found that no sticker collection is complete without some Monstickers.
-We were even traumatized by Scary Moments in non-horror films too.
-We conducted another thorough Halloween Candy Taste Test.
-We battled our way through all the glorious 8-bit gore in Abadox: The Deadly Inner War.
-We viewed some amazing Foreign Horror Movie Posters.
-We were reminded by Chopping Mall that nobody should ever let robots handle their security.
-We learned that some of our readers are incredible Halloween Toothpaste Artists.
-And last but not least, Count Pop graced us with his presence once again and he even made a new Halloween Dance Video!
You know there is no time I enjoy more than Halloween each year, and having so many of you making I-Mockery your online Halloween home truly makes it all the better. I really try to give you guys the best and widest variety of Halloween coverage you'll find anywhere online every season - from visiting haunts and reviewing movies, to taste testing candies and tracking down the most absurd novelties and more, I always try to make every season special and filled with surprises. If you continue to stick with me, I'll do my best to keep that tradition going strong for years to come.
I'll have some post-Halloween photos and videos to put up on I-Mockery soon too, so don't go anywhere. Once more, I must thank Dr. Boogie and Protoclown for their awesome contributions to our Halloween celebration. Also, a huge thanks to Re for putting up with me as I turned our home into something that looked like a special Halloween episode of Hoarders.
Of course, a huge thanks again to you for sticking with us during our annual "Two Months of Halloween" celebration. It's a lot of work to put all this content together, but it's a lot of fun too, and your feedback definitely helps keep our bloody brains going. If you haven't already, please like us on Facebook, follow us on Twitter, and uh... tumble us on Tumblr. This is a completely independent web site, and we rely entirely on people like YOU to spread the word about it, so please do so if you can!
Please drop a comment (whether you're logged in or not) in the blog here and let us know what you thought of the Halloween season and what your favorite articles were. Also, let us know what your Halloween plans are and feel free to post photos of your costumes if you're dressing up or your decorations or any other Halloweeny things you like!
Thanks again everyone and Happy Halloweeeeeeeeeeeeeeen!
18 comments
Leave a Reply
Previous post: Freddy's Bubble Gum! A Topps Nightmare On Elm Street Candy Circa 1988!
Next post: Yeah, That Exists - Episode 5: Boney Island - A Truly Amazing Halloween Yard Haunt!