The Tooth Fairy vs. Santa Claus.
I just kicked off the Christmas holiday season in less-than-merry fashion. So, when I was a kid, I got into a bicycle accident (face first with a truck) and my front teeth were shoved back up into the gums as a result. Yeah, it hurt. I had to have all kinds of dental surgeries back then, they told me that one of my front teeth was dead and would likely fall out later in life. Well, despite being dead, yellow, and subjected to more Halloween candies than you can imagine, that tooth hung on for decades against all odds. Sadly, I was recently informed by my dentist that it was time for the tooth to go, for it had dropped down some more and I was risking infection. So this is how my Christmas holiday season started off - with a tooth extraction.
I only wish they offered some kind of twinkling LED Christmas light novelty replacement tooth that I could wear all December instead of a normal one, because I'd be all over that in a heartbeat. But hey, if nothing else, I at least got a wonderful holiday greeting card out of it: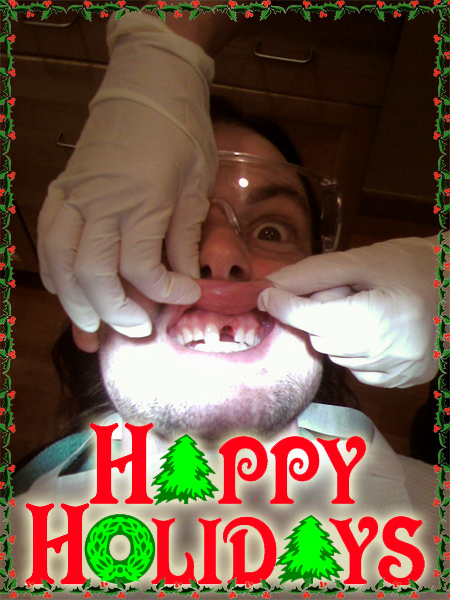 I'll miss you, ol' front toof. R.I.P. my yellow friend.
Anyway, as you can see, the Christmas holiday season has begun here on I-Mockery. I've got a really busy month ahead of me, but I'm gonna do my best to keep the site updated with all kinds of jolly goodies. And don't forget, we have a big Christmas Collection archive of articles and games here on the site to keep your bells jingling all month long, so be sure to check it out.
21 comments
Leave a Reply
Previous post: Yelling At Comikaze 2012! *UPDATED*
Next post: The Gloriously Ugly Christmas Sweaters Of Pop Culture!