Flea Market Finds!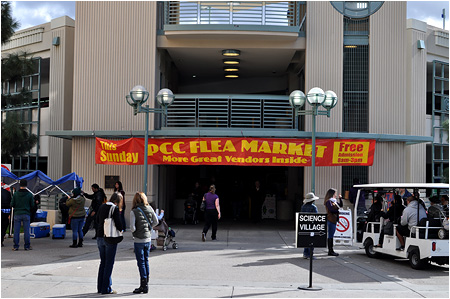 I've been very busy with a new project lately. So busy, in fact, that I completely forgot about some photos I snapped while visiting the Pasadena City College Flea Market last month. Fortunately, photos of the always amusing and oddball things one can find at any given flea market are timeless, so I could post them years later and they'd still be just as relevant as they are now. With that in mind, here are photos of my favorite finds from last month's PCC Flea Market: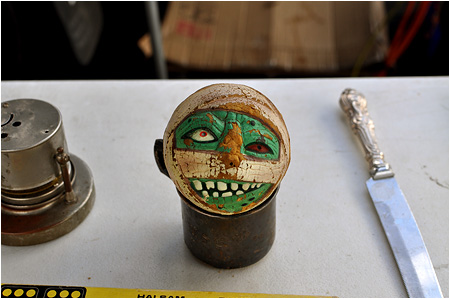 I suppose if you're going to stumble on a Madballs toy that's been horribly mistreated, it might as well be Dust Brain. He's a weathered old mummy to begin with, so some extra scratches on his face actually work well with his aesthetics. Of course, in this condition he's only worth a buck or two at most, but the elderly seller actually wanted $30 for it. Hahahahahahahahahaha NO.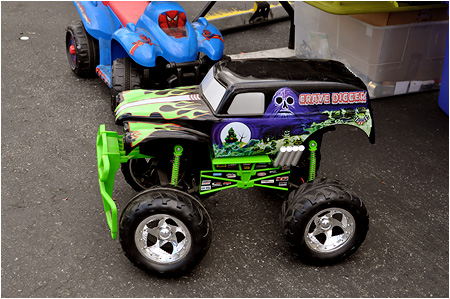 At first I thought this Grave Digger was a ride-on Power Wheels vehicle like the Spider-Man one behind it, but it's just a really large monster truck toy. Still, there's no denying that Grave Digger has the best chasis artwork in the history of monster trucks, so it's always a welcome sight.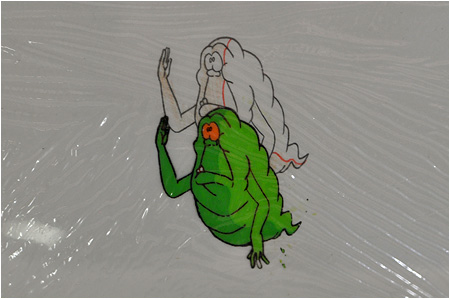 If you're a fan of The Real Ghostbusters cartoon like I am (and you should be), finding an original Slimer cartoon art cel is always an extremely good thing. In this scene, I like to think he was about to raise his hand to ask if he could have a hall pass to go use the restroom, but was secretly gonna use it to raid the snack machines.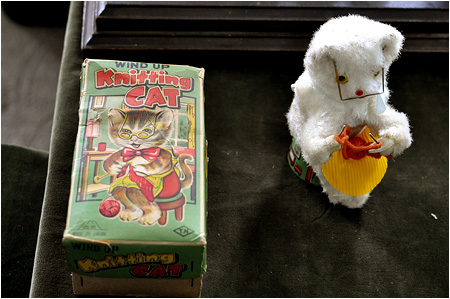 You know, if I've said it once, I've said it a thousand times... it's really hard to find a good Wind-up Knitting Cat. Fortunately, this flea market has us covered.
Continue reading for more pics from the flea market:
Root beer is the elixir of the gods, and yet this vintage Hires' ad makes me not want to drink a single drop of it.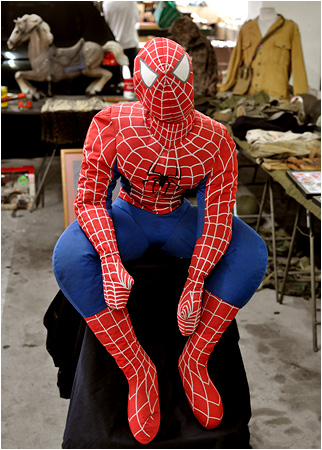 This appeared to be a large, hand-made Spider-Man doll that was perched up on a table. Walking by him, you couldn't help but feel like he was judging you. "I've probably saved your life at some point, and what do you do with it? You come to a flea market in a parking garage." Shut up, Spidey.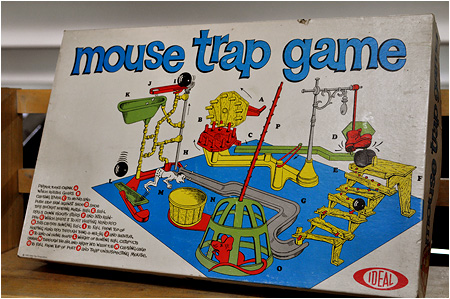 I still say you can find a copy of Mouse Trap at almost every flea market and yard sale in the world, but it's nice to see one of the vintage copies by Ideal for a change.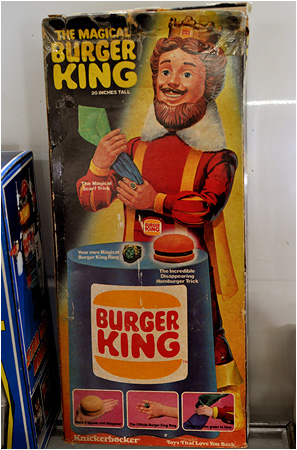 Sorry, but the Burger King will always be better than Ronald McDonald. Why? Because he's magical. The guy knows magic. MAGIC. You know you want to see the disappearing hamburger trick.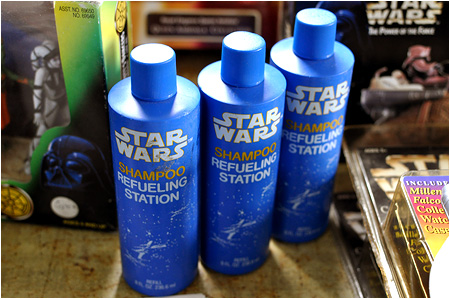 It's too bad Luke, Porkins, and the rest of the rebels had to wear protective helmets in their cockpits when attacking the Death Star. Had they not, I bet we would've been treated to some luxurious galactic hairdos, compliments of Star Wars Refueling Station Shampoo.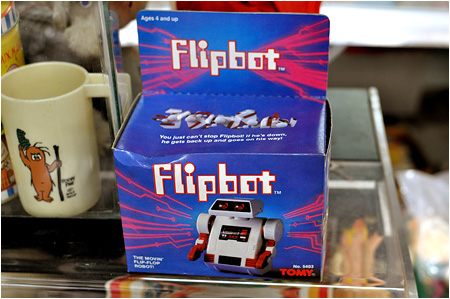 One of the many classic Tomy robots - Flipbot!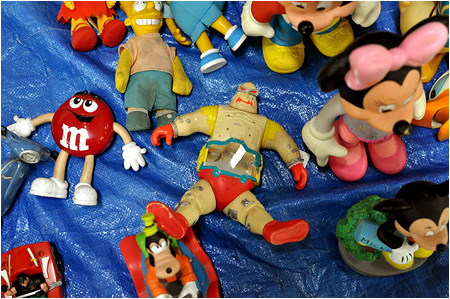 It's always tragic to see a badass toy like the classic 1991 Krang's Android Body being mistreated... not to mention missing Krang himself. Well, I suppose you could just whip up a batch of watermelon flavored Jell-O and stick it in the android's belly and say it's Krang. Yeah, that'd do the trick.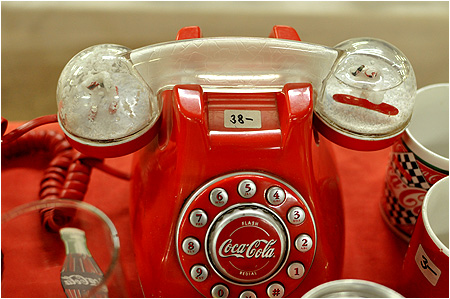 THIS is why I hate cell phones. Sure, people talk to each other a lot less now that they can send texts, but if you ask me, the worst thing that happened because of cell phones is that we no longer see crazy novelty telephones being released every day. I'm not even a big Coca-Cola memorabilia fan, but who the hell wouldn't want to own their very own phone with snow globes in the receiver handle?? Amazing.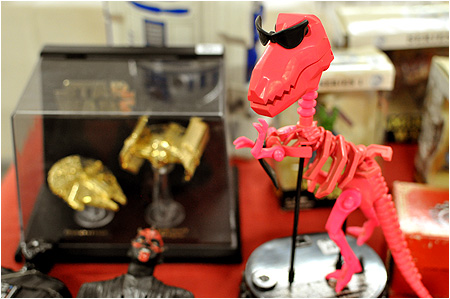 A neon pink Tyrannosaurus rex dinosaur with cool dude shades? That's already fantastic enough, but it apparently danced as well. Stick him in between some dancing pink flamingos and I guarantee you'll have a stage show that could rival even the best Chuck E. Cheese animatronic bands.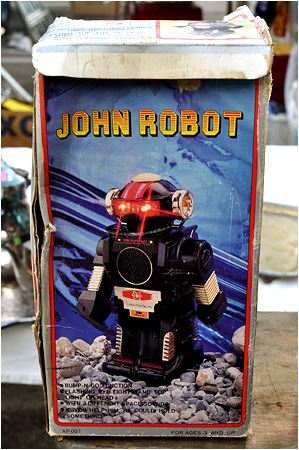 I don't know if John Robot is named "John", or if he's a "John" who solicits prostitutes. Oh wait, the box says he has a "Bump-N-Go" function. Well... I guess that clears up what kind of "John" he really is. Mystery solved.
Alright, that's all the pics from last month's Pasadena City College Flea Market. Hope you enjoyed 'em. Drop a comment below and lemme know what your favorites were, and feel free to share some of your own recent flea market finds while you're at it too.
19 comments
Leave a Reply
Previous post: Movie Moments Make Me Mad: Episode 4
Next post: My Thoughts On The Evil Dead Remake.