Jason Voorhees Gets An Exclusive SDCC 2013 Friday The 13th NES Figure!
So some brilliant Friday the 13th fan by the name of Will Edwards painted a custom Jason Voorhees figure so it would look just like his purple and blue 8-bit character incarnation from the original Friday the 13th NES game. Awesome idea, right? Well it gets better. He tweeted the image to the NECA toy company, and they loved the figure so much, they decided to actually produce it! Behold:
You can't tell me that isn't a thing of absolute beauty. Now, I've scored some great Comic-Con exclusive figures in the past, but I'm more excited about this one than anything I can remember. It even glows-in-the-dark and will come with NES tribute packaging! The only thing I would change is I think they should include a weapon that looks exactly like a scrubbing brush, just like how Jason's axe appeared to be one in the original game. Still, this figure is an absolute must-have! Huge kudos to Will Edwards for coming up with such a killer idea, and kudos to NECA for recognizing that it's something that all action figure collectors, horror fans, and video gaming enthusiasts alike would want to own.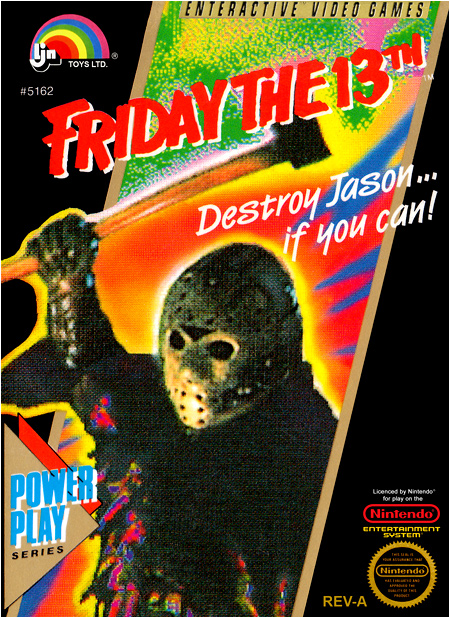 Friday the 13th is one of the few NES games I still own complete in the original box. Despite it being far from my favorite game, I always loved how colorful the packaging was. Rarely do you see Jason Voorhees bursting out of some trippy rainbow world with neon shreds of fabric dangling off his upper torso, and man did it ever work. The game itself was frustrating as hell for anybody who played it, especially when those damn words "You still haven't defeated Jason... and he's even stronger!!" popped up on the screen. Still, I have fond memories of it, even when I was fighting wolves, bats, and zombies instead of Jason himself. If you've never played the game, here's a seriously impressive speedrun done in under 5-minutes that would've absolutely blown my mind had I seen it when I was a kid:
I'll be sure to post more details on the Jason Voorhees NES figure once it's in my hands. Man... SDCC 2013 simply can't come soon enough. In the meantime, you can learn a little more about the figure here.
18 comments
Leave a Reply
Previous post: Bionic Chainsaw Pogo Gorilla!
Next post: Yelling At The 2013 Renaissance Pleasure Faire For My Honor!