Your old pal Doc Mock has returned from his mausoleum once again, bringing you footage from the 2013 Eyegore Awards for the opening night of Universal Studios Halloween Horror Nights! The Doc landed all kinds of fun interviews on the red carpet with nice folks from the horror industry, including the cast of "Curse of Chucky", Calico Cooper, Josh Sussman, Lin Shaye, Bill "Chop Top" Moseley, and a man who I'm sure many of you consider to be quite "Groovy". Check it out!

[click here for high quality video]
Hope you enjoyed the video, and be sure to drop a comment to lemme know what you think of it. Also, check back here soon, because I'll be launching one of my HUGE galleries of roughly 200 photos showcasing all the new mazes from Halloween Horror Nights this year - including Evil Dead and Black Sabbath: 13 3-D! Other big Halloween updates are coming as October quickly approaches, so stick around!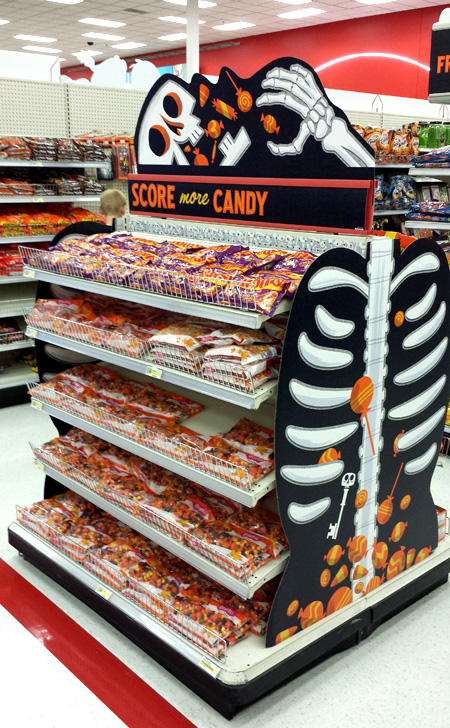 Target has finally started rolling out all of their seasonal Halloween merchandise, after an unusually long September delay, and I'm happy to report that it's looking pretty great so far even though they still don't have everything on shelves just yet. Their playful new "Fright Done Right" theme by artist Christopher Lee is definitely something any Halloween fan will appreciate. I particularly love the cardboard store displays depicting a skeleton gorging on candy; especially since you can see all of said treats resting in what used to be his stomach. He even ate a skeleton key for some unknown reason. I guess that's one major problem with being a skeleton; your hunger can never be satiated.
I've already purchased a bunch of goodies, but today I figured it would be nice to give some attention to a Halloween treat that I could easily see people overlooking since it's not nearly as flashy as some of the other products at Target this season: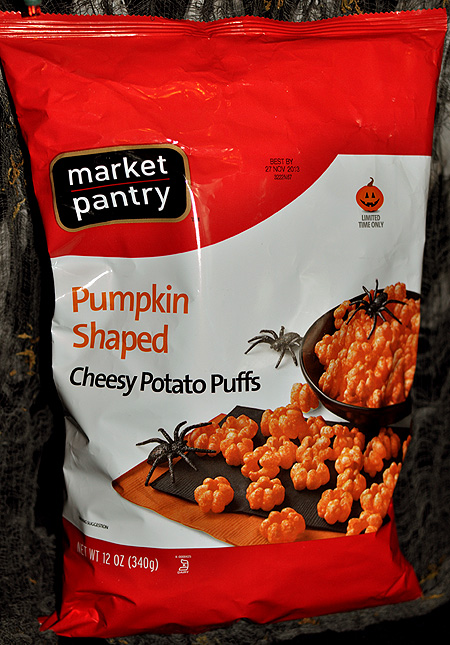 Market Pantry Pumpkin Shaped Cheesy Potato Puffs. Alright, so it's far from the greatest name for a product. It's kinda like when you see a restaurant in a strip mall called "Chinese Food", and you can't help but wonder why the hell they couldn't spend five minutes to come up with a catchier name. Now despite looking like a generic brand product, these pumpkin puffs are still worthy of your full attention this season. First off, one cannot overlook the fact that this company went out of their way to actually make their cheesy puffs shaped like pumpkins. The incredible Cheetos Monster Mummy Bucket I reviewed last week had many merits, but even the Frito-Lay company didn't go so far as to give their snack a festive new shape, so we need to give credit where credit is due.
They also have spiders crawling all over the pumpkin snacks on the front of the package, and while I knew it was too much to ask that they'd actually include a few toy spiders in the bag, a little part of me was still disappointed not to find any in there. Maybe I'll buy a few plastic spiders of my own and toss 'em in. The package even has a nice little "Limited Time Only" jack-o-lantern on the front. Sure, it's not much, but I still appreciate it.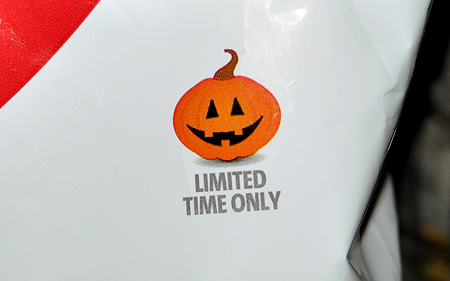 You know you love it.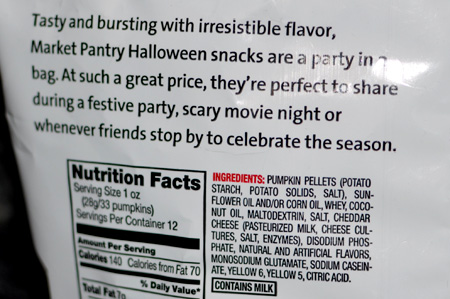 While the packaging is pretty tame, I do like that they're encouraging you to watch some horror movies while snacking on these puffs. But the real eye-catcher here was in the ingredients. Pumpkin Pellets??? I always thought the only edibles featuring "pellets" was the hermit crab food you buy at pet shops 'n what not. All I know is that as soon as I saw that as the first ingredient, these potato puffs went from a "Maybe I'll buy these" to a "If I don't buy these, the Great Pumpkin should come murder me in my sleep for dishonoring one of his great creations!" Seriously, I don't know who could pass up the opportunity to eat something made primarily of pumpkin pellets.
Sure enough, the pumpkin shapes are the real deal. How they achieved this feat is a question best reserved for the witches who are most assuredly employed at Target's Market Pantry division. They're completely hollow in the inside and you can even wear them on your fingers as makeshift cheesy pumpkin rings - something I can easily see just about any kid doing naturally anyway. What surprised me most about these was the flavor. I was expecting them to taste just like Cheetos, and while they do pack a very enjoyable crunch, they actually taste a lot like Pringles! No, this is not a bad thing at all. These cheesy potato puffs are basically pumpkin-shaped, cheddar-flavored Pringles, and I'm officially a fan.
So yeah, if you're looking for a different, non-candy Halloween treat to munch on this season, or you simply want to pretend you're Jesse Pinkman and shout at the moon, "I JUST ATE PUMPKIN PELLETS, BITCH!", I'd suggest you seriously consider giving these a try.
Oh and one last thing before I go: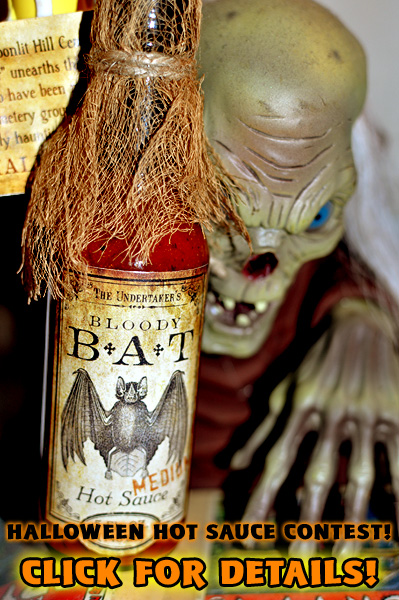 In case you didn't know, the deadline for the Halloween Hot Sauce contest I'm holding ends this Sunday, September 22nd, so be sure to have your entries turned in by then. It's a super easy contest to enter and it should be fun for everybody, because entries are not judged on the quality of art. Plus, I'll be putting up ALL of them in an online gallery just like I did with our Halloween toothpaste art contest last year. So yeah, click here for details on how to enter to win one hell of an awesome hand-made bottle of Bat Blood hot sauce and get crackin' on your masterpieces if you haven't already. Looking forward to seeing all of your tongue-terrorizing entries!

So I stopped by a Target store last night, and while they're still dragging their feet about getting all their Halloween merchandise out this year, they've at least started to put a variety of the new treats and candies on their shelves. I wasn't expecting much, but then I came face to face with this absolutely beautiful Halloween junk food specimen:
Do my eyes deceive me? Did Cheetos just put out their own version of McDonald's classic Halloween pails? It may not be a set of three, but close enough! The artwork on these buckets is absolutely fantastic; a mummy with slightly askew eyeballs and awful dental work, chomping down on a black bag of glowing Cheetos while proudly holding up two additional bags in each hand. There's even a little silver Universal Studios Monsters emblem on the side, showing their support for the original movie Mummy. This Mummy looks so incredibly good, I won't hold it against anybody who decides to dress up as one on Halloween, carrying bags of Cheetos with them wherever they go.
Pedestrian: "What kind of mummy are you supposed to be?"
Awesome Person: "I'm the goddamn Cheetos Mummy, that's what kind!"
Come on... you know one of you wants to make it happen.
There more to Cheetos than this Halloween pail too, take a look:
Yes indeed, the bucket comes packed with 15 treat-size bags of Cheetos, complete with Chester Cheetah dressed as a mummy. What's great is that while he's running away with a giant Cheetos piece in hand, reminiscent of a caveman's club, one of the spooky trees in the background is eating his mummy gauze wrappings. I guess the tree thought it was Bubble Tape or Fruit by the Foot. Whatever the case may be, I love that they didn't just stick the regular non-seasonal Cheetos bags inside this bucket. But here's the best part:
Each bag glows-in-the-dark! And we're not talking about a weak glow effect either, these bad boys illuminate surprisingly well, and they're perfect for trick-or-treaters. I kinda want to attach these to a string and hang them up around my home. I mean, how often do you get bags of Cheetos that have a glow-in-the-dark Chester Cheetah on them? Not often.
The one thing I don't understand is why there's no mention on the front of the bags that they glow. There's a small blurb on the back of the bags in the bottom right corner that reads, "Charge bag under lights for a Spookier Glow!", but nothing on the front. I mean, your average kid probably won't examine the bag as it is, but if they do, they're just gonna look at the nice graphics on the front. So yeah, it's unfortunate that most kids won't even realize they were just given a Halloween treat that glows-in-the-dark. Then again, if I were handing these out, I'd make damn sure they knew what they had just received.
Kid: "Trick-or-treat!"
Me: "Oh, hey there! Look at you, all dressed up as Fred Flintstone!"
Kid: "What? No, I'm Goku from Dragon Ball Z!"
Me: "Whatever. Here, have a treat!"
Kid: "Oh neat, Cheetos! Thanks mister! Happy Halloween!"
Me: "Hey wait a second, get back here!"
Kid: "Uh... what did I do?"
Me: "Nothing, I just wanted to let you know that your Cheetos treat bag glows in the dark!"
Kid: "HOLY SHIT!"
Kid's Mom: "Junior! Watch your language!"
Kid: "But mom! This bag of Cheetos glows in the dark!"
Kid's Mom: "HOLY SHIT!"
I do wish the pail glowed as well, but come on... this is one hell of a nice surprise from the Frito-Lay company, and one can only hope that this is the beginning of a long tradition of glow-in-the-dark snack bags that come in badass monster buckets. This Halloween season just keeps getting better and better, and it's not even mid-September yet.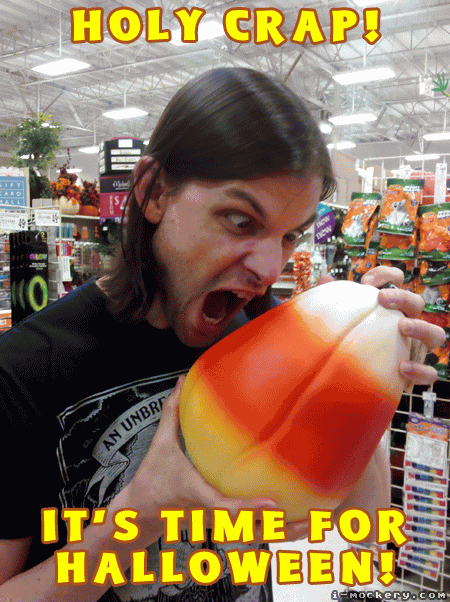 Welcome to the season when vampires bite, when skeletons dance, and when goblins cause a fright. It's the season when the horseman chops off your head, when you see crawling corpses, and everybody watches Evil Dead. This is the season when you always leave on a light, for there are monsters hiding under your bed, and they're keeping you up all night. It's the season for costumes and candy if you know what I mean, just don't get too comfortable... for anything can happen this Halloween!
Here we are once again, my friends. There is no better time to be alive (or undead) than right now. As Mikey said in The Goonies, "This is our time!"; or as Horace said in The Monster Squad, "Wolfman's got nards!" The sweltering summer must now surrender to the skulls and screams in our Halloween dreams. Are you a fan of horror movies, candy, haunted attractions, pumpkin carving, creepy crafts, bizarre novelties, and monster toys? If you responded in the affirmative to any of the above, I promise the next two months are going to be infinitely more awesome for you.
September 1st marks the beginning of I-Mockery's annual "Two Months of Halloween" celebration. Everything update you see on this site between now and October 31st will be Halloween-themed in some way or another. And I have to say... this season has already been shaping up to be one of the best (if not the best) Halloweens we've ever experienced. In July we saw the release of the Jason Voorhees NES figure (and Freddy Krueger is on the way); in August, we found out that all five Monster Cereal characters were going to appear on store shelves together for the first time in history; who knows what September and October have in store for us! The fact that you're reading this already makes you a part of our ever-growing Halloween family, so please hang around and get ready to have some spooktacular discussions with your fellow groovy ghouls.
As you probably already know by now, we pride ourselves on going crazier over this holiday than any other place has in our 16+ year history, so we've got all sorts o' brain-melting surprises planned for the 2013 Halloween season here on I-Mockery. We'll have coverage of various haunted Halloween attractions, horrific novelties, my huge annual round-up of the best & worst Halloween candies, horror movie reviews, new videos, craft projects, toy features, contests, and all the other wonderfully random oddities we stumble upon over the next two months.
If any of you have suggestions for Halloweeny things you'd like to see covered this season, please let me know here in the blog thread or shoot me an email. It doesn't matter if it's a Halloween event taking place in your area, a horror movie, an independent seasonal costume shop, some new candy, or some completely bizarro new Halloween novelty... I wanna see and hear all about it, so please get in touch!
To those of you who aren't well acquainted with our annual Halloween celebration here on I-Mockery, I always suggest checking out some of our main Halloween attractions. We have a huge reservoir of Halloween material on this site from previous years, so while you wait for our newest pieces to go up, I highly recommend checking out those older things to get in the spirit of the season.
-I-Mockery's Halloween Collection: Here you'll find quick 'n easy access to most of our Halloween material from the past. Extremely in-depth horror movie and candy reviews, product reviews, and of course the boppin' Halloween adventures of Count Pop himself along with other oddities.
-The Halloween Grab Bag: Much like our "Shorts" section, this is a place where you'll find our smaller Halloween articles, but often covering some of the weirdest stuff we've ever stumbled upon.
-The Greatest Horror Movie Moments: Another favorite is our ongoing quest to document some of the finest moments in horror movies. Sometimes they're moments you're well aware of, other times, it's stuff you probably never knew existed. Either way, if you're looking for some horror movies to check out this season, this is a great place to start.
-The Halloween Jack-O-Juke: Here be our Halloween music jukebox, filled with over 180 hand-picked horrifying songs and counting to keep your decaying ears bleeding with ghoulish glee all season long. Feel free to keep the Jack-O-Juke open in a separate window so you can listen to all of the hand-picked tunes while still checking out the latest article offerings here on I-Mockery. And if there's a song you think should be added to the jukebox, be sure to let me know!
-Trick-Or-Treat Adventure: One of the largest Flash games we ever made... and it's all about Halloween. If you're a fan of classic adventure games such as Secret of Monkey Island and Space Quest, you'll feel right at home with this one as you go on an adventure to build a Halloween costume and then collect enough candies before you battle the ultimate evil! It even auto-saves your progress as you go play, so you don't have to beat the game all in one sitting.
-Haunted House Candy Hunt: In this Halloween game, we pay tribute to the games of the Atari 2600 by creating an all new one in the same style. You must guide two buddies (who just so happen to be from a galaxy far, far away) through all the treacherous rooms of a spooky haunted house as they hold hands. Should you reach the end of the game, you'll have a showdown with the ultimate candy hoarder - The Grim Reaper himself! I've also heard from a reliable source (ie: myself) that there's a secret level select hidden somewhere in the game. But you don't need that anyway, right? Cheater!
-MonsterTime: With our most recent Halloween game, we pay tribute to another favorite arcade classic, BurgerTime. Only difference is, instead of building burgers, you're a mad scientist named Doc Mock who is building classic monsters to save you from the modern slasher monsters who are out for your blood!
-Doc Mock's Movie Mausoleum: Doc Mock, I-Mockery's official horror host, has been performing live at UCB theatre this year and is still looking for a new home to shoot his original web show at, but we have over 30 archived episodes you can still watch online. If you're looking for a good cheesy b-movie flick, check out some of the Doc's episodes, including his Halloween specials from 2009! Doc is planning on hitting up Universal Studios' Halloween Horror Nights once again this year, so expect coverage of that too and possibly some other surprises!
In addition to a ton of new feature articles, you can still expect our regular site updates to the Blog (don't forget the archived Halloween blog entries from years past). We've also got some great Halloween contests in store for you to participate in as well. Please show your support for all the hard work we put into our Halloween celebration by following I-Mockery us on Facebook, Twitter, and Tumblr to get all the latest updates. I-Mockery's big 2013 Halloween season has finally begun and I hope you guys will stick around the entire time to join in all the fun!