It's A Dead Man's Party! I-Mockery's 2013 Halloween Season Has Officially Begun!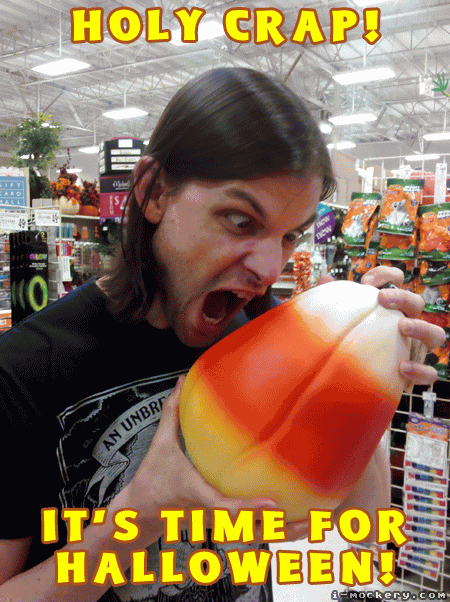 Welcome to the season when vampires bite, when skeletons dance, and when goblins cause a fright. It's the season when the horseman chops off your head, when you see crawling corpses, and everybody watches Evil Dead. This is the season when you always leave on a light, for there are monsters hiding under your bed, and they're keeping you up all night. It's the season for costumes and candy if you know what I mean, just don't get too comfortable... for anything can happen this Halloween!
Here we are once again, my friends. There is no better time to be alive (or undead) than right now. As Mikey said in The Goonies, "This is our time!"; or as Horace said in The Monster Squad, "Wolfman's got nards!" The sweltering summer must now surrender to the skulls and screams in our Halloween dreams. Are you a fan of horror movies, candy, haunted attractions, pumpkin carving, creepy crafts, bizarre novelties, and monster toys? If you responded in the affirmative to any of the above, I promise the next two months are going to be infinitely more awesome for you.
September 1st marks the beginning of I-Mockery's annual "Two Months of Halloween" celebration. Everything update you see on this site between now and October 31st will be Halloween-themed in some way or another. And I have to say... this season has already been shaping up to be one of the best (if not the best) Halloweens we've ever experienced. In July we saw the release of the Jason Voorhees NES figure (and Freddy Krueger is on the way); in August, we found out that all five Monster Cereal characters were going to appear on store shelves together for the first time in history; who knows what September and October have in store for us! The fact that you're reading this already makes you a part of our ever-growing Halloween family, so please hang around and get ready to have some spooktacular discussions with your fellow groovy ghouls.
As you probably already know by now, we pride ourselves on going crazier over this holiday than any other place has in our 16+ year history, so we've got all sorts o' brain-melting surprises planned for the 2013 Halloween season here on I-Mockery. We'll have coverage of various haunted Halloween attractions, horrific novelties, my huge annual round-up of the best & worst Halloween candies, horror movie reviews, new videos, craft projects, toy features, contests, and all the other wonderfully random oddities we stumble upon over the next two months.
If any of you have suggestions for Halloweeny things you'd like to see covered this season, please let me know here in the blog thread or shoot me an email. It doesn't matter if it's a Halloween event taking place in your area, a horror movie, an independent seasonal costume shop, some new candy, or some completely bizarro new Halloween novelty... I wanna see and hear all about it, so please get in touch!
To those of you who aren't well acquainted with our annual Halloween celebration here on I-Mockery, I always suggest checking out some of our main Halloween attractions. We have a huge reservoir of Halloween material on this site from previous years, so while you wait for our newest pieces to go up, I highly recommend checking out those older things to get in the spirit of the season.
-I-Mockery's Halloween Collection: Here you'll find quick 'n easy access to most of our Halloween material from the past. Extremely in-depth horror movie and candy reviews, product reviews, and of course the boppin' Halloween adventures of Count Pop himself along with other oddities.
-The Halloween Grab Bag: Much like our "Shorts" section, this is a place where you'll find our smaller Halloween articles, but often covering some of the weirdest stuff we've ever stumbled upon.
-The Greatest Horror Movie Moments: Another favorite is our ongoing quest to document some of the finest moments in horror movies. Sometimes they're moments you're well aware of, other times, it's stuff you probably never knew existed. Either way, if you're looking for some horror movies to check out this season, this is a great place to start.
-The Halloween Jack-O-Juke: Here be our Halloween music jukebox, filled with over 180 hand-picked horrifying songs and counting to keep your decaying ears bleeding with ghoulish glee all season long. Feel free to keep the Jack-O-Juke open in a separate window so you can listen to all of the hand-picked tunes while still checking out the latest article offerings here on I-Mockery. And if there's a song you think should be added to the jukebox, be sure to let me know!
-Trick-Or-Treat Adventure: One of the largest Flash games we ever made... and it's all about Halloween. If you're a fan of classic adventure games such as Secret of Monkey Island and Space Quest, you'll feel right at home with this one as you go on an adventure to build a Halloween costume and then collect enough candies before you battle the ultimate evil! It even auto-saves your progress as you go play, so you don't have to beat the game all in one sitting.
-Haunted House Candy Hunt: In this Halloween game, we pay tribute to the games of the Atari 2600 by creating an all new one in the same style. You must guide two buddies (who just so happen to be from a galaxy far, far away) through all the treacherous rooms of a spooky haunted house as they hold hands. Should you reach the end of the game, you'll have a showdown with the ultimate candy hoarder - The Grim Reaper himself! I've also heard from a reliable source (ie: myself) that there's a secret level select hidden somewhere in the game. But you don't need that anyway, right? Cheater!
-MonsterTime: With our most recent Halloween game, we pay tribute to another favorite arcade classic, BurgerTime. Only difference is, instead of building burgers, you're a mad scientist named Doc Mock who is building classic monsters to save you from the modern slasher monsters who are out for your blood!
-Doc Mock's Movie Mausoleum: Doc Mock, I-Mockery's official horror host, has been performing live at UCB theatre this year and is still looking for a new home to shoot his original web show at, but we have over 30 archived episodes you can still watch online. If you're looking for a good cheesy b-movie flick, check out some of the Doc's episodes, including his Halloween specials from 2009! Doc is planning on hitting up Universal Studios' Halloween Horror Nights once again this year, so expect coverage of that too and possibly some other surprises!
In addition to a ton of new feature articles, you can still expect our regular site updates to the Blog (don't forget the archived Halloween blog entries from years past). We've also got some great Halloween contests in store for you to participate in as well. Please show your support for all the hard work we put into our Halloween celebration by following I-Mockery us on Facebook, Twitter, and Tumblr to get all the latest updates. I-Mockery's big 2013 Halloween season has finally begun and I hope you guys will stick around the entire time to join in all the fun!
12 comments
Leave a Reply
Previous post: Fruit Brute And Fruity Yummy Mummy Are Back! Plus, All Five Monster Cereals Are Getting Retro Packaging!
Next post: Glow-In-The-Dark Halloween Cheetos In Mummy Monster Buckets!