The Return Of I-Mockery's Halloween Club Pack! Our Best One Ever!
They're baaaaaaaaaaaack. I'm happy to announce that just as we recently saw the glorious return of the Fruit Brute and Fruity Yummy Mummy monster cereals, October 1st marks the return of I-Mockery's Halloween Club Pack! Those of you who've been with I-Mockery for years probably recall some of the extremely limited club packs that were up for sale on the site. Well, this new pack is better than ever, because I'm loading it up with so many goodies that the mere sight of it is sure to kick your Halloween season directly in the nards. Behold!
As you can see, I've filled this special Halloween pack with a little something for everyone. For starters, you all know I'm a big fan of bootleg and oddball novelty items, and I recently struck gold... er... black. Yes indeed, I found some jet-black Freddy Krueger gloves!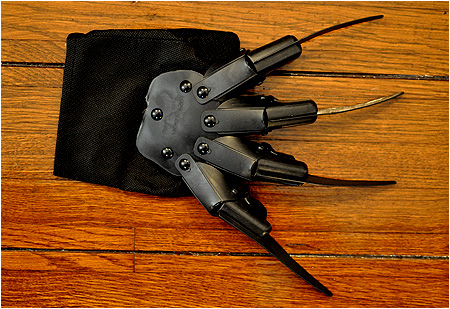 Freddy's glove is normally a variety of brown colors combined with the silver blades on his fingers. That's not the case with this rip-off "Nightmare Glove". These are completely black; the glove, the hinges, the razors... everything is black. It's the kind of blackest black that would even impress the likes of Spinal Tap. Needless to say, I bought up every single one I could find so I could get them to you this Halloween season. But that's only the beginning.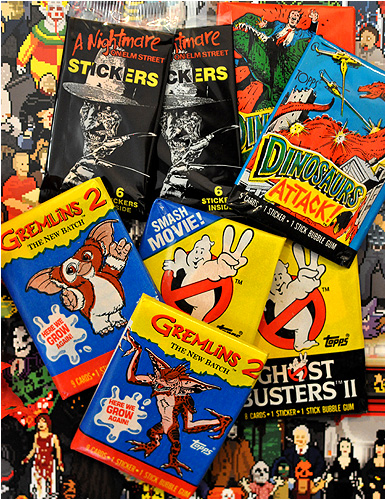 Each order also contains not one but FOUR vintage trading card / sticker wax packs! You'll get one pack of Nightmare on Elm Street stickers, one pack of Gremlins II cards and stickers, one pack of Ghostbusters II cards and stickers, and one pack of my all-time favorite Dinosaurs Attack cards. That's a hefty handful of horror-themed cards and stickers for you to collect... just do yourself a favor and don't eat the gum since it's over 20 years old! As an added bonus, I'll even be throwing in the original Elm Street sticker book into five random club packs for some lucky people to snag!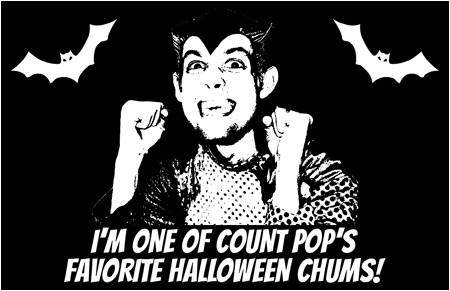 I'm also including a brand new Count Pop vinyl sticker made exclusively for this Halloween Club Pack. Now you'll be able to show the world that you are one of the Popster's pals! You'll find one of the classic I-Mockery shiny stickers in each pack as well. It'll make you happy and it also works as a makeshift portable funhouse mirror.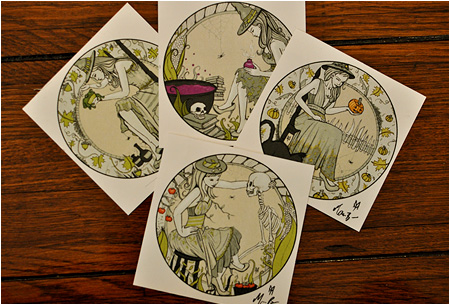 Marie Barr (Re) also printed a set of four custom witch illustrations that you're gonna love. One witch has a skeleton friend, one has a frog and fall leaves, one has a black cat and a pumpkin, and one has a cauldron filled with bubbling purple potions. You'll get one of her signed full-color witch print cards with every club pack order.
I'm also including a variety of random Halloween trinkets, toys, and treats in every pack. You'll find everything from vampire Fruit Roll-Ups, Juicy Oozers werewolves, and bleeding eyeball marshmallow treats to sticky jack-o-lanterns, wacky wall-walker skeletons, and little Cousin It toys. One of our readers, Devin Connors, even pitched in by making some truly awesome Tales from the Crypt magnets from the old 1993 trading card set (pictured in the first photo of this post), so you can expect to find one in each pack too. There will be other little surprises included with every order too, so as you can see, you're really getting a whole bunch o' Halloween fun mailed to your doorstep this season.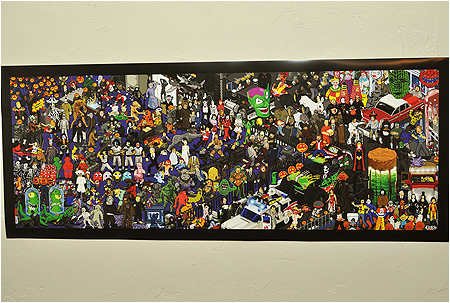 [click here to see the full-sized photo!]
To top it all off, I'm including our 8-bit Halloween pixel poster with every pack. This is a full-color 34" x 13.5" poster with over 150 hand-drawn horror characters on it! Trust me when I say you'll find yourself staring at this print for ages, always discovering new characters hidden on it. If you don't have the poster already, this is a great way to pick it up along with a bunch of other seasonal goodies in time for Halloween. If you do have it, well you can always spread the Halloween fun around by giving it to a chum. And as always, I'm happy to sign the poster (or anything) for you, so just include a note with your payment if you'd like me to do so.
I spent a lot of time running around putting together all the supplies for these Halloween packs, and I'm really excited for you to get 'em in your hands. Note that the packs are limited in quantity. Once they sell out, I won't be reproducing them again, so get 'em while you can!
Please keep in mind, you're not only getting a club pack filled with loads of Halloween fun, you're also helping support all the time and work put into I-Mockery. Halloween season is easily the most important time of the year for me. It's also the most expensive time of the year for me, what with all the traveling and purchases I make for reviews on this site, so your support really helps offset those costs.
The Halloween club packs are $25 a pop for anybody in the continental United States, and yes, that price does include shipping. If you're ready to order, click the button below: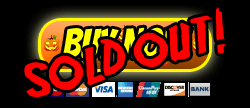 If you live outside of the U.S., I still want to make these packs available to you since everybody should get to enjoy Halloween. That said, it costs a lot more to ship packages like this out of the country and shipping times can be a bit unpredictable, so if you want one, drop me an email with your request and address and I'll try to find out how much the extra shipping charges would cost.
Alrighty, that about does it. I hope you have as much fun with these club packs as I had putting them together, because I really wanted to give you Halloween in a box. Thanks in advance to all of you who help support I-Mockery and all the work I do every Halloween season by ordering one!
UPDATE: Egads! ALL of the Halloween Club Packs sold out in less than a day! Thanks so much for the support everyone, it really means a lot to me and I hope the packs make this awesome Halloween season even better for those of you who snagged one in time!
21 comments
Leave a Reply
Previous post: Doc Mock Returns For The 2013 Eyegore Awards At Universal Studios!
Next post: I Was On A Halloween Podcast.