I-Mockery's 2015 Halloween Club Packs Have Finally Arrived! Order Now!
"I got a rock." It's the Great Pumpkin, Charlie Brown taught us all that trick-or-treating can sometimes be a disappointing endeavor. Fortunately for you, I-Mockery's Halloween Club Packs have returned for the 2015 season, and they're so full of spooky goodness that they'd even make Charlie Brown himself smile through one of the many holes in his ghost sheet costume. Once again, I've scoured the globe in search of the finest random Halloween goodies to make these limited packs one of the most awesome things you'll ever find in your mailbox. And I gotta say, I honestly think I've topped myself this year! Behold!
I'm sure your eyes are crying tears of bloody joy at the mere sight of this spectacle, but I assure you this is just a mere sampling of what you can expect to find in one of our new Halloween Club Packs. So dry your eyes and let's take a closer look at some of the bigger things you'll receive in this year's pack. We begin with my personal favorite item:
Really excited about this one. Believe it or not, I managed to score a ton of vintage "Spooky World: A Video Visit To America's Horror Theme Park" VHS tapes from 1994! This video is all about one of the best haunted attractions in New England, when Spooky World was still in its original Berlin, Massachusetts farm location! Special effects horror wizard, Tom Savini, worked on the haunted house there, and Kane Hodder (aka: Jason Voorhees) provides the narration for the entire tour. There's hand-drawn Halloween animations, tours of the haunt, hayrides, Jason hanging out in the trunk of a car for some reason, and even a live performance by the creator of the Monster Mash himself, Bobby "Boris" Pickett. It's like taking a time machine back to the early 90s and paying a visit to the kind of classic haunted attraction we all wish still existed today. The artwork and photos on the packaging is killer too, so you can put it on your shelf as a Halloween decoration, or bust out an old VCR and enjoy the footage! They're still sealed in their original packaging, and everybody who places an order will be receiving one! Plus, with scintillating reviews like "Such a good time" by Linda Blair, and "People are getting the yell scared out of them" by Leeza Gibbons, how can you possibly go wrong?
Another thing that I'm sure none of you already have are these monster figures from 1989. The reason I'm sure you don't have them? Because they were only released in Spain! The series was called Super Monstruos by Yolanda, and featured 24 different horrific characters. The characters included a ghost pirate, skeleton, grim reaper, cyclops, mummy, zombie, witch, a sheet ghost, the fly, and even a cheesy bootleg Freddy Krueger with two bloody razor gloves, among others. They're solid, colorful hunks of plastic that have a ton of retro horror charm. I'm including one of these rare figures in each club pack, and regardless of which random character you receive, I'm sure you'll treasure it forever. I bought extra Freddy Krueger figures to improve your chances of scoring him, but I assure you, all of these creatures and characters are worthy of an honorary spot on your shelves. I'll be writing up an article on them this month so you can learn more about each one!
I'm happy to report that Marie Barr (Re) has printed up a brand new hand-drawn Halloween scarecrow illustration that you're gonna love. It's an absolutely beautiful piece of Halloween imagery, featuring the scarecrow, ghostly white albino pumpkins, corn stalks (I watched her painstakingly color in each individual kernel one at a time!), a full moon, and a crow. You'll get one of her full-color scarecrow print cards with every club pack order! The prints came out sooo nice, and I'm sure many of you will wanna frame 'em.
Next up, I already wrote an article this season about the awesome Weird Wheels trading cards, and now I'm giving you a handful of your very own! These are the original Weird Wheels trading card stickers from way back in 1980, and the artwork looks even better in person. Each club pack will come with five (5) different vintage Weird Wheels cards! But that's not all the cards 'n stickers you'll be receiving...
You'll be getting a rare pack of Monster In My Pocket "Slurpee Fun Packs" that were only available in 7-Eleven stores back in 1991! You can go buy a Slurpee and then open up the pack to relive the full experience. Maybe you'll get a Tengu tree monster, or the Kraken sea monster card! I'm also included not one, but *five* packs of Slimer and the Real Ghostbusters stickers! If you visited our Comic-Con booth earlier this summer, you saw I had a few of 'em for sale, but I stocked up big time for Halloween so everyone could enjoy these stickers featuring our favorite ugly little spud ghost and his pals! I'm also including one pack of Skeleton Warriors trading cards from 1995, because you can't enjoy Halloween without a hearty helping of skeletons, right? Right!
And for those of you who still haven't tried it, I'm throwing in a packet of Ghoul-Aid in every club pack once again, because Halloween simply wouldn't be complete without a delicious Scary Blackberry beverage. And this stuff really is delicious and worth tasting, though I have a feeling half of you will save them for all eternity, which is completely understandable. I don't care what the expiration dates say, I'm convinced Kool-Aid mix (er, Ghoul-Aid) has the same shelf life as your average Twinkie, so hold onto 'em as long as you like. Big thanks to Bill C. for helping me track down enough of these packets, as they're no longer being made!
As always, I'm including a variety of random Halloween trinkets, toys, stickers, and treats in every pack too. You'll find everything from adorable springy pop-up skull toys, orange & black Halloween fortune cookies with actual spooky fortunes inside them, miniature zombie figures, and sticky jack-o-lanterns, edible skull rings, Snoopy Halloween stickers, glow-in-the-dark parachute skeletons, seasonal Halloween candies & treats, and more! There will be other little surprises included with every order to ensure this box o' goodies keeps you entertained all month long.
As you can see, there's a whole lot o' fun in every box. I've spent even more time this year running around putting together all the supplies for these Halloween packs, so I'm really excited to hear what you think of 'em when they arrive at your doorstep. Please note that while I've made even more club packs than I did in 2014, they're still limited in quantity. Once they sell out, I won't be reproducing them again, so be sure to place your order early to ensure you get one and aren't left standing alone in a pumpkin patch like a disappointed Linus waiting for the Great Pumpkin to arrive. Nobody wants to be a disappointed Linus.
Please keep in mind, you're not only getting a club pack filled with loads of hand-picked Halloween fun, you're also helping support all the time and work put into I-Mockery. Halloween season is easily the most important time of the year for me, but it's also the most expensive time as well. In addition to the cost of running I-Mockery, I rack up some hefty traveling and purchase expenses for all the articles and reviews I post on this site, so you purchasing my club packs and other merch really helps offset those costs. Also, if you have any friends who might like the Halloween Club Pack, please let 'em know about it before the packs sell out!
The Halloween Club Packs are $31 a pop (after all, Halloween is on October 31st) for anybody in the continental United States, and yes, that price does include shipping. Only one purchase per person please, as I wanna spread the wealth and make sure lots of people have a chance to order one. If you're ready to order, click the button below: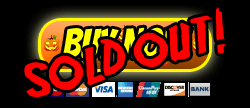 For international customers outside of the United States, due to the widely varying shipping costs and all the time it takes to fill out customs forms among other things (time that would be better spent writing new Halloween articles for the site), the club packs are not available for you to purchase on this page. That said, you know I don't like to leave anyone out, so if you *reeeeally* want a pack / can't live without one, and you live outside of the United States., drop me an email about it and I'll do my best to set one aside for you and we'll work out the shipping costs later. I can't make any promises, as I often get more requests than I can handle, but I'll do my best to get a club pack into your hands just like I did with a bunch of you last year.
Okay, I've blabbed for long enough. I really hope you have a blast with these newest packs, because I'm extremely happy with how they turned out this year. As always, I wanted to give you what I see as "Halloween in a box" to make your October even more spooktacular. Can't wait to hear what you think of 'em! Thanks in advance to all of you who help support I-Mockery and all the work I do every Halloween season by ordering one. Have at it, Halloweenies!
UPDATE (10/12) Egads! Even though I made more than last year, I'm completely sold out of all the packs once again! HUGE thanks to all of you who purchased one, as the sales help out the site tremendously. Be sure to lemme know what you think of yours when they arrive in the mail! Hope each pack makes your 2015 Halloween season all the better. Thanks again and be sure to stick around for lots of new Halloween articles and updates on the site throughout October!
16 comments
Leave a Reply
Previous post: Call The Monster Squad! I-Mockery's 2015 Halloween Season Has Begun!
Next post: A Visit To The Headless Horseman Hayride & Haunted Houses In Ulster Park, NY!