Make Suggestions For Our Upcoming Underwater Pixel Poster!
Over the years, many people have suggested we create an underwater themed pixel poster, so I'm happy to announce that we're finally making it happen! Having released our "8-bit Worlds Collide" and "Pixels in Space" pixel posters, Pox and I decided it was time to take our pixels into the deep blue sea. As always, we wanna give all of you a chance to help create it. It's a blast to see what aquatic ideas all of you come up with each time we do one of these, and we're sure you'll have some fantastic suggestions for this next poster.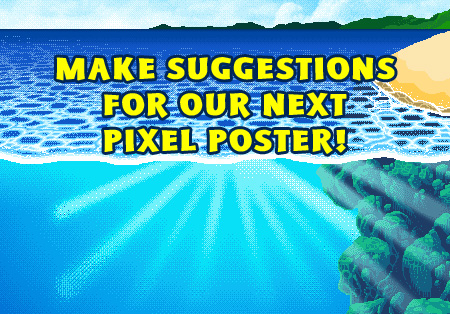 With that in mind, please post your suggestions below for characters, ships, structures, and anything else you'd love to see in our next pixel print in the comments section below - you don't even need a registered account to post 'em! Be sure to make as many suggestions as you can come up with; the more we receive, the more likely it is that we'll include some of 'em on this poster. Also, if you can, please make sure your suggestions have something to do with WATER. It doesn't matter if it comes from movies, television, comics, cartoons, toys, or something else entirely; all we ask is that it has something to do with water such as the ocean, sailing, aquatic life, swimming... you get the idea. To help get your creative juices flowing, here's a small sampling of the happy chaos that can be found on some of our previous pixel prints: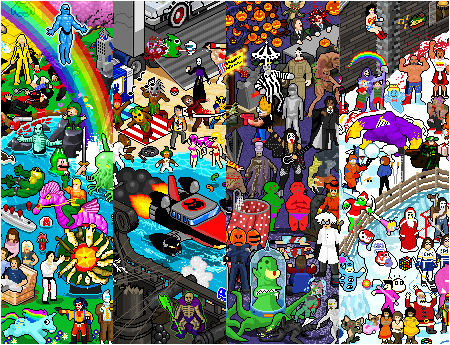 I'm really excited about this next print, as Pox and I have already added some of our favorite ideas into it that we think you'll all really appreciate. Also, for those of you who haven't had a chance to pick up our "8-bit Worlds Collide" and "Pixels in Space" prints, they're still available here. So many pixels, all colorfully arranged on two posters to make your eyes happy forever.
Alright, start posting your suggestions here in this thread and maybe your ideas will end up on our next big pixel print!
48 comments
Leave a Reply
Previous post: In Defense Of Freddy's Dead: The Final Nightmare.
Next post: Ecto Coolest: A Documentary About The World's Biggest Ecto Cooler Fans.