Mr. Robot & Monster Cereals!
Not sure how many of you are big fans of the Mr. Robot TV series like I am, but even if you don't follow the show, I just wrote an article about something special the creators just released that any 80s horror fan will surely appreciate: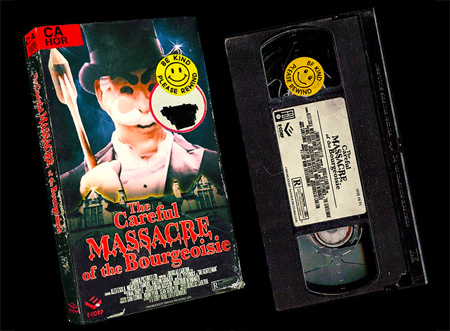 In my latest article, I break down everything they did right with The Careful Massacre of the Bourgeoisie - from making a faux VHS tape, to crafting perfectly wretched characters who you can't wait to see die in the film. Click above to read the article for yourself, then watch the 8+ minute throwback slasher that will have you cheering for a new horror hero named Uncle Conrad. They seriously did everything right with this one, and I think you'll agree with me once you check it out. Also, big thanks to all of you who spread the word about my recent Meals of Horror piece for Dread Central. I really appreciate the support, and it's certainly helping me get in the mood for our annual "Two Months of Halloween" 2016 season here on I-Mockery!
And speaking of Halloween...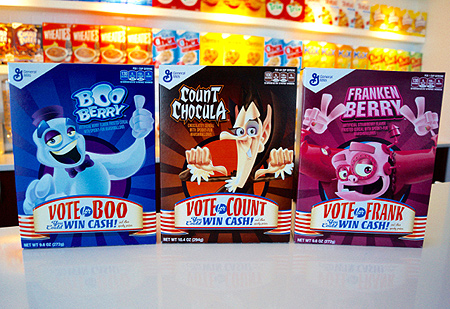 General Mills has just unveiled the boxes for their 2016 Monster Cereals, and it turns out that Boo Berry, Franken Berry, and Count Chocula are running against each other in a Monsters Cereal Election! If you know anything about this site, I'm sure you already know who I cast my vote for. I'm With Boo! Make sure you cast your vote, because I'm pretty sure there aren't any other elections going on this year that matter nearly as much as this one. I'll be sure to post more details and my thoughts on the 2016 cereals when I get my hands on them, but until then... Feel the BOOrn!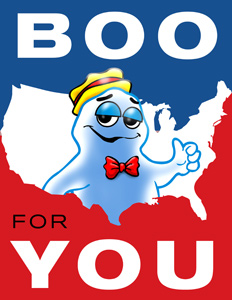 6 comments
Leave a Reply
Previous post: The Meals Of Horror & More!
Next post: The Meals Of Horror: Part 2!