I-Mockery's 2016 Halloween Club Packs Have Finally Arrived! Order Now!
UPDATE 10/25/16: The Halloween Club Packs are sold out! I shipped out another big batch of them today. Thanks again to all who've ordered them so far!
"We have such sights to show you." I'm pretty sure Pinhead wasn't speaking of Hell when he uttered those words; he was referencing I-Mockery's Halloween Club Packs. Fortunately for you, you don't need to summon cenobites with a puzzle box in order to obtain one, because I-Mockery's Halloween Club Packs have returned for the 2016 season! Getting so many vintage Halloween items in bulk quantities is no easy task, I assure you, but I've managed to collect some insanely cool spooky goodies for everyone. I even have some rare Halloween figures from Japan this time around!
Okay, let's not delay things any longer. Behold!
Beautiful, isn't it? It's like the Great Pumpkin decided to send you a big box of everything that makes Halloween great. And that's always my goal with putting these together: to basically give you Halloween in a box. I put loads of time and love into making these packs happen, and those of you who've kindly purchased them in the past surely already know this. As always, there's a LOT to scour through in my new Halloween Club Packs, so let's take a closer look at some of what you'll receive when you order one. We begin with the biggest item:
What you're looking at is a vintage promotional Real Ghostbusters P.K.E. Meter water bottle that was given out way back in 1986 with McDonald's Happy Meals in limited territories. You see, there were lots of Real Ghostbusters novelties that they were giving away back then, but unlike all the others, this particular item was more expensive to produce, so they only tested releasing them in certain states for a very limited time. It's easy to see why too, as this is easily one of the largest Happy Meal items I've ever seen.
You'll be getting a brand new one, still sealed in its original bag, complete with a Ghostbusters sticker sheet. It even comes with a bicycle attachment, so you can fill it up with Ecto Cooler and enjoy it on the go! And yes, if you hold it upside-down, it looks just like the classic P.K.E. meter, with an odd little ghost appearing on the screen. Whether you're using it as a water bottle, or as a display piece, this thing is absolutely awesome, and I couldn't believe it when I was able to purchase enough of them in bulk for this year's pack. But there's still so much more...
Now this is a very special one to me, as I'm super excited to introduce the rest of the world to these amazing pieces. What you're looking at are rare Monsters Meet Pepsiman bottle cap figures from Japan! These figures were released exclusively in Japan for a limited time, and are now quite hard to track down without forking over some real money for a full set of series 1 and 2. Well, I've been collecting these for years now, and have finally amassed enough of them to include with your Halloween Club Pack. I've been wanting to give you these forever, and I'm happy to say that everybody will be getting one Monsters Meet Pepsiman figure in their Halloween packs this year!
The sculpts on these little figures are absolutely gorgeous, and feature the doomed Pepsiman interacting with a number of different classic monsters. The fact that they could fit such detailed and funny scenarios on top of a bottle cap will forever impress me. Even better, they didn't only go with the most popular monsters like Frankenstein and Dracula... they went with random ones like the Metaluna Mutant, Jaws, the Grim Reaper, and many more. There are even figures with different color variants.
If you're interested in seeing them all, I just wrote an article about the complete collection of the Japanese Monsters Meet Pepsiman figures. So yeah, get excited, for you're getting rare monster figures from Japan this year too. And there's still more:
Everybody who orders a pack will also receive a copy of this vintage 1992 Universal Monsters "Frightening Facts" book. It's a classic Mark & See book that comes with a marker that you use to reveal the hidden invisible ink messages within. I totally understand if some of you just want to leave them unmarked, but know that I tested a marker on one and it still works perfectly. This book is chock full of fun movie monster factoids, illustrations, horror movie stills, quizzes, and even some full color trading cards of your favorite monsters that you can remove from it! Trust me, you haven't lived until you've answered an invisible ink question about The Phantom of the Opera while staring at an illustration of a centipede.
If you ever went to a grocery store or restaurant chains like Pizza Hut back in the 80s & 90s, chances are you remember seeing these vending machine prism stickers. You'd put 50 cents into the mechanism, and out would pop a gorgeous, shiny prism sticker based on some of your favorite pop culture heroes of the time. Well, they also made a lot of horror themed ones, and I have a large personal collection of them that I plan on photographing and writing about soon. But for now, you'll get to start your own collection, because I'm including three random vintage Tales from the Crypt prism stickers with every pack! Whether it's the Cryptkeeper sporting a tuxedo, preparing for surgery with a bone saw, performing with a ventriloquist dummy, or any of the other scenarios - all of these stickers look amazing, and I can't tell you how happy I am to introduce you to something I've been collecting for many years now.
Speaking of collecting, no Halloween Club Pack would be complete without an assortment of trading cards and sticker packs for you to enjoy. Kicking things off, you'll all be receiving a first series pack of Cereal Killers trading cards. Created by Joe Simko, the artist behind many of your favorite Garbage Pail Kids, these Cereal Killers cards combine two of my favorite things: Horror Movies and Breakfast. Each card is a beautiful illustration and features your favorite movie monsters on cereal boxes we could only have in our dreams. Boxes like "Fiber the 13th", "Hellraisin' Bran", "Chucky Harms", and "A Bitemore on Oat Street" are just a few of the amazing cards in this set. The first series of cards sold out back in 2011, and feature some of Simko's best work to date. Can't wait to hear which ones each of you get!
I'm also excited to include a vintage set of Pepsi Party Monsters trading cards! You may recall I wrote an article about these a few years ago, and how they were only available as a promotional giveaway to anybody who bought Pepsi products in October of 1992. Now you get to own the complete set of them without having to travel back in time! And let's be honest here... you can't tell me you don't want trading cards that feature the Creature from the Black Lagoon wearing a backwards baseball cap or the Mummy wearing cool dude shades. It's seriously one of my favorite trading card sets ever, and it's always good to see the monsters letting loose. (note: Party Monsters cards are slightly more limited in supply, so the earlier you place your order order, the more likely it is you'll get one of these sets. otherwise, alternate replacement Halloweeny cards will be included with your order.)
You'll also find FIVE packs of Toxic Crusaders stickers in the club pack for you to place wherever nuclear waste and hazardous chemical injustices can be found. I've always loved Toxie, so being able to include stickers that feature New Jersey's first superhero and the other weirdo mutants from the old cartoon is a real treat.
So yeah, you'll be receiving lots of Halloweeny trading cards and stickers with wonderful, vibrant artwork to keep your eyes occupied for ages. Good times!
Last but not least, I'm including another batch of random Halloween toys, treats, trinkets, and stickers in every pack. You'll find all sorts of goodies in each pack including miniature zombie figures, flexible fang rings, gummy mummies, Zomboogers candies, the always popular orange & black Halloween fortune cookies with actual spooky fortunes inside them, sticky skeletons, seasonal Halloween candies, and more! There will be other little surprises included with every order to ensure this box o' goodies keeps you entertained all month long.
So there you have it. These packs are absolutely loaded with Halloween fun. I really can't wait to hear what all of you think of 'em when they arrive at your doorsteps. Please note that while I've once again made even more club packs than I did in 2015, they're still limited in quantity. Once they sell out, I won't be reproducing them again, so be sure to place your order early to ensure you get one and aren't left standing alone in a pumpkin patch like a disappointed Linus waiting for the Great Pumpkin to arrive. Nobody wants to be a disappointed Linus.
Please keep in mind, you're not only getting a club pack filled with loads of hand-picked Halloween fun, you're also helping support all the time and work put into I-Mockery. Halloween season is easily the most important time of the year for me, but it's also the most expensive time as well. In addition to the cost of running I-Mockery, I rack up some hefty traveling and purchase expenses for all the articles and reviews I post on this site, so you purchasing my club packs and other merch really helps offset those costs. Also, if you have any friends who might like the Halloween Club Pack, please let 'em know about it before the packs sell out!
The Halloween Club Packs are $31 a pop (after all, Halloween is on October 31st) for anybody in the continental United States, and yes, that price does include shipping. Only one purchase per person please, as I wanna spread the wealth and make sure lots of people have a chance to order one. If you're ready to order, click the button below:
NOTE: At this point all the standard packs have sold out, however, I did manage to put together a few extras, but they won't contain a Pepsiman figure. I'll throw in some extra Halloween trading cards instead. So please know that if you haven't ordered yet, and you're seeing this notice, you can still order a Halloween Club Pack, but you'll be getting extra cards instead of the Pepsiman figure.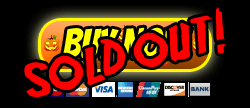 For international customers outside of the United States, due to the widely varying shipping costs and all the time it takes to fill out customs forms among other things (time that would be better spent writing new Halloween articles for the site), the club packs are not available for you to purchase. That said, you know I don't like to leave anyone out, so if you *reeeeally* want a pack / can't live without one, and you live outside of the United States, drop me an email about it and I'll do my best to set one aside for you and we'll work out the shipping costs later. I can't make any promises, as I often get more requests than I can handle, but I'll do my best to get a club pack into your hands just like I did with a bunch of you last year.
Okay, I've blabbed for long enough. I really hope you have a blast with these newest packs, because it was honestly a small miracle that they happened this time around. The moons and the planets aligned, and I was somehow able to gather all of these awesome Halloweeny goodies to send your way. As always, I wanted to give you what I see as "Halloween in a box" to make your October even more spooktacular. Can't wait to hear what you think of 'em! Thanks in advance to all of you who help support I-Mockery and all the work I do every Halloween season by ordering one. Have at it, Halloweenies!
21 comments
Leave a Reply
Previous post: A Visit To The Church From John Carpenter's Prince Of Darkness!
Next post: Scream Junkies Halloween Episodes. Plus, Wolf Creek: The Series.