Dust Off Your Bones! I-Mockery's 2017 Halloween Season Has Begun!
This is it. This is our time. This is the time of the year when we come back to life and the entire world - from the biggest theme parks, to simple trips to the grocery store - turns into a spellbinding steady stream of spooky sightings. Are you ready for it? I sure hope so, because I can't imagine this tradition would still be going so strong after nearly two decades if it wasn't for all of you keeping me company throughout the seasons.
I-Mockery's "Two Months of Halloween" celebration has risen from the grave for the 2017 season, and I simply can't wait for you to see what I have in store for you this year. We're talking some BIG surprises, folks. I'm not exaggerating when I say 2017 has been one of the busiest years of my life so far, and you're going to see why soon enough. For starters, we're finally releasing our new Halloween video game, Grave Chase, on Steam for PC/Mac/Linux this September 20th, and I'm dying for all of you to play it. It's a game that takes place over the 31 days of October as you battle spooky monsters and dig your way through a maze-like haunted graveyard. Much like the Two Months of Halloween here on I-Mockery, it was my intention to create a new game that would become a tradition in your annual Halloween celebrations. Judging by the reactions I've seen from people who've already played it in various public demos, that's exactly what's going to happen, and I couldn't be happier about it. Year after year, you guys continue to carve a smile into the jack-o-lantern that is my face.
To get in the spirit of things, I also attended several Halloween conventions earlier this summer, and my coverage for one of them is already up to kick off the season. So, between working on Grave Chase and attending those events, it feels more like this has been an entire year of Halloweeny fun! And just think about what we still have to look forward to!
There's an actual Friday the 13th taking place in October (perfect time for a Voorhees marathon), we've already had some amazing Twin Peaks episodes (if you're a fan of the show like I am), and we're getting the IT remake (which I have high hopes for) along with a new season of Stranger Things that takes place around Halloween of 1984. Will we have something as monumental as the 2016 return of Ecto Cooler this year? Time will tell, but between those aforementioned goodies and some of the treats & candies I've seen slowly creeping into stores, this is already shaping up to be a hell of a good Halloween.
Oh, and in case you hadn't heard already, I'm happy to announce that I've been working on the new Cyanide & Happiness Video Game! We're launching the Kickstarter for that game on September 5th, and have all kinds of crazy surprises in store for everyone. With our writing forces combined, you can expect an absolutely bonkers point-and-click adventure game set in a post-apocalyptic suburbia. More details on that to come.
So as you can see, my Two Months of Halloween celebration isn't something I'm doing because it pays the bills; it never has been. I do this because I simply LOVE to do it. I love to share and experience the season with all of you, and Halloween simply wouldn't feel right without it. Hearing from you throughout the fall season is the blood bank to my inner vampire. So, let's put all the horrors of the real world aside for a while, and enjoy the fabricated horrors of the supernatural world for the next two months instead. Let us swim in all things pumpkin spice; let us raise our chainsaws high in the air in tribute to Tobe Hooper; let us jump into giant piles of dead leaves; and let us devour roasted pumpkin seeds until our bodies sprout pumpkin patches. We all deserve it.
No excuses... it's time for a monster party.

(I said NO EXCUSES)
This is the season of all things spooky, and it's our deadly duty to spread the word about anything we see related to Halloween. Remember, Halloween isn't a single day... it's a season. It's a season we're going to have a lot of fun talking about together. We're going to talk about Halloween toys, Halloween cereals, Halloween costumes, Halloween Candies, Halloween games, Halloween movies, Halloween TV specials, Halloween drinks, Halloween soap bottles, Halloween paper towels, and anything else that proudly displays the visage of a ghost, goblin, or other creepy creatures of the night.
I always have and continue to treat what I do from September 1st - October 31st every year as an honor. Having worked on I-Mockery for a few years shy of two decades, I can't tell you how much it means to know that so many of you include this site in your Halloween traditions. It really is an awesome privilege to know you're all reading along on this site while eating Mellowcreme Pumpkins and listening to The Fat Boys' "Are You Ready For Freddy" for the thousandth time. So once again, I think you all for allowing me to be your petrifying pied piper, leading you into the spooky annual abyss that is the Two Months of Halloween on I-Mockery.
For those of you not in the know, September 1st marks the beginning of I-Mockery's annual "Two Months of Halloween" celebration. Every single update you see on this site from now until October 31st will be Halloween-related in one way or another. No matter where you live - whether it's a shining beacon of Halloween goodness, or a barren land with barely a flickering matchstick to make things a little spookier - please think of this site as your official Halloween home. The next two months are going to rule, for there is no greater time of the year.
Alright, let's get into the details of what you can expect to see on I-Mockery in the coming months. As you probably already know, we pride ourselves on going crazier over this holiday than just about any other place has in our 18+ year history, so we've got all sorts o' spine-shocking surprises planned for the 2017 Halloween season. We'll have coverage of various haunted Halloween attractions, horrific novelties, my huge annual round-up of the best & worst Halloween candies, horror movie reviews, new videos, craft projects, scary toy features, contests, and all the other wonderfully random oddities we stumble upon over the next two months.
If any of you have suggestions for Halloweeny things you'd like to see covered this season, or you have something you'd like to donate for us to review, please let me know here in the blog thread or shoot me an email. It doesn't matter if it's a Halloween event taking place in your area, a horror movie, an independent seasonal costume shop, some new candy, or some completely bizarro new Halloween novelty... I wanna see and hear all about it, so please get in touch!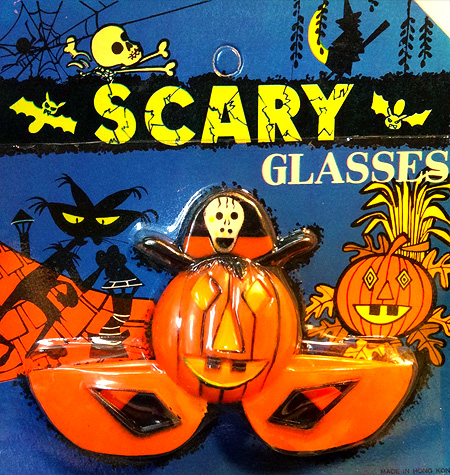 (to quote Roddy Piper: "Put on the glasses!")
To those of you who aren't well acquainted with our annual Halloween celebration here on I-Mockery, I always suggest checking out some of our main Halloween attractions. We have a huge archive of Halloween material on this site from previous years, so while you wait for our newest pieces to go up, I highly recommend checking out those older things to get in the spirit of the season.
-I-Mockery's Halloween Collection: Here you'll find quick 'n easy access to most of our Halloween material from the past. Extremely in-depth horror movie and candy articles, product reviews, and of course the boppin' Halloween adventures of Count Pop himself along with many other oddities. Also, be sure to check back right here on the homepage every day for the very latest Halloween updates as well.
-The Halloween Grab Bag: Much like our "Shorts" section, this is a place where you'll find our smaller Halloween articles, but often covering some of the weirdest stuff we've ever stumbled upon.
-The Greatest Horror Movie Moments: Another fan favorite is our ongoing quest to document some of the finest moments in horror movies. Sometimes they're moments you're well aware of, other times, it's stuff you probably never knew existed. Either way, if you're looking for some horror movies to check out this season, this is a great place to start.
-The Halloween Jack-O-Juke: Here be our Halloween music jukebox, filled with over 218 hand-picked horrifying songs and counting to keep your decaying ears bleeding with ghoulish glee all season long. Feel free to keep the Jack-O-Juke open in a separate window so you can listen to all of the hand-picked tunes while still checking out the latest article offerings here on I-Mockery. I'm hoping to add some more spooky tunes to it during the next two months. If there's a song you think should be added to the jukebox, be sure to let me know by dropping a comment in this thread and I'll try to add it before the end of October if time permits!
-Trick-Or-Treat Adventure: One of the largest classic Flash games we ever made... and it's all about Halloween. If you're a fan of classic adventure games such as Secret of Monkey Island and Space Quest, you'll feel right at home with this one as you go on an adventure to build a Halloween costume and then collect enough candies before you battle the ultimate evil! It even auto-saves your progress as you go play, so you don't have to beat the game all in one sitting.
-Haunted House Candy Hunt: In this Halloween game, we pay tribute to the games of the Atari 2600 by creating an all new one in the same style. You must guide two buddies (who just so happen to be from a galaxy far, far away) through all the treacherous rooms of a spooky haunted house as they hold hands. Should you reach the end of the game, you'll have a showdown with the ultimate candy hoarder - The Grim Reaper himself! I've also heard from a reliable source (ie: myself) that there's a secret level select hidden somewhere in the game. But you don't need that anyway, right? Cheater!
-MonsterTime: With our most recent Halloween game, we pay tribute to another favorite arcade classic, BurgerTime. Only difference is, instead of building burgers, you're a mad scientist named Doc Mock who is building classic monsters to save you from the modern slasher monsters who are out for your blood!
-Doc Mock's Movie Mausoleum: Doc Mock, I-Mockery's official horror host is still looking for a new home to shoot & live stream his original show at, but we have over 30 archived episodes you can still watch online. If you're looking for a good cheesy b-movie flick, check out all of the Doc's episodes that are archived on iTunes (some were archived on YouTube as well), including his Halloween specials! You can also find some of Doc Mock's special "Mini Mausoleum" videos here.
In addition to a ton of new feature articles, you can still expect our regular site updates to the Blog (don't forget the archived Halloween blog entries from years past). We've also got some great Halloween contests in store for you to participate in as well. Please show your support for all the hard work we put into our Halloween celebration by following I-Mockery us on Twitter, Facebook, and Instagram to get all the latest updates.
HALLOWEEN SURVEY: Share in the comments section below what's your all-time favorite horror movie? Is it an old classic that you've seen a bajillion times, or is it something more recent? What makes it such a special horror flick to you? Drop a comment below (you don't even have to register!) and let's get this Halloweeny discussion going!
ONE FINAL NOTE: As a writer, the best compliment you can pay me is to chime in with your comments on all the articles I post, and to share them with your friends on various social networks. I don't pay to advertise the site or my work, it simply gets out there via word-of-mouth, so please make sure your skull jawbones ready to start moving and help spread the word. I can't even begin to tell you just how much of my life gets swallowed up by Halloween for two months out of every year, and the workload is pretty tremendous; so it's the little things like your comments that which keep me motivated and flying high on my broomstick in the moonlight from now through October 31st.
All right, in the words of Conal Cochran: "In the end, we don't decide these things, you know; the planets do. They're in alignment, and it's time again. The world's going to change tonight, Doctor, I'm glad you'll be able to watch it. And... Happy Halloween."
In other words... let the Halloween festivities commence!
26 comments
Leave a Reply
Previous post: Comic-Con Wrap-Up & TV Fights!
Next post: I-Mockery + Cyanide & Happiness!