I-Mockery + Cyanide & Happiness!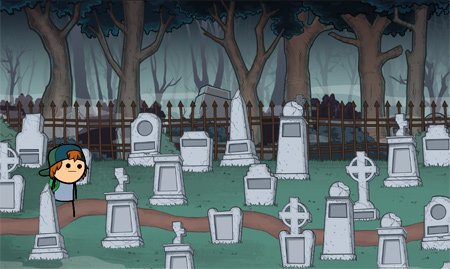 In case you haven't heard already, I'm making a video game with my pals from Cyanide & Happiness! We launched the Kickstarter for this new adventure game just a few days ago, and we've already surpassed our initial funding goal for the project to release it on Steam, so it's definitely happening and we couldn't be more excited about it! If you've enjoyed all my writing on here over the last two decades, you're going to love this game, because I'm co-writing it alongside Kris Wilson, and we've been having an absolute blast with it so far. Adventure games really allow us to fill every screen with loads of comedy, challenges, and fun things for players to interact with, so you can expect experience a lot of that in our story of a post-apocalyptic high school nightmare.
We still have a lot of stretch goals we want to reach for the game, including porting it to consoles, unlockable features, and additional side quests featuring some of your favorite characters. So, with that in mind, if you haven't already done so, please consider backing our Kickstarter, as the more we raise, the bigger and better we'll be able to make this game in the end. Plus, if you back it at certain tiers, you'll even have a chance to see some of your own contributions in the game itself! And to those of you who've already backed it, I can't thank you enough for your support. This game is gonna be nuts, and I can't wait for you to see some more of the things we have planned.
Lastly, I hope you ghouls 'n ghosts out there have enjoyed the first spooktacular week of our annual Two Months of Halloween celebration so far! I have more big Halloweeny surprises coming soon, so keep your eyes peeled for 'em!
4 comments
Leave a Reply
Previous post: Dust Off Your Bones! I-Mockery's 2017 Halloween Season Has Begun!
Next post: The New & Improved Jack-O-Juke! I-Mockery's Halloween Music Jukebox!