Grave Chase Has Arrived! Now Available On Steam For PC, Mac, & Linux!
If you're looking for a perfect game to play this fall season that's oozing with atmosphere, old school challenge, and relentless monsters, look no further than our brand new retro-style Halloween horror game, Grave Chase!
If you've enjoyed any of the many free games or countless articles I've produced over the past 20 years, I'd really appreciate it if you purchase a copy of Grave Chase. It's only $5.99 and I know you're going to love all of the throwback action. Speaking of which, if you do enjoy Grave Chase, please take the time to leave a review of the game on Steam once you've played it for a while so other potential players can see what you thought of it.
The story behind it goes like this: An evil Groundskeeper has murdered everybody in a small town and buried their body parts in his mazelike graveyard. Unfortunately for him, two siblings saw him kill their parents, and now they're determined to get revenge using science... and shovels! This brother and sister duo will now traverse his gargantuan graveyard, digging up body the parts of his victims and turning them into Frankenstein-like monsters to eventually battle the groundskeeper.
Grave Chase features 31 stages of increasing difficulty - each being one of the 31 days of October - where you'll encounter growing legions of the Groundskeeper's undead graveyard guardians. Cursed skeletons, zombies, flesh-dissolving blobs, man-eating plants, axe-wielding psychos, and many more horrors await you in his deadly graveyard. Oh, and then there's the Groundskeeper himself...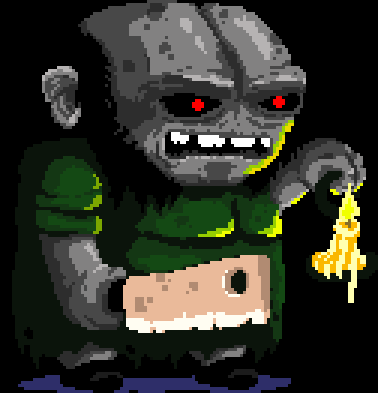 When I set out to make this game, one thing I really wanted was a truly memorable villain who would cause players to panic, and I believe we've done exactly that with The Groundskeeper. He patrols his beloved graveyard constantly, searching for trespassers to hack apart with his meat cleaver and add to his collection. If the Groundskeeper sees you, your only chance of survival is to run away from him until he gets winded, for he can't be killed. And just wait until you have to run from him once you've collected all body parts on any given stage for the real panic to set in. The music changes to a frantic pace, as countless hordes of the undead rise from the ground and the Groundskeeper chases you down. Can you make it to the portal before they destroy you? Can you survive the 31 days of October and get your revenge on Halloween?
We set out to make a game that people would want to revisit for years to come, especially during the Halloween season, and I hope you'll all find that's exactly what we've done with Grave Chase. I love sharing the joys of Halloween with you guys every year, but getting to create a completely original video game, with monstrous characters and a spooky soundtrack for all of you to experience is a whole different kind of special.
Before I go, I also need to thank some people for their tireless work on this game, because without their help, it wouldn't have been possible. Jacob West, for his stellar coding and dancing monsters; Maarten Boot, for all the killer artwork; Marie Barr, for designing our incredible Grave Chase Comic-Con booth and making the game pop with color corrections; Brad Webb, for crafting yet another awesome game trailer; John Bower; for helping QA test the hell out of the game; and Bannon Rudis, for helping out with the concepts in the early stages of production. Also, I want to thank all of you - whether you're an internet chum, or a pal who has helped promote the game, it all means a lot. We're a small, independent team of developers, and we don't have an advertising budget. We simply make the most entertaining games that we can and hope that they spread organically via word-of-mouth - so again, a huge thanks to those of you who've helped out.
Alright, you've heard enough about the game, now it's time for you to play the game. Enjoy it, my friends. Grave Chase is my Halloween gift to you!
6 comments
Leave a Reply
Previous post: The New & Improved Jack-O-Juke! I-Mockery's Halloween Music Jukebox!
Next post: I-Mockery's 2017 Halloween Club Packs Have Finally Arrived! Order Now!