Do you like a little MEAT with your ACTION?
After reading my latest "Stupid Toys" article, I-Mockery reader Destin Berthelot was nice enough to write in with a suggestion for another toy that I should include in my next installment of the series. While I'm always more than happy to listen to suggestions for any of the articles I write, I don't necessarily always agree with them. This is a perfect example of that... BEHOLD!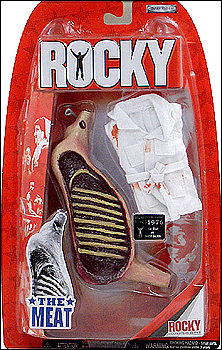 Your eyes do not deceive you, there is now an action figure for "The Meat" from the Rocky films. That's right, the lifeless slab of frozen meat that Rocky pummeled during his training has joined the ranks of action figures. This is far from stupid. In fact, this is fucking fantastic. A frozen slab of meat toy and they throw in a bloody smock for good measure? I wasn't even that impressed with the current line of Rocky figures (many of the faces just didn't look right), but my friends, I can guarantee you one thing: "The Meat" figure will soon be part of my collection. We need more action figures for completely random things like the meat! Personally, I'd like to see action figures for Rocky's two turtles, Cuff and Link. What other "action figures" would you guys like to see released?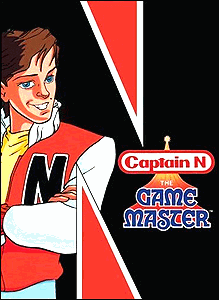 In DVD news, while I'm still eagerly awaiting the release of "Twin Peaks: Season 2" next month, I'm happy to report that they've finally released "Captain N: The Game Master" entire series on DVD! Actually, it's not the "entire" series, it's more like the first two seasons (there were 34 episodes total, but this set has 26... still pretty damned good). They couldn't include the rest of the episodes due to legal reasons, which is understandable, but why they would call it "the complete series" on the DVD set is beyond me. To those of you who don't know much about this show, it was basically every NES fanboy's dream back in the day. Well, that and "The Wizard" of course. Anyway, it was a cartoon in which a teenager is brought into the world of Videoland to help some of your favorite video game characters fight off the bad guys (led by Mother Brain from Metroid). It was a fun cartoon and it had all sorts o' characters found in the games including King Hippo, Kid Icarus, Eggplant Wizard, Dr. Wily, Ganon, Donkey Kong and more.
In celebration of the release of Captain N, I'm holding a contest in the I-Mockery forums where YOU get to become Captain N by inserting a picture of yourself into any video game you like. All you gotta do is take a photograph of yourself and then put it into a screenshot of your favorite video game in an attempt to make it look like you're interacting with what's happening on the screen. I've included a sample of myself inserted into the classic "Defender" game so you guys can see exactly what I mean.
The winner of this contest will receive a brand-spankin' new copy of "Captain N: The Game Master" on DVD! All the rules and details for this contest have been posted in the official thread, so be sure to check it out and then get your entries turned in before the deadline (April 15th). Good luck all!
25 comments
Leave a Reply
Previous post: Waffles or Pancakes?
Next post: Ok you Irish bastards…