Less Than Meets The Eye
If you haven't seen the pics of the Optimus Prime and Megatron character designs from the upcoming Transformers movie, here they are: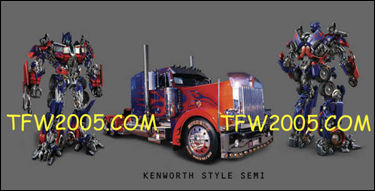 It's always nice watching some of the favorite things from your childhood get completely tarnished right before your eyes, isn't it? If I was Peter Cullen, I would flat-out refuse to be the voice of Optimus Prime if they were gonna put flames all over him. Flames look good on classic hot rods, motorcycles and women accused of witchery; NOT on Optimus Prime. I swear to god, I wouldn't be surprised if they slapped a "No Fear" sticker on his bumper at this point. Bastards.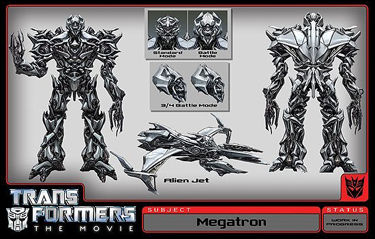 And what about Megatron? It's like a powerful magnet went for a stroll through a metal scrapyard and this new Megatron design was the end result. And having him turn into an alien jet!? No. Unacceptable. Megatron is supposed to turn into a gun which, defying all logic, becomes small enough for Starscream to hold in his hand. That's what I want to see on the big screen, not a hunk of scrap metal that turns into friggin' "Flight of the Navigator".
Optimus was bad enough, but the fans are extremely pissed about Megatron. So much so that Hasbro COO Brian Goldner is trying to do some damage control: "Without revealing too much of the story, there is a very important reason for his look to have evolved from pure G1." I'm sorry, but there's no excuse, no reason good enough, to make Megatron look that way. You could tell me that he had to take on that new form in order to gain enough power to fight Voltron, Mothra, and Jimmy "Superfly" Snuka in a pit of molten lava filled with acid-spitting piranhas and Don Knotts as the referee; it STILL wouldn't be acceptable. But hey, I'll give you the scoop as to why they might end up having Megatron look this way...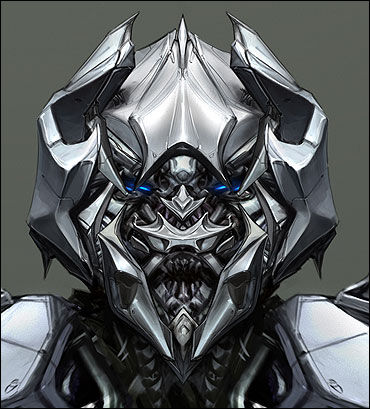 I'm pretty sure that the big secret behind changing Megatron's
new look is that he's going to be used as a fellatio torture-bot.
80 comments
Leave a Reply
Previous post: The Weird Al Show
Next post: Care for some more man size wads"?