I'm happy to announce that our new "Pixels Under The Sea" pixel poster is now in stock and ready to ship out, just in time for the 2016 holiday season! Pox and I decided to take our favorite pixels into an underwater adventure, the likes of which you've never seen before. Once you hang our ultra-vibrant homage to aquatic pop culture on your wall, you'll discover new things every time you look at it. So many people tell me that they just noticed something new on our posters after having owned them for years. That's the point. They're the pixels that keep on giving. Plus, if you made suggestions for the poster earlier in the year, there's a good chance some of them made the cut! Just visit the store page to see some close-up detail shots of it to see what I mean. And yes, as with our previous print, this one comes in a standard 18" x 24" framing size, so need to worry about having to spend a small fortune on a custom frame for it.
Please help show your support for all the hard work we do here on I-Mockery each year and order a poster (or two... or a hundred), whether it's a gift for yourself or for someone you think will appreciate it. As always, I promise you'll end up staring at it for a loooooong time to come, and it makes for one hell of a conversation piece for whenever you have friends over. If you're a fan of pixel art along with basically anything we've ever written about on this site, then you're going to LOVE this poster. If you order before December 15th, I'll do my best to make sure they arrive in your hands before Christmas. You can order yours on our store page or right here:
For those of you who don't already own our previous "8-bit Worlds Collide" & "Pixels In Space" posters, I'm offering a discounted three-pack so you can get all of them shipped together at a discounted rate. Ordering all three of them together will save you $15 on your total cost, and you'll get triple the pixels!
[temporarily unavailable]
I hope you all love this new aquatic poster as much as we do, and please drop a comment below to let us know what you think of it. As always, please share these pixel posters with anybody who you think might enjoy them. Thanks again for the support, because ordering our posters not only gets you some killer artwork for your walls, but also helps us pay our hefty server bills!

I know a lot of people here and around the world are still reeling from the election results last night, and I'm certainly one of them. My heart breaks for all those whose lives will be negatively impacted by the results, and I wish it was in my power to change that, but it's not. This site has always existed as an escape from the doldrums of politics, religion, crime, and all the other serious issues that affect our world. It always will. Here I offer you a reprieve from it all in the form of lighthearted articles about some of our favorite things - movies, toys, games, food, and any other pop culture oddities I happen to stumble on. Do crazy toys or foreign bootleg movies about a maniac Spider-Man armed with a switch-blade compare to the importance of the 2016 election? Of course not, and nor should they... but they do help remind us that there are always things to smile about, and that life as we know it is simultaneously amazing and ridiculous.
With that in mind, I'm going to put one foot in front of the other, just like we all need to do, and start moving forward again. It's gonna be hard to write anything funny like I usually do, but humor heals... laughter lifts... and comedy cures. While I try to start writing on a regular schedule again, I'd like to share two things I wrote back in October that I didn't have a chance to post. I hope you enjoy them, and I hope they help lift your spirits even the slightest fraction.
Let's all do what Bob Wiley does best and start taking baby steps.
First, my newest piece for Dread Central was actually posted on their site earlier last month, but since I'm just finding out about it now, I present you with: The Greatest Horror TV Show Intros: Part 2!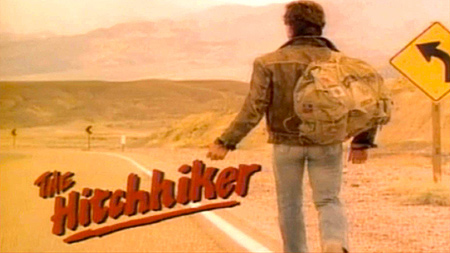 In this latest installment, I cover some more of my favorite title sequences including The Hitchhiker (a criminally overlooked horror anthology series), Tales from the Darkside, and more. As always, thanks for reading, and please do me a solid by posting in the comments section of the article on Dread Central and sharing what other horror TV show intros you'd like to see me cover. I just might include 'em in future installments! You can read the article here.
Moving on, I love a good shark movie, and after having watched Discovery Channel's annual "Shark Week" extravaganza every summer for as long as I can recall, I decided to give The Shallows a chance when it hit theaters. Unfortunately, after seeing the movie, I felt like I should've stayed home and watched more Shark Week shows instead. You'll learn why momentarily. That said, if you have not seen the film yet, please know that there are *SPOILERS* below.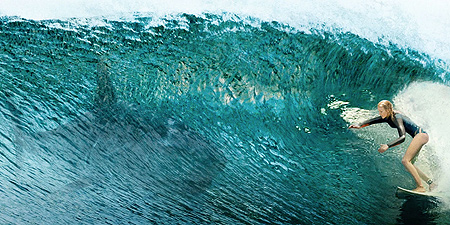 The Shallows is a story about medical school student / surfer, Nancy Adams (Blake Lively), returning to a remote beach that her deceased mother once visited when she was younger. After catching some great waves, Nancy is attacked by a great white shark that knocks her off of her surf board and bites her leg. While her medical training allows her to save her leg by applying a tourniquet, along with some painful makeshift stitches via her earrings, she's left stranded on a rock that's too far from shore for her to risk making the swim to safety.
Sounds okay so far, right? I wish it was. Click to read on. (more...)

Halloween is finally here, and I hope you're all celebrating it in style! Yes, I know it's on a Monday this year, but that's no excuse not to indulge in the festivities. Whether it's going trick-or-treating, dressing up in costume for a Halloween party, handing out candies, visiting haunted attractions, or simply watching a horror movie marathon - I just hope you're doing something to celebrate our favorite holiday!
Now, before I get into the meat of this post, you should know that there's a big surprise waiting for you at the very end of it. Don't go skipping ahead, because we have a lot to cover first. Trust me, it's worth the wait.
Re and I spent our Halloweekend / Halloweeniversary by taking a trip up into the San Bernadino mountains in search of fall leaves. We found fall leaves galore up there, plus a nice little Halloween festival, a wagon full of pumpkins, some truly spooky fog, and more. As if that wasn't enough, we stayed in a tiny cabin in the woods in a little town that may sound familiar to some of you...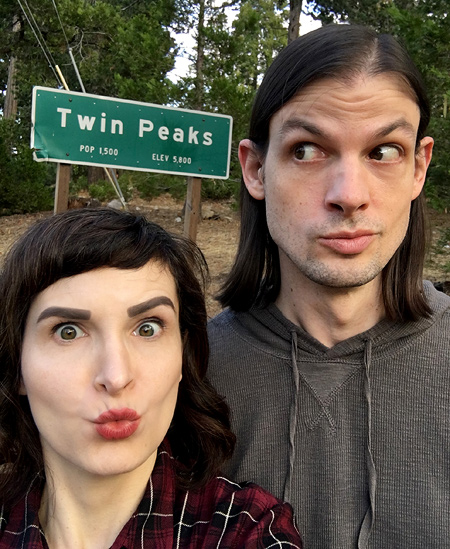 That's right, we stumbled on a town called Twin Peaks. Amazing. I mean, how could we not stay in a town called Twin Peaks on a Halloween weekend? It was just too fitting. Damn good coffee... damn good weekend!
Also, in case you missed it (since I posted four new articles over the weekend), I shot my first Halloween yelling video ever! Take a look:

[click here for high quality video]
Thanks again to all of you who stuck around for I-Mockery's 2016 "Two Months of Halloween" celebration! Writing so many lengthy articles for the site during that time is always exhausting, but it's also an absolute blast knowing that it's a part of your annual Halloween traditions. As always, I like to share a recap of the many updates that were posted to the site between September 1st and October 31st in case you missed any of it. November is usually a slow month anyway, so what better time to catch up on some good reading? Here's a handy recap of some of the highlights you may have missed:
-We revisited the classic Spooky World VHS tape, and felt like we were taken back to a simpler time of haunted attractions.
-We conducted a taste test of the Black Garlic Pepper Halloween Doritos from Japan and immediately craved more.
-We paid homage to The Lair of the White Worm, one of the most amazing and bizarre horror films that deserves to be appreciated by a much larger audience.
-We saw the Monsters Meet Pepsiman, and learned that Japan really knew how to create a killer Halloween promotion for Pepsi.
-We watched the 1990 Horror Hall of Fame awards show and were convinced that Gremlins should be in every awards show audience.
-We were overjoyed to see more Delbert McClintock in Arachnophobia: The Video Game.
-We fell in love with another batch of Horror Video Game Box Art.
-We visited the actual church from John Carpenter's Prince of Darkness and saw a screening of the film inside it.
-We were invited to the ScareLA Los Angeles Halloween Convention and had an awesome time.
-We were also invited to the new Midsummer Scream Halloween Festival and absolutely loved it.
-We remember just how cheesy The Lawnmower Man was with those 90s era CGI graphics.
-We ain't afraid of no ghosts. In fact, we love these vintage Real Ghostbusters Ghost Toys from Kenner.
-My eyes started bleeding pure cane sugar after another massive Halloween Candy Taste Test.
-We listened to more tunes on the Jack-O-Juke - our Halloween music jukebox with over 215 spooky songs and counting!
-We wished Bubba survived From Beyond, but it wasn't meant to be.
-We saw the glorious return of Hi-C Ecto Cooler, and hope it will come back every Halloween from now on.
-We visited the impressive Rise of the Jack O'Lanterns event, and marveled at the artistry that goes into all those carved pumpkins.
-We watched Pumpkinhead do what he does best: put smiles on our faces.
-We saw a determined elderly man continue to get tortured throughout his quest in The Immortal video game.
-We witnessed more glorious monstrosities at Monsterpalooza in Pasadena.
-We gazed upon even more Pinball Machines of Horror, with absolutely gorgeous backglass and playfield designs.
-We sold out of our Halloween Club Packs once again, so huge thanks to all of you who purchased one!
-We examined some classic Video Game Graveyards and realized they're some of our all-time favorite levels.
-We peeled back the layers of a horrific scene from the Lovecraftian tale, Dagon.
-We joined in on some spooktacular new Screen Junkies Halloween Episodes.
-We remembered the Greatest Horror TV Show Intros and some Meals of Horror.
-We saw Boo Berry and the other monster nominees running a Monster Cereal Election.
-We remembered just how weird Videodrome really is.
-We played with some new Halloween Toys that every horror toy fan should have in their collection.
-And lastly, we took an in-depth look at the Halloween Scenes in The Karate Kid and discovered some amazing things in the background!
You know there's no time I enjoy more than Halloween each year, and having so many of you making I-Mockery your virtual Halloween home truly makes it all the better. I really try to give you guys the best and widest variety of Halloween coverage you'll find anywhere online every season - from visiting haunts and reviewing movies, to taste testing candies and tracking down the most absurd & obscure novelties and more - I always try to make every season special and filled with surprises. Please continue to share the site with your friends, and I'll do my best to keep that tradition going strong for years to come. As always, I must thank Dr. Boogie his fantastic contributions to our Halloween celebration. I also gotta give Re major credit for letting me turn our home into a Halloween junkyard these past several months.
Of course, a huge thanks again to you for sticking with us during our annual "Two Months of Halloween" celebration. It's a lot of work to put all this content together, but it's a lot of fun too, and your continued feedback definitely helps keep my energy up throughout the season. If you haven't already, please follow us on Twitter, like us on Facebook, and follow us on Instagram. This is a completely independent web site, and we rely entirely on people like YOU to spread the word about it, so please do so if you can... it helps more than you could imagine!
Please drop a comment below (whether you're logged in or not) and lemme know what you thought of the Halloween season and what your favorite articles were. Also, let me know what you did for Halloween and feel free to post photos of your costumes (if you dressed up), your decorations, or any other Halloweeny things you like!
Thanks again, and be sure to stick around, because I'll be updating the site with some new articles very soon. I'm also releasing our brand new pixel poster in November and considering doing a special limited edition Holiday Club Pack in December!
Oh, and I did promise you a big surprise at the end of this post, didn't I? Well, I'm a man of my word. Behold!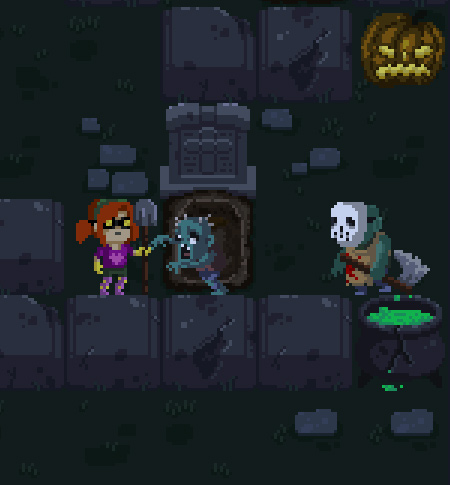 I'm happy to announce, that coming this November, we'll be releasing a brand new horror-themed video game that we've secretly been working on this year! I've been wanting to do a new horror game for ages, so I can't wait to unveil it to you. Full details about the game will be coming very soon, but I just waited to give you a little sneak peek with a screenshot from it. I hope you're all excited to play it, and I hope you all have a Happy Halloween!

This past week was pretty rough. I've been working on a big project that I'll be unveiling to you in the near future, but it came to a halt, as I was hit with the truly sad news that a friend of mine had passed away. Her name was Samantha Morris, and we met in one of my early improv comedy classes at UCB Theatre here in Los Angeles. She got along with everyone, made them laugh, and was simply delightful to talk to. We actually shot the interior scenes for the Doc Mock's Movie Mausoleum intro at her house, and again, she made everyone feel absolutely welcome and at ease during the shoot. She appears in the intro as the woman on the left side of the couch.
Sadly, she was diagnosed with lung cancer, and lost her battle with it this past week. Samantha was a beautiful, kind, generous, hilarious, brave, and loving person. Just thought you should all know a little bit about this wonderful person who was loved by a lot of people. Rest in peace, Sam. We'll miss you and your wonderful smile.
So, while I'm sure you can imagine it's been hard getting back into the swing of things this week, I actually wrote all the remaining Halloween content for I-Mockery in advance, so there won't be a lapse in articles for you to enjoy. I just posted my annual Ultimate Halloween Candy Guide the other day, along with a new piece about the 1990 Horror Hall of Fame awards, and there's still more to come. I hope you're all having a fun Halloweekend so far.
And speaking of Halloween fun, I'm on the new Screen Junkies (er... "Scream Junkies") Movie Fights Horror Halloween episode. This was definitely one of my favorites I've been on so far, particularly because it's all about horror movies, and we all had a lot of fun as you'll soon discover. You can check it out here:

[click here for high quality video]
I also recently appeared on the most recent Screen Junkies Show to help determine what the best horror franchise is. You can check it out here:

[click here for high quality video]
It was a great discussion that lasted for over an hour, and I don't envy the person who had to edit it down to a mere 16 minutes, but I think the video turned out nice.
In other news, I was recently sent an early screening of the complete six-episode first season of Wolf Creek: The Series that's now appearing on the Pop TV network, just in time for Halloween. Being a fan of the original film that the show is based on, I was excited to check it out. While many of you probably haven't heard of the Pop network, Schitt's Creek (which features Eugene Levy and Cathering O'Hara) is one of my favorite comedy series in recent years, and well worth checking out for that show alone. So did Wolf Creek prove to be another great addition to their line-up? Yes and no. Hit the jump and allow me to explain. (more...)

UPDATE 10/25/16: The Halloween Club Packs are sold out! I shipped out another big batch of them today. Thanks again to all who've ordered them so far!
"We have such sights to show you." I'm pretty sure Pinhead wasn't speaking of Hell when he uttered those words; he was referencing I-Mockery's Halloween Club Packs. Fortunately for you, you don't need to summon cenobites with a puzzle box in order to obtain one, because I-Mockery's Halloween Club Packs have returned for the 2016 season! Getting so many vintage Halloween items in bulk quantities is no easy task, I assure you, but I've managed to collect some insanely cool spooky goodies for everyone. I even have some rare Halloween figures from Japan this time around!
Okay, let's not delay things any longer. Behold!
Beautiful, isn't it? It's like the Great Pumpkin decided to send you a big box of everything that makes Halloween great. And that's always my goal with putting these together: to basically give you Halloween in a box. I put loads of time and love into making these packs happen, and those of you who've kindly purchased them in the past surely already know this. As always, there's a LOT to scour through in my new Halloween Club Packs, so let's take a closer look at some of what you'll receive when you order one. We begin with the biggest item:
What you're looking at is a vintage promotional Real Ghostbusters P.K.E. Meter water bottle that was given out way back in 1986 with McDonald's Happy Meals in limited territories. You see, there were lots of Real Ghostbusters novelties that they were giving away back then, but unlike all the others, this particular item was more expensive to produce, so they only tested releasing them in certain states for a very limited time. It's easy to see why too, as this is easily one of the largest Happy Meal items I've ever seen.
You'll be getting a brand new one, still sealed in its original bag, complete with a Ghostbusters sticker sheet. It even comes with a bicycle attachment, so you can fill it up with Ecto Cooler and enjoy it on the go! And yes, if you hold it upside-down, it looks just like the classic P.K.E. meter, with an odd little ghost appearing on the screen. Whether you're using it as a water bottle, or as a display piece, this thing is absolutely awesome, and I couldn't believe it when I was able to purchase enough of them in bulk for this year's pack. But there's still so much more...
Now this is a very special one to me, as I'm super excited to introduce the rest of the world to these amazing pieces. What you're looking at are rare Monsters Meet Pepsiman bottle cap figures from Japan! These figures were released exclusively in Japan for a limited time, and are now quite hard to track down without forking over some real money for a full set of series 1 and 2. Well, I've been collecting these for years now, and have finally amassed enough of them to include with your Halloween Club Pack. I've been wanting to give you these forever, and I'm happy to say that everybody will be getting one Monsters Meet Pepsiman figure in their Halloween packs this year!
The sculpts on these little figures are absolutely gorgeous, and feature the doomed Pepsiman interacting with a number of different classic monsters. The fact that they could fit such detailed and funny scenarios on top of a bottle cap will forever impress me. Even better, they didn't only go with the most popular monsters like Frankenstein and Dracula... they went with random ones like the Metaluna Mutant, Jaws, the Grim Reaper, and many more. There are even figures with different color variants.
If you're interested in seeing them all, I just wrote an article about the complete collection of the Japanese Monsters Meet Pepsiman figures. So yeah, get excited, for you're getting rare monster figures from Japan this year too. And there's still more:
Everybody who orders a pack will also receive a copy of this vintage 1992 Universal Monsters "Frightening Facts" book. It's a classic Mark & See book that comes with a marker that you use to reveal the hidden invisible ink messages within. I totally understand if some of you just want to leave them unmarked, but know that I tested a marker on one and it still works perfectly. This book is chock full of fun movie monster factoids, illustrations, horror movie stills, quizzes, and even some full color trading cards of your favorite monsters that you can remove from it! Trust me, you haven't lived until you've answered an invisible ink question about The Phantom of the Opera while staring at an illustration of a centipede.
If you ever went to a grocery store or restaurant chains like Pizza Hut back in the 80s & 90s, chances are you remember seeing these vending machine prism stickers. You'd put 50 cents into the mechanism, and out would pop a gorgeous, shiny prism sticker based on some of your favorite pop culture heroes of the time. Well, they also made a lot of horror themed ones, and I have a large personal collection of them that I plan on photographing and writing about soon. But for now, you'll get to start your own collection, because I'm including three random vintage Tales from the Crypt prism stickers with every pack! Whether it's the Cryptkeeper sporting a tuxedo, preparing for surgery with a bone saw, performing with a ventriloquist dummy, or any of the other scenarios - all of these stickers look amazing, and I can't tell you how happy I am to introduce you to something I've been collecting for many years now.
Speaking of collecting, no Halloween Club Pack would be complete without an assortment of trading cards and sticker packs for you to enjoy. Kicking things off, you'll all be receiving a first series pack of Cereal Killers trading cards. Created by Joe Simko, the artist behind many of your favorite Garbage Pail Kids, these Cereal Killers cards combine two of my favorite things: Horror Movies and Breakfast. Each card is a beautiful illustration and features your favorite movie monsters on cereal boxes we could only have in our dreams. Boxes like "Fiber the 13th", "Hellraisin' Bran", "Chucky Harms", and "A Bitemore on Oat Street" are just a few of the amazing cards in this set. The first series of cards sold out back in 2011, and feature some of Simko's best work to date. Can't wait to hear which ones each of you get!
I'm also excited to include a vintage set of Pepsi Party Monsters trading cards! You may recall I wrote an article about these a few years ago, and how they were only available as a promotional giveaway to anybody who bought Pepsi products in October of 1992. Now you get to own the complete set of them without having to travel back in time! And let's be honest here... you can't tell me you don't want trading cards that feature the Creature from the Black Lagoon wearing a backwards baseball cap or the Mummy wearing cool dude shades. It's seriously one of my favorite trading card sets ever, and it's always good to see the monsters letting loose. (note: Party Monsters cards are slightly more limited in supply, so the earlier you place your order order, the more likely it is you'll get one of these sets. otherwise, alternate replacement Halloweeny cards will be included with your order.)
You'll also find FIVE packs of Toxic Crusaders stickers in the club pack for you to place wherever nuclear waste and hazardous chemical injustices can be found. I've always loved Toxie, so being able to include stickers that feature New Jersey's first superhero and the other weirdo mutants from the old cartoon is a real treat.
So yeah, you'll be receiving lots of Halloweeny trading cards and stickers with wonderful, vibrant artwork to keep your eyes occupied for ages. Good times!
Last but not least, I'm including another batch of random Halloween toys, treats, trinkets, and stickers in every pack. You'll find all sorts of goodies in each pack including miniature zombie figures, flexible fang rings, gummy mummies, Zomboogers candies, the always popular orange & black Halloween fortune cookies with actual spooky fortunes inside them, sticky skeletons, seasonal Halloween candies, and more! There will be other little surprises included with every order to ensure this box o' goodies keeps you entertained all month long.
So there you have it. These packs are absolutely loaded with Halloween fun. I really can't wait to hear what all of you think of 'em when they arrive at your doorsteps. Please note that while I've once again made even more club packs than I did in 2015, they're still limited in quantity. Once they sell out, I won't be reproducing them again, so be sure to place your order early to ensure you get one and aren't left standing alone in a pumpkin patch like a disappointed Linus waiting for the Great Pumpkin to arrive. Nobody wants to be a disappointed Linus.
Please keep in mind, you're not only getting a club pack filled with loads of hand-picked Halloween fun, you're also helping support all the time and work put into I-Mockery. Halloween season is easily the most important time of the year for me, but it's also the most expensive time as well. In addition to the cost of running I-Mockery, I rack up some hefty traveling and purchase expenses for all the articles and reviews I post on this site, so you purchasing my club packs and other merch really helps offset those costs. Also, if you have any friends who might like the Halloween Club Pack, please let 'em know about it before the packs sell out!
The Halloween Club Packs are $31 a pop (after all, Halloween is on October 31st) for anybody in the continental United States, and yes, that price does include shipping. Only one purchase per person please, as I wanna spread the wealth and make sure lots of people have a chance to order one. If you're ready to order, click the button below:
NOTE: At this point all the standard packs have sold out, however, I did manage to put together a few extras, but they won't contain a Pepsiman figure. I'll throw in some extra Halloween trading cards instead. So please know that if you haven't ordered yet, and you're seeing this notice, you can still order a Halloween Club Pack, but you'll be getting extra cards instead of the Pepsiman figure.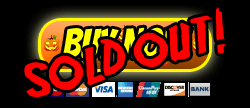 For international customers outside of the United States, due to the widely varying shipping costs and all the time it takes to fill out customs forms among other things (time that would be better spent writing new Halloween articles for the site), the club packs are not available for you to purchase. That said, you know I don't like to leave anyone out, so if you *reeeeally* want a pack / can't live without one, and you live outside of the United States, drop me an email about it and I'll do my best to set one aside for you and we'll work out the shipping costs later. I can't make any promises, as I often get more requests than I can handle, but I'll do my best to get a club pack into your hands just like I did with a bunch of you last year.
Okay, I've blabbed for long enough. I really hope you have a blast with these newest packs, because it was honestly a small miracle that they happened this time around. The moons and the planets aligned, and I was somehow able to gather all of these awesome Halloweeny goodies to send your way. As always, I wanted to give you what I see as "Halloween in a box" to make your October even more spooktacular. Can't wait to hear what you think of 'em! Thanks in advance to all of you who help support I-Mockery and all the work I do every Halloween season by ordering one. Have at it, Halloweenies!

Last year, on October 29th, I was lucky enough to attend a special screening of one of my all-time favorite horror movies, John Carpenter's Prince of Darkness. Seeing this film on the big screen is a rare treat under any circumstances, but on this particular occasion, it was being screened inside the church where it was actually filmed! I simply couldn't believe this was a real event that was happening, and I was honestly more excited about attending this sold out screening than going out on Halloween itself. If you know anything me, you know I wouldn't dare make such a bold statement unless I was absolutely serious.
Upon our arrival, we immediately recognized the old church, which they had illuminated with eerie green lights to help set the move for this special event. The historic church, built in 1923, is located in the Little Tokyo area of Los Angeles (you can see it here on Google Maps), and is now known as the Union Center for the Arts. And honestly, while some of it has been revamped since Prince of Darkness was originally filmed there back in 1987, much of the church looks exactly the way it did back then... especially the exterior.
Before the screening of Prince of Darkness commenced, fans were allowed to explore the grounds, including some of the familiar locations from the film such as the alley on the west side of the church. I can't tell you how crazy it felt to walk down the same alley where Alice Cooper and the other possessed homeless people in the film killed their first victim with a bicycle frame. I gotta say, I really loved that they took the time to set up each of these areas with extra lights so we fans could snap some fun photos that night.
And speaking of fun photos, as we walked up to the stairs to the screening area, we were informed that this was the exact location where the character Calder (Jessie Lawrence Ferguson) walked up the stairs while dragging a chair behind him and singing Amazing Grace. He then proceeded to stab himself in the throat with a shard of wood. Well, they wanted to make this extra special for us fans, so they provided an old chair for us to drag up for our own photo opportunity. In retrospect, I should've fully committed to the bit and stabbed myself in the throat.
We then proceeded into the theater area, where countless stage performances have taken place since the movie was first filmed. We were informed how certain sections of this room had been remodeled, but you could still recognize the remnants of what it used to be. All in all, it's a fantastic room, and watching John Carpenter's Prince of Darkness from up in the balcony inside the church it was filmed in? That's a priceless experience that this fan will never forget.
And to top it all off, after we finished watching the underrated Carpenter classic, there was an area set up in the front door of the church for one last special photograph. This was the entrance where the grainy footage transmissions from the future that kept appearing to people in their dreams in the film took place. They had it set up with a black back drop so we could all recreate our own transmissions for the late, great Donald Pleasence and his Brotherhood of Sleep to receive. Amazing!
Was this incredible Prince of Darkness church screening all a dream?
"This is not a dream... not a dream. We are using your brain's electrical system as a receiver. We are unable to transmit through conscious neural interference."
Well, I guess that answers that question.
Here's hoping this becomes an annual event, because more people should get to experience Prince of Darkness, the second installment in John Carpenter's "Apocalypse Trilogy", at the church it was filmed in. Huge thanks to all who were involved in putting this even together for huge horror fans like myself. This event was something that I never would've imagined as becoming a reality, but I'm happier than green liquid Satan leaking from his canister that is was.
« Older Entries Newer Entries »