Can you feel it creeping towards you? We're less than a week away from I-Mockery's annual "Two Months of Halloween" celebration, and I can't wait to dive right into all the madness! I always look forward to writing new Halloweeny pieces and talking with all of you about them, and I already have some really fun pieces in the works for this season. Remember, just like we've been doing every year for well over a decade now, the big celebration begins next Thursday, September 1st.
While you wait for it to kick off, here's an appetizer for you in the form of my newest article for Dread Central!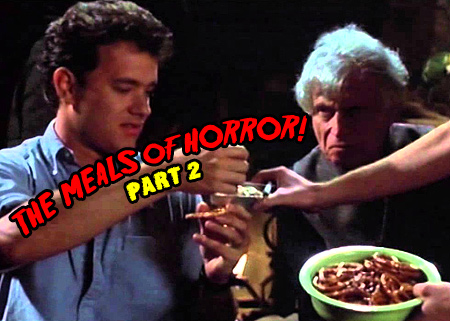 The Most Memorable Meals of Horror: Part 2 was a lot of fun to write, as I got into some more of my favorite spooky suppers from films including The 'Burbs, Theatre of Blood, and more. Thanks for reading, and be sure to post in the comments section of the article what other horror movie meals you'd like featured in future installments. I just may include it in the next batch!

Not sure how many of you are big fans of the Mr. Robot TV series like I am, but even if you don't follow the show, I just wrote an article about something special the creators just released that any 80s horror fan will surely appreciate: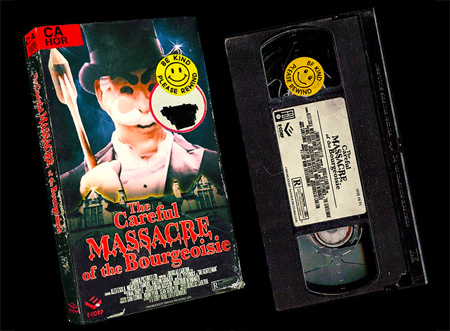 In my latest article, I break down everything they did right with The Careful Massacre of the Bourgeoisie - from making a faux VHS tape, to crafting perfectly wretched characters who you can't wait to see die in the film. Click above to read the article for yourself, then watch the 8+ minute throwback slasher that will have you cheering for a new horror hero named Uncle Conrad. They seriously did everything right with this one, and I think you'll agree with me once you check it out. Also, big thanks to all of you who spread the word about my recent Meals of Horror piece for Dread Central. I really appreciate the support, and it's certainly helping me get in the mood for our annual "Two Months of Halloween" 2016 season here on I-Mockery!
And speaking of Halloween...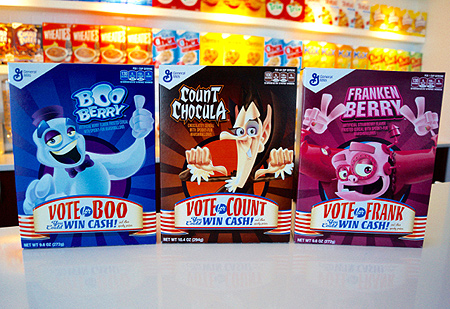 General Mills has just unveiled the boxes for their 2016 Monster Cereals, and it turns out that Boo Berry, Franken Berry, and Count Chocula are running against each other in a Monsters Cereal Election! If you know anything about this site, I'm sure you already know who I cast my vote for. I'm With Boo! Make sure you cast your vote, because I'm pretty sure there aren't any other elections going on this year that matter nearly as much as this one. I'll be sure to post more details and my thoughts on the 2016 cereals when I get my hands on them, but until then... Feel the BOOrn!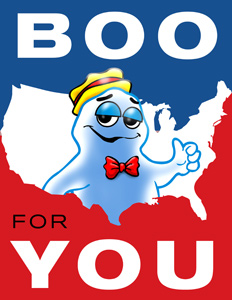 Hey chums! I'm back from the San Diego Comic-Con and currently in my annual "I-just-stood-nonstop-on-a-concrete-floor-and-talked-to-hundreds-of-people-all-week-long-at-the-largest-comic-convention-in-the-world" recovery mode. Lots of things to catch up on, but while I recuperate from all the chaos of the past week, I have have a few fun updates for you to check out.
Longtime readers of I-Mockery may recall when I was on Dread Central's "Splattrax" for a viewing of the classic Larry Drake horror-comedy, Dr. Giggles. Well, I'm happy to report that I'm now doing some freelance articles for Dread Central as well, and my first one just went up: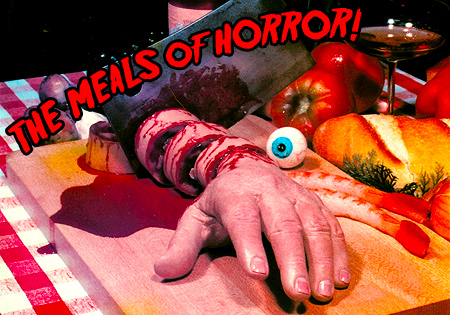 My first entry is called The Most Memorable Meals of Horror, and like the title suggests, it covers some of the biggest culinary scene stealers to ever appear in horror flicks. It's going to be an ongoing series, so if you don't see something you think should've appeared in part one, by all means let me know, as I may include it in my follow-up entries!
In other news, the Tournament of Nerds show I've been in for ages now just celebrated its eighth anniversary, which is a pretty amazing run for any comedy show at UCB Theatre... or anywhere else. We put on a special show for the big anniversary, and it was an absolute blast. Wish I could show it to you, but it wasn't recorded... it's just for LA locals at UCB. That said, the very next week, we took the show down to the San Diego Comic-Con and it aired live on Screen Junkies for some really fun exhibition matches. Thankfully, this one was recorded, and you can watch the full video after the jump: (more...)

I've always been a huge fan of Ecto Cooler, and I'm thrilled to see it finally return this year, in conjunction with the new Ghostbusters movie. After having vanished like a from store shelves over a decade ago, Slimer's trademark beverage had been long overdue for a return. What really surprised me, however, is I recently learned that there are two guys who are even bigger fans of Ecto Cooler than I am. Check out this new documentary about World's Biggest Ecto Cooler Fans, Mort and Gort Torpentine, to see just how much of an incredible impact Slimer's green juice actually had on their lives.

[click here for high quality Ecto Cooler video]
Hope you enjoy the video, as we put a ton of work into it. As always, dropping a comment and sharing the video on your social media accounts is greatly appreciated. Thanks for watching!
Also, if you haven't read my big review about the Return of Ecto Cooler, be sure to check it out for full details on what it's like and where you can find some for yourself!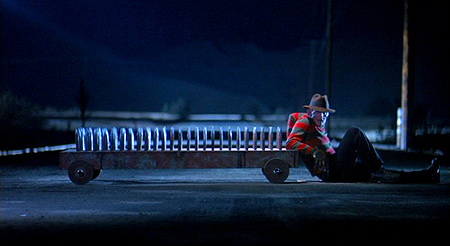 Most of you know how Freddy Krueger is my all-time favorite horror movie monster - whether it was him terrifying people in the first A Nightmare on Elm Street, or making audiences laugh in the later films, I remained a die-hard "Fred Head" throughout. Much like my previous article for Blumhouse, in which I attempted to defend the much-maligned Poltergeist III, I've now turned my attention to what was one of the most poorly received Elm Street flicks. I'm speaking of Freddy's Dead: The Final Nightmare.
While many fans didn't enjoy it, I've always had a soft spot for the sixth installment in which the filmmakers attempted to give the Springwood Slasher one crazy send-off. It's a nonsensical horror-comedy movie chock full o' laughs that never takes itself too seriously, and I think fans would enjoy more it if they could see it that way. What do you think? Check out the article and lemme know what your thoughts on the movie are. Don't forget the power glove!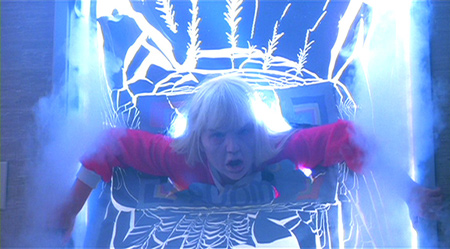 I've always been a fan of the Poltergeist films. The original is an absolute classic, and the sequels, while admittedly not as good, were still entertaining. That said, the third installment was always considered the worst of the original trilogy (and rightfully so), but I still it has merit. Despite some hilariously bad acting and a flimsy storyline, Poltergeist III has a handful of fun scenes and enough creative camera tricks that make it worth watching. With that in mind, I've written a new article for Blumhouse in which I attempt to make a case for Poltergeist III. Hope you enjoy it, and may all skeletons in horror films from this day forward have big, bushy mustaches!