"I got a rock." It's the Great Pumpkin, Charlie Brown taught us all that trick-or-treating can sometimes be a disappointing endeavor. Fortunately for you, I-Mockery's Halloween Club Packs have returned for the 2015 season, and they're so full of spooky goodness that they'd even make Charlie Brown himself smile through one of the many holes in his ghost sheet costume. Once again, I've scoured the globe in search of the finest random Halloween goodies to make these limited packs one of the most awesome things you'll ever find in your mailbox. And I gotta say, I honestly think I've topped myself this year! Behold!
I'm sure your eyes are crying tears of bloody joy at the mere sight of this spectacle, but I assure you this is just a mere sampling of what you can expect to find in one of our new Halloween Club Packs. So dry your eyes and let's take a closer look at some of the bigger things you'll receive in this year's pack. We begin with my personal favorite item: (more...)

I'm sure it comes as no surprise to any of you who've been with I-Mockery over the years, but I'm extremely excited about Halloween 2015. Yes, I go absolutely bonkers over it every year, but in recent times I've been so incredibly busy working on my upcoming video game projects, I've felt like quite the shut-in. Making my own original games is incredibly cool, don't get me wrong, but it's a very solitary line of work. Creating articles and videos for a web site can be solitary too, but it's usually a fairly quick turn-around time, and then I can enjoy talking with all of you about 'em. With games, however, I have to wait ages before I can release them and see how people react.
Ah, but when September 1st rolls around each year, it's like an ancient curse has been lifted, and I can emerge from my sarcophagus to seek out human flesh... or, you know... Halloween-themed cereals and candies to talk about. Whichever I happen to find first.
It's hard to believe how many years I've been doing this annual Halloween celebration for, but it's even more amazing to know that it's become such a major seasonal tradition for so many of you. I've always looked at it as an awesome privilege to share with you all the weird and wonderful things that accompany the spookiest of seasons each year, and I have a really good feeling about Halloween 2015. So a big thank you to all of you who've allowed me to be your petrifying pied piper, leading you into the spooky annual abyss that is Halloween on I-Mockery.
For those of you not in the know, September 1st marks the beginning of I-Mockery's annual "Two Months of Halloween" celebration. Every single update you see on this site from now until October 31st will be Halloween-related in one way or another. We've been extremely spoiled over the past several years with some insanely cool Halloween products hitting store shelves, and this season is shaping up to be one of the best yet again. Just on the horizon we have new Halloweeny cereals (and not just the Monster Cereals), new horror toys, new candies, new horror movies, and even Halloween falling on a Saturday! Yes indeed, the 2015 Halloween season is looking incredibly strong. And keep in mind, it's still very early in the season, so the best is yet to come. Trust me when I say the next two months are going to be insanely awesome. There is no greater time of the year.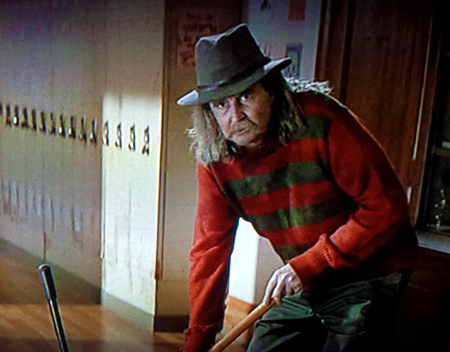 (Wes Craven's cameo as Fred the janitor in Scream)
Before we move on to all the fun, it's with a heavy heart that I have to report what I'm sure most of you already know by now - Wes Craven has passed away. The man created some of the most amazing, fun, and unique horror films we've ever seen. Growing up with his films was a big reason why I've always loved the horror genre. Obviously, this is not the kind of news any of us wanted to hear when kicking off the 2015 Halloween season, but rather than drown in our sorrows, let's celebrate Craven's wonderful career. I can think of no better way to honor him than by watching many of his amazing horror films throughout the season. It's what Wes would've wanted. So bust out your old copies of A Nightmare on Elm Street, The People Under the Stairs, The Serpent and the Rainbow, Scream, Deadly Friend, and The Hills Have Eyes, and enjoy the works of one of horror's greatest visionaries.
Now onto some good news: Many of you have been asking, and I'm happy to announce that our classic Halloween Club Packs WILL be returning again this season! Last year, I more than doubled our supply and they still sold out, so I'm stocking as many as I can. That said, they're still in limited supplies, so when you see them go up for sale here on I-Mockery, place your orders quickly so you don't miss out. I already found some insanely cool new goodies for the packs that I think you're all gonna love! Remember, buying a pack really helps support this site in what is easily the most expensive time of the year for me. If you follow us on Twitter and Facebook, you'll know the instant the packs go up for sale. I don't have an official date / time set yet, but you can expect it to be towards the end of September. Just like last year, these packs will be available to people in the continental United States only. Sorry to our international readers, but the amount of time it takes me to fill out all those customs forms would be much better spent on writing more articles. That said, if you live elsewhere in the world and you really, really want a club pack, you can email me and I'll see if I can possibly set one aside from you.
Alright, let's get into the details of what you can expect to see on I-Mockery in the coming months. As you probably already know, we pride ourselves on going crazier over this holiday than just about any other place has in our 17+ year history, so we've got all sorts o' skull-splitting surprises planned for the 2015 Halloween season. We'll have coverage of various haunted Halloween attractions, horrific novelties, my huge annual round-up of the best & worst Halloween candies, horror movie reviews, new videos, craft projects, scary toy features, contests, and all the other wonderfully random oddities we stumble upon over the next two months.
If any of you have suggestions for Halloweeny things you'd like to see covered this season, or you have something you'd like to donate for us to review, please let me know here in the blog thread or shoot me an email. It doesn't matter if it's a Halloween event taking place in your area, a horror movie, an independent seasonal costume shop, some new candy, or some completely bizarro new Halloween novelty... I wanna see and hear all about it, so please get in touch!
To those of you who aren't well acquainted with our annual Halloween celebration here on I-Mockery, I always suggest checking out some of our main Halloween attractions. We have a huge archive of Halloween material on this site from previous years, so while you wait for our newest pieces to go up, I highly recommend checking out those older things to get in the spirit of the season.
-I-Mockery's Halloween Collection: Here you'll find quick 'n easy access to most of our Halloween material from the past. Extremely in-depth horror movie and candy reviews, product reviews, and of course the boppin' Halloween adventures of Count Pop himself along with other oddities. Of course, be sure to check back here on the homepage every day for the very latest Halloween updates as well.
-The Halloween Grab Bag: Much like our "Shorts" section, this is a place where you'll find our smaller Halloween articles, but often covering some of the weirdest stuff we've ever stumbled upon.
-The Greatest Horror Movie Moments: Another favorite is our ongoing quest to document some of the finest moments in horror movies. Sometimes they're moments you're well aware of, other times, it's stuff you probably never knew existed. Either way, if you're looking for some horror movies to check out this season, this is a great place to start.
-The Halloween Jack-O-Juke: Here be our Halloween music jukebox, filled with over 218 hand-picked horrifying songs and counting to keep your decaying ears bleeding with ghoulish glee all season long. Feel free to keep the Jack-O-Juke open in a separate window so you can listen to all of the hand-picked tunes while still checking out the latest article offerings here on I-Mockery. I've already added a handful of spooky new tunes this season, and hope to add some more during the next two months. If there's a song you think should be added to the jukebox, be sure to let me know by dropping a comment in this thread and I'll try to add it before the end of October!
-Trick-Or-Treat Adventure: One of the largest Flash games we ever made... and it's all about Halloween. If you're a fan of classic adventure games such as Secret of Monkey Island and Space Quest, you'll feel right at home with this one as you go on an adventure to build a Halloween costume and then collect enough candies before you battle the ultimate evil! It even auto-saves your progress as you go play, so you don't have to beat the game all in one sitting.
-Haunted House Candy Hunt: In this Halloween game, we pay tribute to the games of the Atari 2600 by creating an all new one in the same style. You must guide two buddies (who just so happen to be from a galaxy far, far away) through all the treacherous rooms of a spooky haunted house as they hold hands. Should you reach the end of the game, you'll have a showdown with the ultimate candy hoarder - The Grim Reaper himself! I've also heard from a reliable source (ie: myself) that there's a secret level select hidden somewhere in the game. But you don't need that anyway, right? Cheater!
-MonsterTime: With our most recent Halloween game, we pay tribute to another favorite arcade classic, BurgerTime. Only difference is, instead of building burgers, you're a mad scientist named Doc Mock who is building classic monsters to save you from the modern slasher monsters who are out for your blood!
-Doc Mock's Movie Mausoleum: Doc Mock, I-Mockery's official horror host is looking for a new home to shoot his original show at, but we have over 30 archived episodes you can still watch online. If you're looking for a good cheesy b-movie flick, check out all of the Doc's episodes that are archived on iTunes (some were archived on YouTube as well), including his Halloween specials! You can also find some of Doc Mock's special "Mini Mausoleum" videos here.
In addition to a ton of new feature articles, you can still expect our regular site updates to the Blog (don't forget the archived Halloween blog entries from years past). We've also got some great Halloween contests in store for you to participate in as well. Please show your support for all the hard work we put into our Halloween celebration by following I-Mockery us on Facebook, Twitter, and Instagram to get all the latest updates.
HALLOWEEN SURVEY: Share in the comments section below what you're looking forward to most this Halloween season! Is there a horror movie you wanna see? A seasonal candy returning to store shelves? A haunted attraction you've been wanting to check out? Let's get this Halloweeny discussion going!
ONE FINAL NOTE: As a writer, the best compliment you can pay me is to chime in with your comments on any articles I post, and to share them with your friends on various social networks. I can't even begin to tell you just how much of my life gets swallowed up by Halloween for two months out of every year, and the workload is pretty tremendous; so it's the little things like your comments that which keep me motivated and going full-steam ahead on my DRAG-U-LA from now through October 31st. I-Mockery's big 2015 Halloween season has finally begun and I hope you'll join me on this spooky ride once again!

Every year, I turn my television into a Halloween Horror Movie Altar by surrounding it with some of my favorite lights and decorations, and it has certainly served me well this season. I feel like I've been watching a nonstop loop of horror movies and Halloween TV episodes for the past two months. Or has it been years? I tend to lose all track of time whenever my favorite season rolls around. But today is Halloween, and we're lucky enough to have it fall on a Friday this year, so I hope you'll all get out there and do as many Halloweeny activities as you possibly can tonight and throughout the weekend! Go trick-or-treating, put together a killer costume and go to a Halloween party, go see a horror movie marathon with your friends, turn your home into a haunted house, visit your nearest graveyard and high-five a zombie... whatever it is you wanna do, just enjoy it! Halloween is all about fun and you need to do something to celebrate it!
Halloween marks the culmination of two lengthy months of nonstop, obsessive work dedicated to my favorite holiday, so that combined with the all the fun activities going on is all the reason I need to celebrate it until my body demands that I allow it to rest. Then I eat more candy and force it to stay awake for another five hours. I dedicate an entire two months to Halloween every year. It's a huge undertaking that swallows my life from September 1st - October 31st, but it's always an absolute blast to work on and it's incredibly awesome that so many of you have made it part of your annual celebrations as well. Knowing you're enjoying all this spooky stuff I do is what keeps me going. As always, there have been a ton of updates to the site over the past two months, so here's a handy recap of some of the highlights you may have missed:
-We saw Boo Berry and company each receive retro and modern Monster Cereal box designs.
-We learned all about how many classic Pinball Machines can entertain and horrify us.
-We made more Halloween Club Packs than ever before, and they still completely sold out once again. (Thank you!!)
-We saw Protocomics tell us tales involving Werewolves and Theatre, both equally terrifying.
-We were baffled by how Night Trap was such a controversial video game for the Sega CD system.
-We listened to more tunes on the Jack-O-Juke - our Halloween music jukebox with over 200 spooky songs and counting!
-We saw Doc Mock do his best to get the Domino Rally Ghost Ride playset to actually work.
-We ate bowls of Candy Corn Pebbles cereal and discovered it tastes like maple syrup for some inexplicable reason.
-We learned just how awful Jaws IV: The Revenge truly is.
-We saw some new entries added into ever-growing list of the Greatest Horror Movie Moments.
-We devoured Krispy Kreme Ghostbusters Donuts and walked away with a slime bucket.
-We proved that wearing Slimer on your head is always fashionable.
-We took a trip back east and paid a visit to a Monster Mini Golf course in New York.
-We learned some valuable life lessons from Serial Mom.
-We visited Son of Monsterpalooza and saw an incredible gallery dedicated to the Bride of Frankenstein.
-We marveled over how Eerie Magazine produced some truly amazing covers during its run.
-We agreed that a Monster Cereal Mansion is the best home anyone could ever hope to live in.
-We saw the fantastic return of Tales From The Longbox, with an in-depth review of the original Nightmare on Elm Street comic books.
-We saw some bootleg Sungold Monster Toys, including a Freddy Krueger figure with a face tattoo.
-We were invited to another Los Angeles Halloween Convention and had a fantastic time.
-We were hypnotized by the Radko Halloween Candolier and its magical pumpkin bubbles.
-We discovered that Horror Movie Paperback Covers are often better than the movie posters.
-We conducted yet another massive and extremely thorough Halloween Candy Taste Test.
-We saw another collection of amazing and insane Foreign Horror Movie Posters.
-We laughed at just how wonderfully ridiculous Leprechaun In Space really is.
-We cringed at the Worst Halloween Costumes of the 2014 season.
-We were totally surprised when General Mills sent us an amazing Monster Makeover collection of their Monster Cereal boxes.
-We learned that the music video for "Torture" by The Jacksons is just as important to watch in October as Thriller.
-We saw how Universal Studios Party Monsters celebrate the season better than any of us.
-We were happy to see The Creature from the Black Lagoon get an art show dedicated all to him!
-And last but not least, we decided that Nightmare Feddy is even better than Freddy Krueger, and we all want to be his friend.
You know there is no time I enjoy more than Halloween each year, and having so many of you making I-Mockery your online Halloween home truly makes it all the better. I really try to give you guys the best and widest variety of Halloween coverage you'll find anywhere online every season - from visiting haunts and reviewing movies, to taste testing candies and tracking down the most absurd novelties and more, I always try to make every season special and filled with surprises. Please stick around and continue to share the site with your friends, and I'll do my best to keep that tradition going strong for years to come.
I'll likely have some post-Halloween photos up here along with some other big site updates soon, so be sure to check back often. As always, I must thank Dr. Boogie and Protoclown for their fantastic contributions to our Halloween celebration. I also gotta give Re major credit for allowing me to make our home look like it was hit by a Halloween hurricane these past few months.
Of course, a huge thanks again to you for sticking with us during our annual "Two Months of Halloween" celebration. It's a lot of work to put all this content together, but it's a lot of fun too, and your continued feedback definitely helps keep my energy up throughout the season. If you haven't already, please like us on Facebook, follow us on Twitter, and uh... tumble us on Tumblr. This is a completely independent web site, and we rely entirely on people like YOU to spread the word about it, so please do so if you can... it helps more than you could imagine!
Please drop a comment below (whether you're logged in or not) and lemme know what you thought of the Halloween season and what your favorite articles were. Also, let me know what your Halloween plans are and feel free to post photos of your costumes if you're dressing up or your decorations or any other Halloweeny things you like!
Thanks again everyone and have a keen Halloweeeeeen!

Doc Mock's Mini Mausoleum has returned for another spooktacular YouTube episode, and this time he reviews the scariest set of dominoes you'll ever lay your eyes on: The Domino Rally Glow In The Dark Ghost Ride!

[click here for high quality video]
Thanks for watching and be sure to drop a comment to lemme know what you think of these spooky Halloween dominoes! Also, if you missed the previous Doc Mock episodes, you can check them out here: Halloween Cuponk set and Baby Ghost Ducks.
Lastly, since this set looked so amazing when lit up with black lights (just like it did in the Domino Rally commercial), I decided to take some close-up photos of the individual components for you. You can click on any one of them to see a larger version. Hit the jump to see all the pics. Hope you enjoy 'em! (more...)

I don't usually post other people's videos on here, but my pal Ethan Newberry (who many of you know as "Licky" from our Doc Mock's Movie Mausoleum show) has been doing some really impressive runs in recent times, and he films all of them to share on YouTube. However, this past weekend he was training at night for a run when something extremely creepy happened to him. Rather than try to explain it, I'll let you watch the footage he just posted:

[click here for high quality video]
Has anything like this ever happened to you when you were out at night? Drop a comment a comment below and lemme know!

Over the years, I've noticed that companies aren't including extras like toys, stickers, and other novelties in boxes of cereal nearly as much as they used to. Sure, your mom may not have bought your favorite brand of cereal when you were a kid, but at least it came with an awesome toy surprise! Nowadays, you're lucky to get anything more than a crossword puzzle on the back of the box or a link to a promotional web site that tries to get you to buy some more crap. What happened to the good stuff? What happened to collecting UPC codes for special mail-away offers?
To illustrate just how much times have changed, I wanted to share with you what is the greatest cereal mail-away offer of all time. I'm speaking of the Monster Cereals Monster Mansion!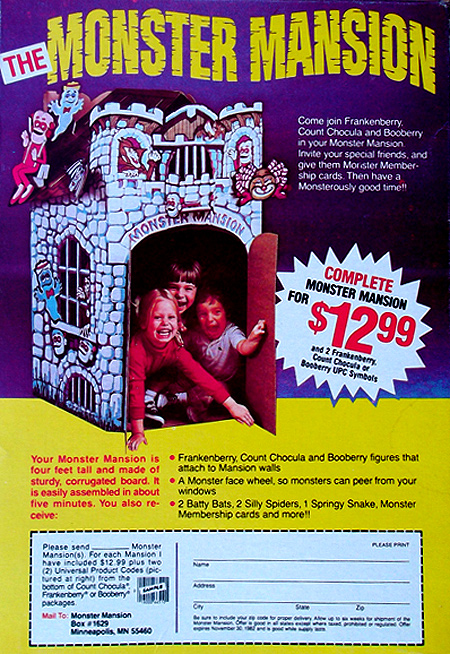 That's right, back in 1981, if you ate a few boxes of cereal and forked over a measly $13, you could get your very own mansion. I mean holy shit; does that not put things in perspective when compared with the cereal box extras of today? Sure, kids these days can have just about any video game they want and a world of information all in the palm of their hands, but you know what they can't have? A corrugated cardboard mansion covered in monsters as a reward for eating sugary cereal come Halloween each year. Future technology be damned; kids of the eighties clearly made out better.
The mansion itself was four feet tall and featured all the monster cereal mascots of the time - Boo Berry, Count Chocula, Franken Berry, and yes, even Fruit Brute just before he was replaced by Fruity Yummy Mummy. Also included were a a few "batty bats", "silly spiders", a "springy snake", and the requisite "Monster Membership Cards" that any proper clubhouse needs. It even had a few balconies that could easily hold your favorite Monster Cereal toys or just about any other action figures.
While I missed out on the offer when I was a kid, I've long since dreamed of owning this Monster Mansion. As you can imagine, not a lot of these cardboard monstrosities survived over the decades, so they've become quite the collector's item that often fetch prices of $500 or more. Well, late last year I was lucky enough to stumble on a seller on eBay who apparently scanned the original pieces of the cardboard mansion and decided to make miniature hand-painted reproductions of it. This person only made a handful of them, but he truly went through the painstaking process of including every little detail to make these replica monster mansions nearly perfect. As one of the few people who was fortunate to score one of these repros, I thought you'd all enjoy a rare look at the beautiful Monster Mansion:
Here we have the front of the Monster Mansion in all its splendor. The front doors swing open and you can place small toys up in the balcony. What's nice is additional cut-out figures were included that you could tack onto various slits around the mansion.
Here's a look at the rooftop from the side where we see Boo Berry peering out of an opening way up in the attic. I'm guessing that's where he keeps his cereal stash, or whatever it is that's been giving him those heavy eyelids all these years.
Another feature of the mansion was the "Monster Face Wheel". See how Boo Berry is in the window on the left there? You can spin a wheel inside the castle to select which monster face you want to have peeking out of the window. There were two of these wheels included for each side of the mansion. It's also become evident that our favorite cereal monsters are capable of cloning themselves. Each side of the castle has the main three monsters looking out of a window along with an additional cut-out figure; this side has a Chocula one, the other side has Franken Berry.
I was glad to see there was a Fruit Brute cut-out, and it makes it look like he's either jumping off of the roof or jumping up to the balcony. I also like the other Fruit Brute pictured above the balcony who appears to have chewed his way out of the castle. No wonder they canceled his cereal back in the day... he was literally eating the other monsters out of house and home.
And lastly, here's a shot of the other Monster Face Wheel, this time with Fruit Brute admiring the dead tree creeping its way up the outer mansion walls. The artwork may be simple, but man do I love it.
Alrighty, that about does it. I hope you've enjoyed this detailed look at what I consider to be the greatest cereal mail-away promo ever offered to kids. Please drop a comment below and let me know what you think about it. Also, what are some of your other favorite monster cereal toys & mail-away offers from over the years? And to General Mills, if you're reading this, please bring back this Monster Mansion offer (or at least some mail-away offers like it). You've given us the retro monster cereal boxes, now it's time to complete the circle by giving us the retro cereal offers. Make it happen, Big G!