So some brilliant Friday the 13th fan by the name of Will Edwards painted a custom Jason Voorhees figure so it would look just like his purple and blue 8-bit character incarnation from the original Friday the 13th NES game. Awesome idea, right? Well it gets better. He tweeted the image to the NECA toy company, and they loved the figure so much, they decided to actually produce it! Behold:
You can't tell me that isn't a thing of absolute beauty. Now, I've scored some great Comic-Con exclusive figures in the past, but I'm more excited about this one than anything I can remember. It even glows-in-the-dark and will come with NES tribute packaging! The only thing I would change is I think they should include a weapon that looks exactly like a scrubbing brush, just like how Jason's axe appeared to be one in the original game. Still, this figure is an absolute must-have! Huge kudos to Will Edwards for coming up with such a killer idea, and kudos to NECA for recognizing that it's something that all action figure collectors, horror fans, and video gaming enthusiasts alike would want to own.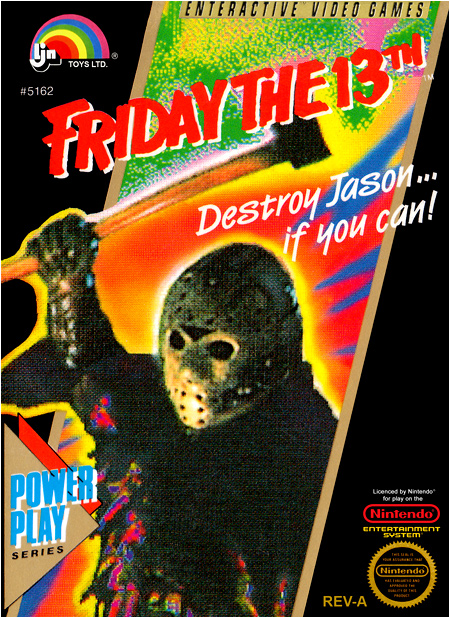 Friday the 13th is one of the few NES games I still own complete in the original box. Despite it being far from my favorite game, I always loved how colorful the packaging was. Rarely do you see Jason Voorhees bursting out of some trippy rainbow world with neon shreds of fabric dangling off his upper torso, and man did it ever work. The game itself was frustrating as hell for anybody who played it, especially when those damn words "You still haven't defeated Jason... and he's even stronger!!" popped up on the screen. Still, I have fond memories of it, even when I was fighting wolves, bats, and zombies instead of Jason himself. If you've never played the game, here's a seriously impressive speedrun done in under 5-minutes that would've absolutely blown my mind had I seen it when I was a kid:
I'll be sure to post more details on the Jason Voorhees NES figure once it's in my hands. Man... SDCC 2013 simply can't come soon enough. In the meantime, you can learn a little more about the figure here.

So I saw the new Evil Dead (2013) remake the other night with some friends, and figured I'd share my thoughts on it. Before I get to my review, I must preface it by saying that while I absolutely love the original Evil Dead trilogy, and generally loathe modern horror remakes, I went into this movie with an open mind and no real expectations. I wanted to give it a fair shot and hopefully have a good time at the theater with my chums. Also, I'm not gonna deliver any clever movie critic one-liners like, "Evil Dead? More like Evil Dud! Heyooooo!!" with this review. I just want to give an honest, spoiler-free breakdown that will hopefully help you decide whether or not it's worth watching. With that in mind, I'm going to break this review of Evil Dead into two simple sections - the good and the bad. Let's get to it: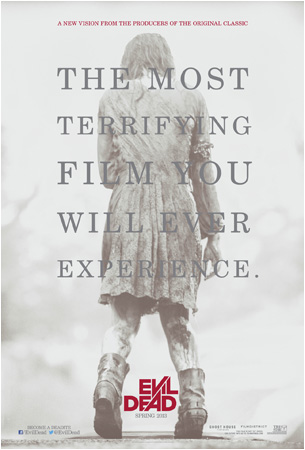 The Good:
If there's one thing I can praise about the new Evil Dead film, it's gotta be the nearly complete lack of CGI. Given how the majority of mainstream horror flicks have been using CGI far too much over the past decade, it's refreshing to see one using the real deal. Tangible blood, puke and gore effects will always look far superior to all the computer-generated crap, and that's one big reason why horror movies from back in the day are far more satisfying to watch. This movie is excessively bloody, gory, pukey... you name it. Most of the effects are traditional, and the blood is all there, dousing each of the actors and their wounds at some point or another.
So yeah, if you're a fan of gore, this movie will definitely satiate your appetite for destruction. You will be pleased. Just don't expect it to be like Dead Alive, which was the Double Dare of messy horror films in my mind, and I'm convinced no movie will ever top that one in terms of over-the-top carnage. That said, it's at least better than most modern remakes, so long as you're not expecting it to be right on par with Dawn of the Dead.
The only other truly good thing I can say about the movie is that they didn't try to replace Bruce Campbell's amazing performance as Ash. There is no replacing Bruce, and had they attempted to do so, I imagine many horror fans would've burned movie theaters to the ground in protest. So, it's definitely good to see the filmmakers knew this, went with their own separate storyline, and didn't attempt to deliver us a new version of Ash. A wise decision indeed.
The Bad:
While they didn't try to replace Ash, which is good, the film lacks any characters that you actually give a damn about, which is bad for something like Evil Dead. Horror movies are notorious for having sub-par actors, which is fine, but there's almost always one or two that you enjoy seeing make it 'til the end. You want to have that one person to root for... that one person who will fight through utter hell and, against all odds, somehow manage to come out on top.
With the new Evil Dead, you just don't find yourself invested in any of the characters or caring about what they've been through. That'd be fine if Evil Dead was a movie like A Nightmare on Elm Street, where you at least have an iconic bad guy to cheer for even if you don't care about the actors, but Evil Dead doesn't have that. It never did. Evil Dead has a book - the Necronomicon. And unless that book sprouts arms, legs, and starts carrying an axe, I don't think I'm gonna be cheering for it in a modern horror flick any time soon.
It's also supposed to be a pure horror movie, like the original Evil Dead, so it doesn't have the campy feel of Evil Dead 2 or Army of Darkness. While that's fine in itself, as a horror movie, it fails to deliver any scares. The official poster describes it as "The most terrifying film you will ever experience", when in fact, it's nothing of the sort. Not even remotely. This movie didn't make me jump or startle me even once. There was no sense of tension or urgency to it whatsoever. Instead, it just felt like a paint-by-numbers exercise in, "forget the scares, let's just see how much more blood we can splatter as time goes by." But you feel no sense of panic or dread while it's all happening.
The original Evil Dead film was nerve-racking as hell, and its sequels had plenty of jump-worthy moments too. Tension... it matters.
The director (Fede Alvarez) obviously tried to pay homage to Sam Raimi's classic work a few times by having the camera move quickly through the woods. Nice try, but unfortunately, his camera work pales in comparison with Raimi's techniques. With Raimi, you felt like the camera was absolutely out of control as it sped through the woods like some unstoppable, unseen force hellbent on destroying anything in its path. You didn't know if it was going to catch up with Ash or crash right into a tree, and all you could do while this happened was hold your breath and grip the edges of your seat. I still feel on edge when I watch those movies to this day, and I've seen them countless times.
None of that happens in the new film. It feels too polished... the camera just glides past the trees at a fast pace. There's no urgency to it, and you don't get the sense that you're seeing the world fly by through the eyes of some reckless demonic force. No cameras mounted to bicycles here. No crew members or equipment in any danger.
Sam Raimi made you feel like he was literally ramming his film camera into things just to pull off a crazy shot, endangering both his equipment and his crew. That's not the case with the new Evil Dead. With this one, you get the feeling they were more concerned about protecting their expensive film equipment than going for glory in any of the shots. Perhaps, to create engaging horror on film, one must experience a little horror while actually filming it.
Wrap-up:
In the end, Evil Dead (2013) is a visually entertaining modern horror flick with a fairly heavy amount of carnage in it, but it's also completely forgettable due to the inferior camera work, bland characters, and a complete lack of tension. You may have a good time watching it with friends for the first time if you like enjoy ridiculous gore scenes, just don't expect it to appear in your required annual horror film viewing rotation.
I'm sure some of you have already seen the movie, so feel free to post your opinions about it in this thread and I'll be happy to blab with ya about all things Evil Dead.
One last thing: If you do decide to check out the movie, be sure to keep watching past the end credits for something that will put a big smile on your face.

Halloween may be over, and I hope you all had a great one and made the best of it, but I still have another spooky surprise for you today. It's episode 5 of my ongoing Yeah, That Exists series, and this time I pay a visit to one of my all-time favorite yard haunts that's been running for twelve years now: Boney Island! Please check it out and drop a comment on Youtube to let me know whatcha think:

[click here for high quality video]
Incredible isn't it? It's hard to imagine all of that exists in somebody's front yard. A huge thanks to Rick Polizzi for letting me interview him and for putting together one of the most incredible yard haunts I've ever seen. Hit the jump for some additional still photos I took of Boney Island during my visit this past week. (more...)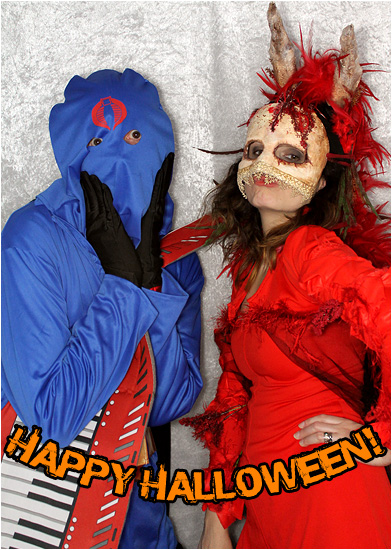 Elections? Pfft! Frankenstorms? Pshaw! We are all here to celebrate the most important holiday in history, and nothing is going to prevent us from doing so... not even having the holiday take place smack dab in the middle of the work week! This is the time when we toss aside those brains of ours that are constantly trying to grow up. This is the time when we pay complete strangers a visit and demand they give us all the sugary treats in their possession or face the wrath of having their property adorned with eggs and toilet paper! This is the time when we watch countless horror films, because they may not always scare us, but they feel like a familiar old friend returning home to keep us company. This is Halloween.
I already went out in costume with Re and some friends this past weekend to various Halloween yard haunts and gatherings, and we still plan on going trick-or-treating tonight. This year, I am Keytar Commander (yes, Cobra Commander with a keytar) and Re created her own interpretation of a red devil with a Venetian carnival mask. It wasn't planned, but I love how our red and blue outfits really seem to go together... it must be the keytar. Yeah, I'm gonna credit the keytar for being the glue that makes our costumes work. Once again, I have to send a big thank you to 80sTees for sending me the Cobra Commander costume. As you can see, it's the only official costume out there that features him with his hood instead of his traditional mirror mask helmet. If you grew up playing with G.I. Joe toys like I did, this version of the Commander was your most cherished one because he was only available for a limited time via a mail-away offer. Sadly, he was never available with a keytar.
As you probably know, I dedicate an entire two months to Halloween every year. It's a huge undertaking that swallows my life from September 1st - October 31st, but I have an incredible amount of fun doing it. This year, I feel like I wrote more "big" feature articles than I have in quite a while. Not sure what it is, but my energy and excitement for Halloween this season just has not waned at all over the past two months. We've covered a ton of ghoulish ground, and I hope you've all enjoyed every macabre minute of it. Here's a recap of some of the highlights this season:
-We discovered that the L.A. County Fair had not one, but three haunted attractions. And then we yelled at them.
-We were reminded that Hausu is an absolutely insane Japanese horror film.
-We learned never to take a cat on a yacht.
-We looked back at Supernaturals Ghostlings and realized they just might be the greatest holographic Halloween ghost toys ever made. Okay, they're also the only ones.
-We were one of the first to taste test the Candy Corn Oreo Cookies that became an internet phenomenon and the article appeared on a CNN broadcast about them.
-We unveiled the Jack-O-Juke - a Halloween music jukebox with over 180 spooky songs and counting.
-We learned some important life lessons from Beetlejuice.
-We found that Slash Dance was no replacement for a Horror Workout.
-We realized that the Ghoul Log is pretty much the worst thing ever made.
-We battered your brains with more Greatest Horror Movie Moments.
-We made the case for Halloween Doritos and expect the Frito-Lay company to deliver next year when we remind them about it again and again.
-We visited Knott's Scary Farm for their 40th annual Halloween Haunt.
-We laughed once again at what some people try to pass off as sexy Halloween costumes.
-We were hypnotized by the glitter blood in the Michael Myers Halloween Snow Globe from the special 20th anniversary VHS set.
-We saw a Blaxploitation ripoff of the Exorcist called Abby.
-We saw the construction of a Haunted Gingerbread Mansion.
-We remembered that Vintage Halloween Cards are far creepier than any modern horrors.
-We found that no sticker collection is complete without some Monstickers.
-We were even traumatized by Scary Moments in non-horror films too.
-We conducted another thorough Halloween Candy Taste Test.
-We battled our way through all the glorious 8-bit gore in Abadox: The Deadly Inner War.
-We viewed some amazing Foreign Horror Movie Posters.
-We were reminded by Chopping Mall that nobody should ever let robots handle their security.
-We learned that some of our readers are incredible Halloween Toothpaste Artists.
-And last but not least, Count Pop graced us with his presence once again and he even made a new Halloween Dance Video!
You know there is no time I enjoy more than Halloween each year, and having so many of you making I-Mockery your online Halloween home truly makes it all the better. I really try to give you guys the best and widest variety of Halloween coverage you'll find anywhere online every season - from visiting haunts and reviewing movies, to taste testing candies and tracking down the most absurd novelties and more, I always try to make every season special and filled with surprises. If you continue to stick with me, I'll do my best to keep that tradition going strong for years to come.
I'll have some post-Halloween photos and videos to put up on I-Mockery soon too, so don't go anywhere. Once more, I must thank Dr. Boogie and Protoclown for their awesome contributions to our Halloween celebration. Also, a huge thanks to Re for putting up with me as I turned our home into something that looked like a special Halloween episode of Hoarders.
Of course, a huge thanks again to you for sticking with us during our annual "Two Months of Halloween" celebration. It's a lot of work to put all this content together, but it's a lot of fun too, and your feedback definitely helps keep our bloody brains going. If you haven't already, please like us on Facebook, follow us on Twitter, and uh... tumble us on Tumblr. This is a completely independent web site, and we rely entirely on people like YOU to spread the word about it, so please do so if you can!
Please drop a comment (whether you're logged in or not) in the blog here and let us know what you thought of the Halloween season and what your favorite articles were. Also, let us know what your Halloween plans are and feel free to post photos of your costumes if you're dressing up or your decorations or any other Halloweeny things you like!
Thanks again everyone and Happy Halloweeeeeeeeeeeeeeen!

How sweet... fresh meat stale bubble gum! I recently stumbled on these three containers of "Freddy's Bubble Gum", produced by the Topps company in 1988, and simply had to have 'em. First off, I have no idea how these things went under my radar during the height of my A Nightmare on Elm Street fanaticism back in the late eighties. Who wouldn't want bubble gum that's officially endorsed by the Springwood Slasher himself?
There were six different containers, each with a new photo of Freddy and some quote related to him. Here are the random quotes that could be found on the pictures:
-FREDDY THE SEX SYMBOL!
-QUIET - I'M KILLING SOMEONE!
-MY NAME IS FREDDY - YOUR NAME IS MUD!
-HOME SWEET HOMICIDE!
-KISS ME!
-FREDDY RULES!
-WHO STOLE MY NAIL CLIPPERS?
Those are some quality quips right there, folks. Bazooka Joe would be totally jealous of those one-liners. But what about the gum? What horrors would lurk within?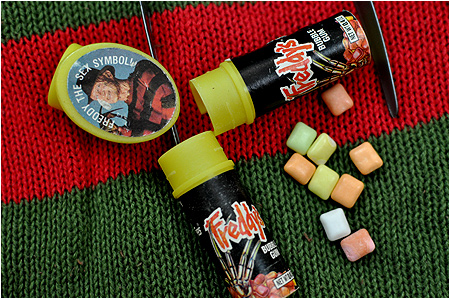 While they came in push-up pop shaped containers, the gum itself is more akin to tiny size Chiclets, though they're slightly larger. It's a bit disappointing that the gum pieces aren't shaped like Freddy's infamous glove or anything remotely cool like that. I'd even settle for pieces shaped after his sweater or fedora hat. These aren't even remotely scary and the pastel colors make me think of Easter, not some of my favorite horror movies. Bubble gum aside, these are still fun little collector cases and hopefully I can track down the remaining ones to complete my collection some day. I'm sure it'll happen... it's not like there's a huge market out there for obscure Freddy Krueger bubble gum containers, so they're never gonna cost that much.
Oh, and if you're wondering what the display box for Freddy's Bubble Gum looked like, I tracked down one avid Elm Street collector who took a photo of it complete with all the containers:
Gotta love how Freddy's pictured on the box, just chowing down on the tiny pieces of gum as if each one was a tortured soul from his many teenage victims. The gum itself may not be amazing, but I think we can all agree that more horror icons deserve their own lines of bubble gum. Come on candy companies... pay the licensing fees and make it happen!
More I-Mockery articles about A Nightmare on Elm Street & Freddy Krueger:
-Freddy's 10 Best Kills
-Freddy's Nightmares (pilot episode)
-Freddy's Nightmares: Sister's Keeper
-The Freddy Krueger Face & Make-Up Kit
-Freddy's Merchandise
-Freddy Krueger in Mortal Kombat
-A Nightmare on Elm Street: Freddy's Forgotten PC Game
-Freddy Krueger's Nike Sneakers
-The "Design A Freddy Glove" Contest Results
-Dokken's "Dream Warriors" Music Video
-Freddy's Amazing Death in A Nightmare on Elm Street 4
-Freddy's Greatest Hits LP
-Freddy Krueger & Jason Voorhees Have A Van

Of all the snack brands out there, it seems like Doritos is one of the biggest to have never truly embraced the Halloween season by offering a limited edition spooky flavor of their chips. Sorry, but that is totally unacceptable. Halloween Doritos need to happen. And don't think I'm here just to complain without offering any solutions. No, I've actually drawn up an idea that came to me right after I finished my recent article about Halloween snack chips, and I think it's something everyone can get on board with.
So it seems to me that if the Frito-Lay company wants to claim their place in the pantheon of great Halloween snacks, they're really going to have to go all out with something that both captures the spirit of the season and the attention of everybody who adores it. For example - take the recent Candy Corn Oreo cookies that took the online world by storm. Whether or not you like the taste of candy corn, the cookies still look amazing, and it's the classic candy corn color pattern that people associate so strongly with the Halloween holiday. It's that very look which brings me to what I consider the perfect idea for a Halloween edition of Doritos. Behold!
Beautiful isn't it? We've already seen Doritos release their "Collisions" packages with multiple flavors, so you can't tell me this isn't a completely feasible product. More importantly, it's something that just about anybody would be willing to try. I may love candy corn, but I'm not crazy enough to think there's a way to shoehorn the flavor into tortilla chips and have it work on any level. However, one could easily take the visual of candy corn and have each of the three classic colors represent three flavors that do work. That's exactly what I've done here, using white cheddar, nacho cheese, and yellow corn tortilla - all three of which are very common in the snack arena.
And don't worry, Frito-Lay... I've already taken the liberty to help design the packaging for these new Halloween Doritos and even gave them a name: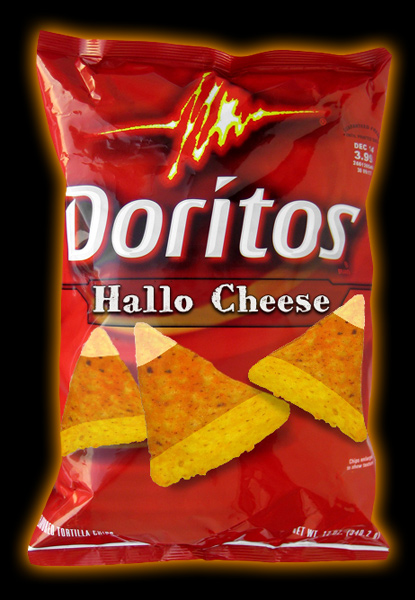 Hallo Cheese! HALLO CHEESE! HALLO CHEEEEEEEESE!!!!
There you have it. "Hallo Cheese" flavored Halloween Doritos! I've come up with the idea and given you the blueprints, it's now up to you, Frito-Lay, to make the Halloween dream of billions (probably an underestimate) come true. Do not let us down.
How you can help: To those of you who are reading this and want to see Hallo Cheese Doritos become a reality, please help out by messaging the official @DoritosUSA Twitter account about them, by posting on the official Doritos Facebook page, and by contacting Frito-Lay directly. They seem to be pretty good about responding to people, so hopefully with enough of us contacting them, the right set of eyeballs will see these Hallo Cheese chips and maybe we'll see them put into production sometime.
Here's hoping we'll all be wiping Hallo Cheese dust off our fingers next Halloween!