There's a chill in the air. The leaves are crunching beneath your feet. The summer has succumbed to the spookiest of seasons.
So here we are. I-Mockery's "Two Months of Halloween" celebration has arrived once again, and I couldn't be more excited to have you guys along for the spooktacular ride. The Halloween tunes in the Jack-O-Juke may keep me company during those long writing sessions, but it's hearing from all of you throughout the season that's the lightning bolt to my Frankenstein.
And I gotta say, I need this Halloween. It's been a trying year for many reasons that I won't bore your bones with, but suffice to say, I can't wait to celebrate all things haunted, undead, pumpkin spice, and more. We've had some amazing seasons in recent years, and I think Halloween 2016 is going to be no exception - just look at what's already happened this summer! Whether you enjoyed it or not, we saw a new Ghostbusters movie released, which also resulted in the glorious return of Ecto Cooler. Netflix surprised all of us with their new show, Stranger Things, that had all of us saying "dem-oh-gore-gon" a thousand times a day until our best friends wanted to stomp on our throats. Mr. Robot unveiled a faux horror movie within one of their episodes that was a nearly perfect homage to 80s slashers. And the General Mills decided to give us a Monster Cereal Election we could all be excited about. All this before September even showed up to shove cardboard skeleton decorations and plastic pumpkin buckets in our faces at every turn? Are you kidding me?
My friends... this is gonna be goooood. Like you're-the-last-person-to-go-trick-or-treating-at-that-rich-person's-house-on-Halloween-so-they-give-you-the-rest-of-their-full-sized-candy-bars kind of good.
While I never officially celebrate Halloween until September 1st - I consider these two months to be a sacred tradition - I've certainly experienced a boatload of Halloweeny things so far this year. In addition to the aforementioned anomalies, I've gone to not one, but three Halloween conventions so far this year (which you'll see coverage of soon enough), we released a game called Godball where you hurl giant monster balls at helpless towns, and I've even been freelancing for two of my favorite horror sites, Dread Central and Blumhouse. It's like Halloween has been inside of me like a ferocious Xenomorph since last October and I've been struggling to keep it from bursting out of my chest until today.
Well, it's time to let the monster out. It's time for all of us to let our monsters out.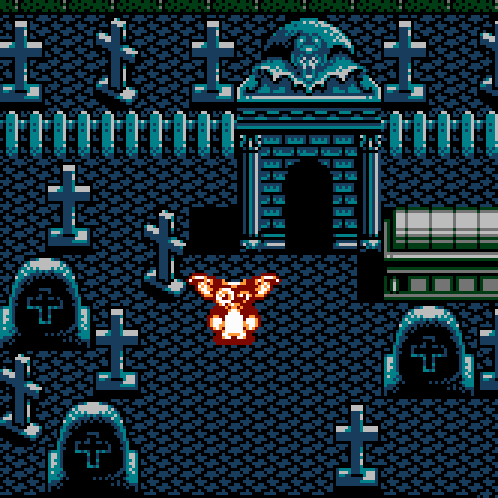 (this will be you shortly)
This is the season of all things spooky, and it's our deadly duty to spread the word about anything we see related to Halloween. Remember, Halloween isn't a single day... it's a season. It's a season we're going to have a lot of fun talking about together. We're going to talk about Halloween toys, Halloween cereals, Halloween costumes, Halloween Candies, Halloween games, Halloween movies, Halloween TV specials, Halloween drinks, Halloween soap bottles, Halloween paper towels, and anything else that proudly displays the visage of a ghost, goblin, or other creepy creatures of the night.
I've always have and continue to treat what I do from September 1st - October 31st every year as an honor. Having worked on I-Mockery for a few years shy of two decades, I can't tell you how much it means to know that so many of you include this site in your Halloween traditions. It really is an awesome privilege to know you're all reading along on this site while sipping on hot apple cider and listening to Rockwell's "Somebody's Watching Me" for the thousandth time. So once again, I think you all for allowing me to be your petrifying pied piper, leading you into the spooky annual abyss that is the Two Months of Halloween on I-Mockery.
For those of you not in the know, September 1st marks the beginning of I-Mockery's annual "Two Months of Halloween" celebration. Every single update you see on this site from now until October 31st will be Halloween-related in one way or another. No matter where you live - whether it's a shining beacon of Halloween goodness, or a barren land with barely a flickering matchstick to make things a little spookier - please think of this site as your official Halloween home. The next two months are going to rule, for there is no greater time of the year.
Alright, let's get into the details of what you can expect to see on I-Mockery in the coming months. As you probably already know, we pride ourselves on going crazier over this holiday than just about any other place has in our 18+ year history, so we've got all sorts o' spine-shocking surprises planned for the 2016 Halloween season. We'll have coverage of various haunted Halloween attractions, horrific novelties, my huge annual round-up of the best & worst Halloween candies, horror movie reviews, new videos, craft projects, scary toy features, contests, and all the other wonderfully random oddities we stumble upon over the next two months.
If any of you have suggestions for Halloweeny things you'd like to see covered this season, or you have something you'd like to donate for us to review, please let me know here in the blog thread or shoot me an email. It doesn't matter if it's a Halloween event taking place in your area, a horror movie, an independent seasonal costume shop, some new candy, or some completely bizarro new Halloween novelty... I wanna see and hear all about it, so please get in touch!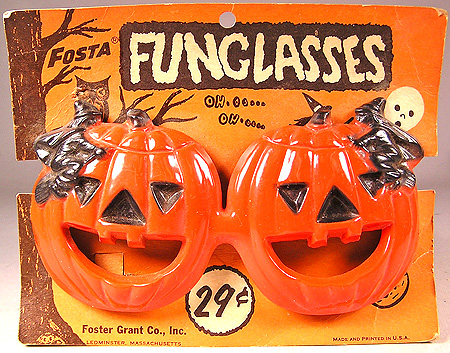 (to quote Roddy Piper: "Put on the glasses!")
To those of you who aren't well acquainted with our annual Halloween celebration here on I-Mockery, I always suggest checking out some of our main Halloween attractions. We have a huge archive of Halloween material on this site from previous years, so while you wait for our newest pieces to go up, I highly recommend checking out those older things to get in the spirit of the season.
-I-Mockery's Halloween Collection: Here you'll find quick 'n easy access to most of our Halloween material from the past. Extremely in-depth horror movie and candy articles, product reviews, and of course the boppin' Halloween adventures of Count Pop himself along with many other oddities. Also, be sure to check back right here on the homepage every day for the very latest Halloween updates as well.
-The Halloween Grab Bag: Much like our "Shorts" section, this is a place where you'll find our smaller Halloween articles, but often covering some of the weirdest stuff we've ever stumbled upon.
-The Greatest Horror Movie Moments: Another fan favorite is our ongoing quest to document some of the finest moments in horror movies. Sometimes they're moments you're well aware of, other times, it's stuff you probably never knew existed. Either way, if you're looking for some horror movies to check out this season, this is a great place to start.
-The Halloween Jack-O-Juke: Here be our Halloween music jukebox, filled with over 218 hand-picked horrifying songs and counting to keep your decaying ears bleeding with ghoulish glee all season long. Feel free to keep the Jack-O-Juke open in a separate window so you can listen to all of the hand-picked tunes while still checking out the latest article offerings here on I-Mockery. I'm hoping to add some more spooky tunes to it during the next two months. If there's a song you think should be added to the jukebox, be sure to let me know by dropping a comment in this thread and I'll try to add it before the end of October if time permits!
-Trick-Or-Treat Adventure: One of the largest classic Flash games we ever made... and it's all about Halloween. If you're a fan of classic adventure games such as Secret of Monkey Island and Space Quest, you'll feel right at home with this one as you go on an adventure to build a Halloween costume and then collect enough candies before you battle the ultimate evil! It even auto-saves your progress as you go play, so you don't have to beat the game all in one sitting.
-Haunted House Candy Hunt: In this Halloween game, we pay tribute to the games of the Atari 2600 by creating an all new one in the same style. You must guide two buddies (who just so happen to be from a galaxy far, far away) through all the treacherous rooms of a spooky haunted house as they hold hands. Should you reach the end of the game, you'll have a showdown with the ultimate candy hoarder - The Grim Reaper himself! I've also heard from a reliable source (ie: myself) that there's a secret level select hidden somewhere in the game. But you don't need that anyway, right? Cheater!
-MonsterTime: With our most recent Halloween game, we pay tribute to another favorite arcade classic, BurgerTime. Only difference is, instead of building burgers, you're a mad scientist named Doc Mock who is building classic monsters to save you from the modern slasher monsters who are out for your blood!
-Doc Mock's Movie Mausoleum: Doc Mock, I-Mockery's official horror host is looking for a new home to shoot his original show at, but we have over 30 archived episodes you can still watch online. If you're looking for a good cheesy b-movie flick, check out all of the Doc's episodes that are archived on iTunes (some were archived on YouTube as well), including his Halloween specials! You can also find some of Doc Mock's special "Mini Mausoleum" videos here.
In addition to a ton of new feature articles, you can still expect our regular site updates to the Blog (don't forget the archived Halloween blog entries from years past). We've also got some great Halloween contests in store for you to participate in as well. Please show your support for all the hard work we put into our Halloween celebration by following I-Mockery us on Facebook, Twitter, and Instagram to get all the latest updates.
HALLOWEEN SURVEY: Share in the comments section below *three* horror movies you're going to make a point to watch this season. Are they ones you've seen a bajillion times before? Are they frightful flicks you've been putting off for far too long? Drop a comment below (you don't even have to register!) and let's get this Halloweeny discussion going!
ONE FINAL NOTE: As a writer, the best compliment you can pay me is to chime in with your comments on all the articles I post, and to share them with your friends on various social networks. I don't pay to advertise the site or my work, it simply gets out there via word-of-mouth, so please make sure your skull jawbones ready to start moving and help spread the word. I can't even begin to tell you just how much of my life gets swallowed up by Halloween for two months out of every year, and the workload is pretty tremendous; so it's the little things like your comments that which keep me motivated and going full-steam ahead on my Munster Koach from now through October 31st.
All right, in the words of the dearly departed, great Gene Wilder: "Tonight, we shall hurl the gauntlet of science into the frightful face of death itself. Tonight, we shall ascend into the heavens. We shall mock the earthquake. We shall command the thunders, and penetrate into the very womb of impervious nature herself."
In other words... let's get this Halloween party started!

Can you feel it creeping towards you? We're less than a week away from I-Mockery's annual "Two Months of Halloween" celebration, and I can't wait to dive right into all the madness! I always look forward to writing new Halloweeny pieces and talking with all of you about them, and I already have some really fun pieces in the works for this season. Remember, just like we've been doing every year for well over a decade now, the big celebration begins next Thursday, September 1st.
While you wait for it to kick off, here's an appetizer for you in the form of my newest article for Dread Central!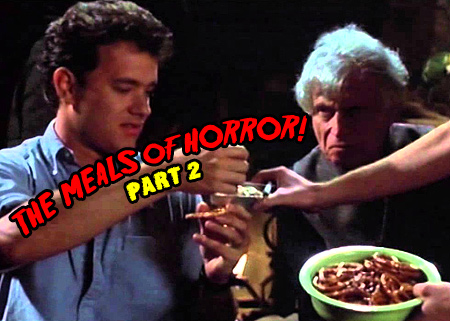 The Most Memorable Meals of Horror: Part 2 was a lot of fun to write, as I got into some more of my favorite spooky suppers from films including The 'Burbs, Theatre of Blood, and more. Thanks for reading, and be sure to post in the comments section of the article what other horror movie meals you'd like featured in future installments. I just may include it in the next batch!

Not sure how many of you are big fans of the Mr. Robot TV series like I am, but even if you don't follow the show, I just wrote an article about something special the creators just released that any 80s horror fan will surely appreciate: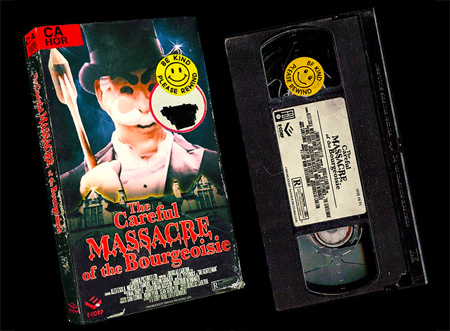 In my latest article, I break down everything they did right with The Careful Massacre of the Bourgeoisie - from making a faux VHS tape, to crafting perfectly wretched characters who you can't wait to see die in the film. Click above to read the article for yourself, then watch the 8+ minute throwback slasher that will have you cheering for a new horror hero named Uncle Conrad. They seriously did everything right with this one, and I think you'll agree with me once you check it out. Also, big thanks to all of you who spread the word about my recent Meals of Horror piece for Dread Central. I really appreciate the support, and it's certainly helping me get in the mood for our annual "Two Months of Halloween" 2016 season here on I-Mockery!
And speaking of Halloween...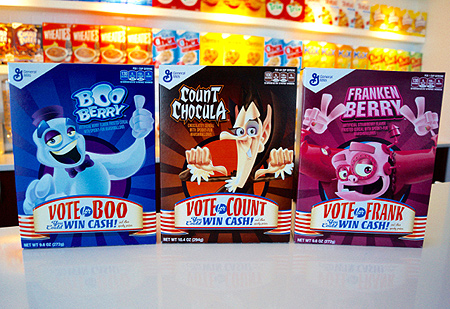 General Mills has just unveiled the boxes for their 2016 Monster Cereals, and it turns out that Boo Berry, Franken Berry, and Count Chocula are running against each other in a Monsters Cereal Election! If you know anything about this site, I'm sure you already know who I cast my vote for. I'm With Boo! Make sure you cast your vote, because I'm pretty sure there aren't any other elections going on this year that matter nearly as much as this one. I'll be sure to post more details and my thoughts on the 2016 cereals when I get my hands on them, but until then... Feel the BOOrn!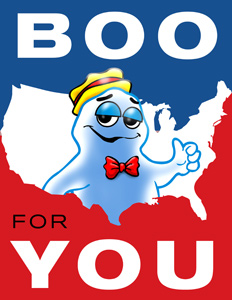 Hey chums! I'm back from the San Diego Comic-Con and currently in my annual "I-just-stood-nonstop-on-a-concrete-floor-and-talked-to-hundreds-of-people-all-week-long-at-the-largest-comic-convention-in-the-world" recovery mode. Lots of things to catch up on, but while I recuperate from all the chaos of the past week, I have have a few fun updates for you to check out.
Longtime readers of I-Mockery may recall when I was on Dread Central's "Splattrax" for a viewing of the classic Larry Drake horror-comedy, Dr. Giggles. Well, I'm happy to report that I'm now doing some freelance articles for Dread Central as well, and my first one just went up: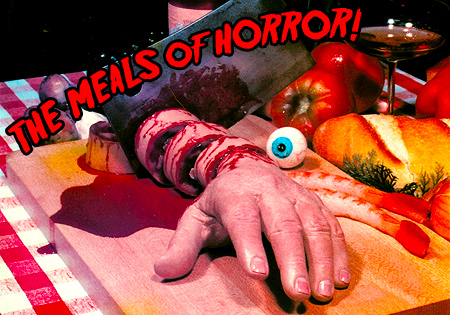 My first entry is called The Most Memorable Meals of Horror, and like the title suggests, it covers some of the biggest culinary scene stealers to ever appear in horror flicks. It's going to be an ongoing series, so if you don't see something you think should've appeared in part one, by all means let me know, as I may include it in my follow-up entries!
In other news, the Tournament of Nerds show I've been in for ages now just celebrated its eighth anniversary, which is a pretty amazing run for any comedy show at UCB Theatre... or anywhere else. We put on a special show for the big anniversary, and it was an absolute blast. Wish I could show it to you, but it wasn't recorded... it's just for LA locals at UCB. That said, the very next week, we took the show down to the San Diego Comic-Con and it aired live on Screen Junkies for some really fun exhibition matches. Thankfully, this one was recorded, and you can watch the full video after the jump: (more...)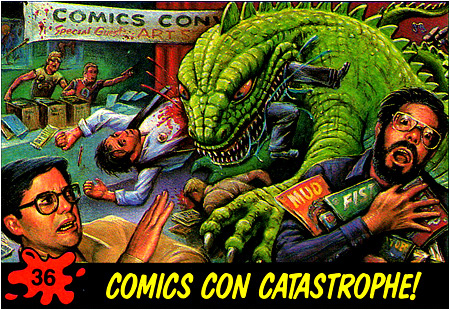 You too could experience the thrill of being mauled at Comic-Con!
Preparing for exhibiting at the 2016 San Diego Comic-Con feels like a whirlwind of chaos, just like is has every year we've been there. This will actually be I-Mockery's eighth time as an exhibitor, and the time really has flown by. You'd think a person would be tired of it by now, but I'm honestly just as excited as ever to attend the convention and see all the familiar faces (and new ones) who stop by our booth. Be sure to pay us a visit if you're coming to Comic-Con as we'll be at (Booth #E10 - near Aisles 600 & 700 on the West side of the convention center - here's a handy map). The main reason to come by our booth? It's quite simple: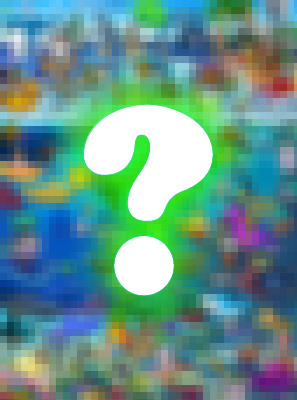 We're unveiling our brand new "8-bit Pixels Under The Sea" pixel poster! Pox and I have been wanting to make this particular poster for a long time, so we're really excited to have it finished! The colors on the print are super vibrant and jumping right out of the water like a crazed, rabid shark. You're gonna LOVE this one! And yes, in case you're wondering, we ended up using many of the fantastic suggestions all of you sent in for it, so thanks again to those of you who pitched in! (more...)

I've always been a huge fan of Ecto Cooler, and I'm thrilled to see it finally return this year, in conjunction with the new Ghostbusters movie. After having vanished like a from store shelves over a decade ago, Slimer's trademark beverage had been long overdue for a return. What really surprised me, however, is I recently learned that there are two guys who are even bigger fans of Ecto Cooler than I am. Check out this new documentary about World's Biggest Ecto Cooler Fans, Mort and Gort Torpentine, to see just how much of an incredible impact Slimer's green juice actually had on their lives.

[click here for high quality Ecto Cooler video]
Hope you enjoy the video, as we put a ton of work into it. As always, dropping a comment and sharing the video on your social media accounts is greatly appreciated. Thanks for watching!
Also, if you haven't read my big review about the Return of Ecto Cooler, be sure to check it out for full details on what it's like and where you can find some for yourself!
« Older Entries Newer Entries »