Bye bye old Blog! Hello new one!
2005-11-09 18:17:52

This Blog was created from scratch and while it served its purpose for a while, it was still riddled with bugs and didn't have much as far as admin controls went. As a result, I didn't update it too often nor did I promote it much on the site.

With that in mind, I've finally taken the time to setup a really nice new blog that anybody can post in (registration isn't required or anything like that) and it's a lot easier on the eyes.

Please update your bookmarks because that's where all the latest news on I-Mockery is gonna be. Be sure to drop a note in the new blog and lemme know whatcha think!
My Halloween Costume
2005-11-03 12:07:29

I've received a bunch of emails from people wanting to know what I dressed up as this Halloween. Well rather than tell you, allow me to show you:

http://www.costumecritic.com/?sid=387

Hope you all like it! Also, don't forget to submit photos of your own costumes to the new costumecritic site, we'd love to see 'em!

And finally, many thanks to all of you who've emailed me about how much you enjoyed the last 2 months of Halloween madness on I-Mockery. I hope it was as fun for you as it was for me. In some ways I'm sad to see it be over with, in other ways, I'm glad because now I can get back to work on some other big projects I've been holding off on... including the zombiewalk video and that big new flash game I hinted at a while ago. More news on those things and more later :o
Halloweeny times galore!
2005-10-14 00:00:59

Man oh man, I'm just having a blast this holiday season. Sure, it's been the busiest Halloween season of my entire life, but it's also been extremely fun. Going to all the local shops and seeing what new stuff is out, it really just helps you constantly stay in the Halloween spirit. But even without all that fun stuff, I've got plenty to keep me more than amused this month.

For starters, I've organized Richmond's first ever Zombie Walk and it's set to take place this Saturday. We've had a lot of people sign up and it should be a blast. I promise we'll put up photos (and maybe even video) from the event after it takes place. It's gonna be like reliving Romero's zombie classic "Dawn of the Dead" and I can't wait for it. A lot of people claim to be going all-out with their zombie costumes too, so it should be pretty damned cool looking. The new zombiewalk.com site will also serve as a hub for anyone trying to organize all future zombie walk and zombie flash mob events anywhere in the world!

Another bit o' news that you may or may have not noticed yet is that I'm holding a fun contest for all you Freddy Krueger fans out there! I simply want you to make a custom Freddy glove. But here's the catch - it can't have razor fingers. Instead you've gotta come up with something else to put on the glove fingers, whether it's animal vegetable, or mineral... have at it and have fun! You can read more about it here.

I've also just received a big box o' goodies from my pals over at Fright Catalog, so you can expect to see me reviewing some of that stuff just like I did last year. As always, they've sent me an eclectic mix of their latest Halloween goodies!

Of course, I'd also like to say hi to the people over at Jones Soda... they were cool enough to plug our Jones Halloween Soda piece on their company web site and send me a really nice email about it. That piece has spread like wildfire around the web and I couldn't be happier about it because we really put a lot o' effort into that one!

And finally, I'm happy to announce that everybody's favorite from last Halloween has returned. Yes indeed, Count Pop is back for a brand new story... and this time it's FIVE PAGES WORTH of Count Pop goodness! He's even made a new friend! And when I say "made" I mean that literally! Check it out!

To top it all off, I even managed to catch a show - something I rarely do these days. Made it out to see MC Chris, and if you haven't seen him before, do yourself a favor and catch him next time he's in your area. He's an extremely talented rapper, but his show is more like watching a crazy standup comedy routine. Funny as hell.

Alrighty, that's all for now. Me need sleeeeeeeeeeeeeep!
Sesame Street has more than one grouch
2005-10-04 09:22:57

Just got a Cease & Desist letter from Sesame Street. Yep, you read that right... SESAME STREET. They want us to take down the rom hack review of "Ernie & The Muppets Take It All Off" by October 10th, 2005.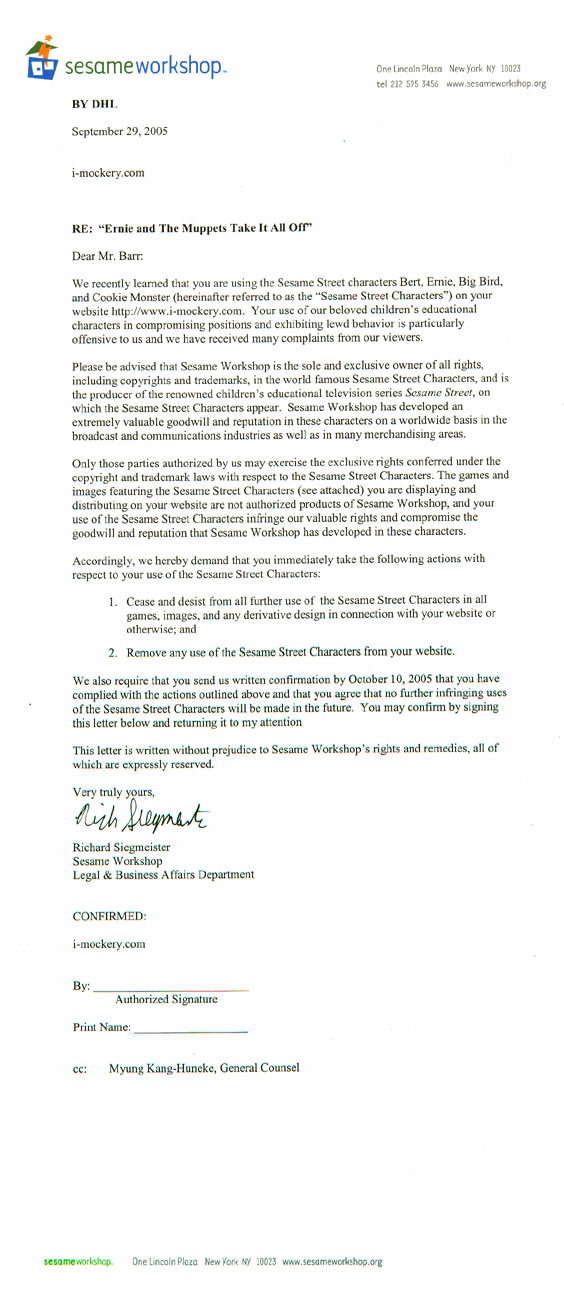 So we have to remove our review of a rom hack game that we did not even create, yet the far more infamous "Bert is Evil" site still lives on. Makes sense to me.
Can you tell me how to get to Sesame Street? I feel like someone there needs a swift kick in the muppet-nuts.
The Horror of a Chicken Nugget
2005-09-19 23:03:02

Today I went down to the cafeteria, something I've only done twice in the past year or so. Why? Because it's a cafeteria and the food there is scarier than any horror movie I've ever seen. And my experience today only confirms those beliefs.

I went down to grab some lunch because I forgot to buy some bread for my daily dosage of peanut buttery goodness. I look around trying to find something to eat, and while the candy looked tempting, I figured I'd try to get more of a "real meal" to consume. I knew should've gone with the damned candy.

Nothing looks very appetizing... pizza that's been reheated 20 times, lasagna that looked like it was used to scrape barnacles off the hull of a boat, etc. And then they caught my eye... a big steaming tin of Chicken Nuggets! How could I go wrong with natures most... unnatural food!

So I buy a little cardboard box of 10 nuggets and rush back upstairs to my desk. I dip 'em in the ketchup annnnnnnnnnd.... PTOOOOEY!

Why did I spit out the nuggets? There was CORN in them. Not chicken. PIECES OF CORN. Have you ever heard of a fucking Corn McNugget? It was horrible. I am traumatized and I think I should have my stomach pumped for good measure.
Nintendo Revolution controller unveiled
2005-09-16 09:05:18

In case you hadn't heard already, Nintendo finally unveiled the controller for their upcoming "Revolution" system yesterday. In all honesty, if it works as good as they make it seem, this could be good. Extremely good.

One of my main gripes about 3D games on consoles is that playing them never felt as natural as it does when you play them on a computer with a keyboard and a mouse. The controls are just harder to adapt to. But with the Nintendo Revolution, I not only see this as a big improvement, I see it as potentially even more intuitive than a keyboard and mouse setup.

Nintendo wanted to set themselves apart from the competition, and from what it looks like, they've accomplished it. I'll reserve my fina judgements for when I actually get to use the controller, but I gotta say, I'm pretty damned excited about it.

So what do you guys think of the controller? Excited? Disappointed? Scared?
Mr. Sandman... bring me a dream
2005-09-07 09:10:38

As you no doubt can already tell, I-Mockery's annual "2 months of Halloween" has arrived once again. For those of you who are new to the site that are wondering, "Why 2 months instead of 1?" allow me to answer that for you: because 1 month of Halloween fun just isn't enough. Halloween has always been my favorite time of the year and I see no reason why we shouldn't have fun celebrating it for longer.

Anyway, I reworked the homepage a bit too in order to accomodate the new Halloween stuff along with anything else we'll be doing in the future. Lemme know what you guys think of the layout... I think it's much less cluttered.

I've already finished the first two Halloween entries of the season, and they're both related to A Nightmare on Elm Street. The first one is a review of a "Freddy's Nightmares" episode entitled "Sister's Keeper," which is actually the sequel to the pilot episode I reviewed last Halloween. Easily one of my favorite episodes of the entire series.

I also just put up a poll which all of you need to participate in. Yes indeed, you much decide between The Fat Boys and DJ Jazzy Jeff & The Fresh Prince - WHO CREATED THE BEST ELM STREET RAP? I just blew your mind didn't I. Well I'm sorry, but this question just has to be answered! Why? JUST BECAUSE OK??? Click here to listen to the songs, cast your vote, and then by all means make a post in the message board thread explaining why you voted for who you did! ROCK... er... RAP THE VOTE!

So there ya have it. Get ready for more Halloween fun... we've got all sorts of spooktastic goodies in store for ya this year!

On a final note, a bunch of Richmonders have contacted me about how they saw me on the front page of the Metro section of the Richmond Times Dispatch this weekend. Yeppers, the paper came out to talk to me about Boo Berry, I-Mockery and my other projects. Really cool of them to do so. Anyway, for those of you who don't live in Richmond, here's a scan of the paper. It's weird seeing a huge picture of yourself on the front of the main newspaper in your area. Very surreal. o.O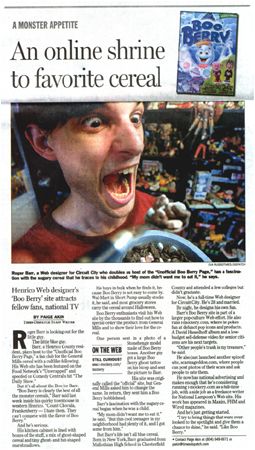 Introducing my new site
2005-09-02 01:06:31

Everybody loves sharing a good scar story right? Right. Well that's the idea behind my new web site Scarmageddon.com. In a nutshell, the site allows you to upload photos of your scars and to tell the story behind how you got 'em. Then other people can vote on these scars and post their comments about them as well. Pretty nifty eh?

Hope you guys will help get this site off to a good launch by posting your own scar pics! If you know of any friends who have some killer scars, please tell 'em about Scarmageddon!

Also, I don't think I've ever had the news channels on for so long in my life. I'm completely addicted to watching the ongoing Hurricane Katrina news. It really amazes me how long it's taking to get help to all of these people that are in our own country. Seeing newscasters becoming furious about the lack of help for these people is quite unique. Normally the newscasters come off as biased, but a lot of them are ripping into the officials. I saw Anderson Cooper rip into a Senator earlier tonight for verbally patting other senators and the president on the back. It's good to see newscasters not holding back their real feelings for a change. It really seems like the relief efforts have been botched pretty badly.

Truly a sad situation. Hope you've all donated to the Red Cross.
Game Night and Peeps!
2005-08-29 01:43:55

So there's these guys that are filming a documentary about Marshmallow Peeps... the people who love 'em, the people who hate 'em, and so on and so forth. Well anyway, they came across several of the Marshmallow Peeps things we've done here on I-Mockery in the past such as the Peep Machine, Peeps Flash Game, and a visit to the Peeps Bus. Long story short, they decided they wanted to interview me for their documentary.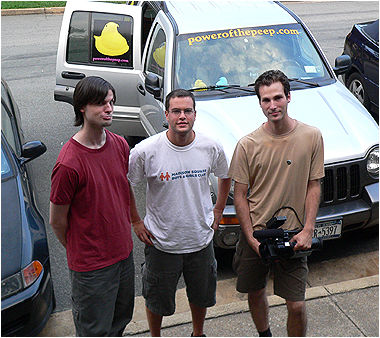 They've been traveling all around the country and have gotten some good press for their Peep film. Sounds like it'll be a pretty fun watch when it's all said 'n done. Really nice guys btw. Check out their site to stay updated on the progress o' the film.
In other news, some friends and I have been enjoying what can only be described as "Game Night" every other week. No it's not some guys getting together watching football and chowing down on pork rinds. This is the ultimate video gaming dream come true. One of the guys has access to the brand new facilities at a school, including a room with a giant projector room. So after the school shuts down, we come in and setup for the greatest gamefest on earth: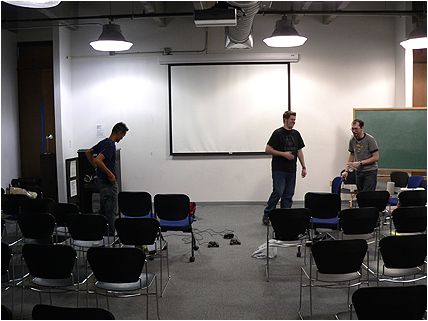 Here's a few other pics from the game night:
And as if playing video games on a screen bigger than god isn't enough fun, at the end of the night we have "chair races" in this extremely long hallway.
Yep, simply roll down the hall on your chair as fast as you can, while trying to knock your opponents out of the way. One of them took a video of a chair race and says he's gonna put it up on the web soon, so once he does I'll be sure to post the link for you guys to see. Trust me people... you've never truly lived until you've soared down a hallway on a chair.
Alrighty that about does it for me. One quick plug though... after several delays, I've finally put up the "Vote for Zod" buttons, so be sure to check 'em out and grab a few! Rock the vote!
UPDATE!
As promised, my pal Ant just sent me the video footage from one of our chair races, so here it is in all of its splendor!
Willy Wonka WTF
2005-08-21 15:17:23

I've always been a huge fan of Wonka candies. Nerds, Bottle Caps, Tart N Tinys, Runts, and of course Everlasting Gobstoppers. So I go into CVS the other day and buy a box of 'em and I noticed something quite disturbing: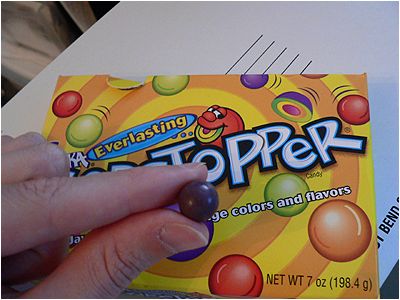 Can somebody explain to me why the hell they made Everlasting Gobstoppers HALF the size they used to be? When did this happen? You shouldn't be able to bite a gobstopper in half as soon as you put it in your mouth. Everlasting? Gah! They've just bastardized one of my favorite candies.
Well, there is some good junkfood-related news... I found out that Jell-O Pudding Pops are finally back in the stores. Oh how I craved those vanilla-chocolate swirl pudding pops for years 'n years.
PickleMan finally in print!
2005-08-15 09:32:47

Here's something truly made for the fans...

I-Mockery's first printed "PickleMan" comic book has arrived! It contains 28 full-color pages of PickleMan in all his glory as he takes on the current state of the video game industry. And I have to say, these books came out beautifully. The colors are vibrant, the drawings are sharp, and the paper is... made from trees.

Each Comic book contains the following:

-28 full-color pages
-1 free PickleMan button
-1 free PickleMan promotional postcard
-1 free I-Mockery shiny sticker

And yeah, I'll be happy to sign it for those of you who care about that sort o' thing. "OMG! AN AUTOGRAPH FROM A GUY WHO RUNS A WEB SITE!!! WHERE DO I SIGN UP!??"

PoX and I put a lot of work into this thing and we had a blast doing it. It's totally non-profit (as you'll see when you read the intro to the book) so we hope you guys will spend a couple bux to pick it up. But before you do you can...

CHECK OUT THE 4-PAGE PREVIEW ONLINE!

http://www.i-mockery.com/pickleman

Thanks for checking it out!
Pirate Party - part 2!
2005-08-08 23:44:32

Just got a few photos back from the pirate party to share, so here ya go...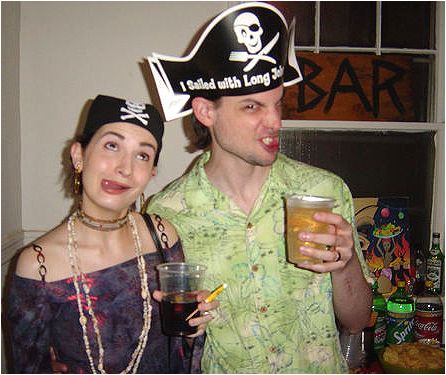 Here's me 'n Re looking piradical.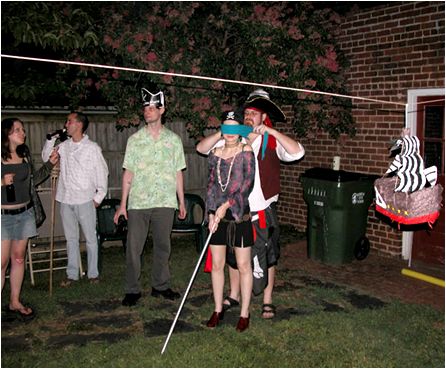 And here's a pic of the pirate ship piņata that I mentioned in my last post. After it was finally busted apart, somebody chucked it into the swimming pool and it slowly sunk and aided in turning the water black by the end of the night.
Something I also didn't mention; I don't know what it is about costume parties, but they make every single person there all the more likeable. You could be at a party with all the people you hate, but if they were all wearing pirate costumes, somehow you'd find a way to have a blast with all of them. I'm not saying I hated the people at this party, quite the contrary actually. But costume parties are just a lot more fun than regular ones.
A groggy good time!
Oh yeah, on an unrelated note, I-Mockery's Shiny Stickers have arrived!
Pirate Party!
2005-08-01 13:32:19

So I went to this big pirate party over the weekend, easily 50-60 people crammed into one little house. It was a blast, but I always tend to enjoy costume parties. My costume was admittedly pretty pathetic since I put it together at the last minute. It consisted of a paper pirate hat from a Long John Silvers restaurant and a water-on skull 'n crossbones tattoo on my arm. Still, the people there seemed to think it was this great idea for a costume though, go figure.

Anyway, there were all sorts of cool decorations, a giant kiddie pool that was wisely put near an electrical outlet (sorry, no exciting fires or electrocutions to tell, and a pirate ship piņata that we brought along. I tell ya, if you haven't seen a bunch of liquored-up partygoers blindfolded and swinging at a piņata while trying to maintain their balance, then you haven't truly lived life yet. We gave each person 3 swings at that thing, and we still managed to get through 8 people before the ship was finally destroyed.

I do have one interesting (ie: nauseating) story to tell though. Apparently some guy who was extremely drunk at the party was seen making out with a girl in the hallway. All of a sudden he stopped and told her, "hold on a sec..." then proceeded to turn his head and puke. He then wiped off his mouth and then resumed making out with the girl immediately. Fantastic!

Anybody else have any nauseating party tales like that?
I be back!
2005-07-21 13:30:23
[music | Faith No More - "Death March"]

I'm back in town, but still playing major catch-up. Turns out we had a lot of storms here in Richmond while I was gone and the cable modem got fried, so I was without internet access for 2 days after I returned. I'm back online now (and also back at work sadly) but during the downtime I've been saving all of the photos I took at the Comic-Con. Hopefully I'll have the big Comic-con wrap-up piece completed by the end of the weekend. It'll have a nice selection o' my favorite pics, including plenty of the costumes that people wore. Also have several new Shorts pieces in the works too.

On a related note, I'm trying to catch up on all the emails I missed after being gone for over a week is quite an undertaking :o

And now on an unrelated note: who's gonna see "The Devil's Rejects" this weekend? I really didn't like Rob Zombie's first flick at all, but I'm still curious to see this one. Maybe I'll catch a matinee just to be safe...
Off to San Diego for the Comic-Con
2005-07-12 17:36:24
[mood | insano-excited]

Well I'm off to San Diego for the 2005 Comic-Con and I couldn't be more excited. Gonna be promoting some I-Mockery goodness while I'm there, meeting up with some good internet pals, and seeing all the latest 'n greatest happenings in the entertainment industry.

With that in mind, I've setup an "I-Mockery Comic-Con page that you can all check out. I'll be updating it each night (pending the laptop doesn't crap out on me) with new photos from the convention. If all else fails though, I'll at least post a few updates from my good ol' blog here. Then, once I'm back in town, I'll do a big write-up on the Comic-Con with photos gallore. Hope to see some of you West Coast mockers out there! Come say hi... I've got cool freebies to give out to everyone!

I-Mockery at the 2005 San Diego Comic-Con!
http://www.i-mockery.com/comic-con05
So much going on...
2005-06-29 14:22:20
[music | Helmet - "Birth Defect"]]

Life continues to become more 'n more hectic, but that's a good thing. For those of you who don't know, I will be attending the San Diego Comic-Con this July. I considered getting a table, but I decided I wanted to be able to wander around and have more fun at this convention since it's my first time ever attending the thing. Still, you can think of me as a "roaming promoter" per se, because I'll have some really nifty free stuff that I'll be handing out to anybody who comes up to me. Some days I'll have the pickle hat 'n goggles on and some days I won't, either way, I figure I'm not too hard to spot... so if you're gonna be there be sure to come say hello. Hope to see you there!

In other news, we have several giveaway contests going on all at once right now, so I figured I'd give you guys a little reminder so you can enter before the deadlines arrive:

-Zombie Smashers X2 giveaway contest! (draw a smashed zombie and win!)

-Airwolf Season 1 DVD giveaway!

And last but certainly not least, I'm happy to announce that I have finally begun development on a huge new flash game. When it's all said 'n done, this should be the flash game to end all flash games. If all goes according to plan, it will kick your collective asses so hard that you'll be sore and still coming back for more! And before you ask what it's about, I'll save you the time... I'M NOT TELLIN! We'll unveil details about the game when it's ready to play and not a moment sooner. Surprising you guys is half the fun and I can't wait to see how you all react when the game is unveiled.

Oh the anticipation...
Anybody remember Commander USA?
2005-06-18 17:40:27
[music | Weezer - "This Is Such a Pity"]

Nobody I talk to ever seems to remember this guy, but damned if he wasn't a hero of mine back in the 80s. He was basically a superhero from New Jersey (no, not the Toxic Avenger) who would host a bunch of cheesy b-movies on the USA channel while smoking his stogie. If it wasn't for this guy, I probably never would have discovered half of the hilariously bad films that I constantly talk about. Does anybody know or have any tapes of his shows? I'd kill to see him again. I do know there is a DVD Documentary coming out which covers a lot of horror show hosts, and he appears on it, so I'll definitely be picking that one up.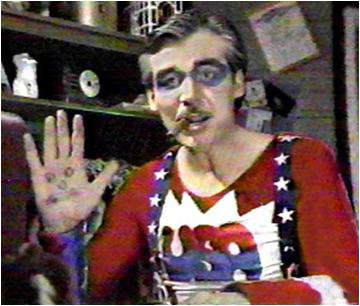 Between Commander USA, Gilbert Gottfried & Rhonda Shear on "USA Up All Night", and Dr. Gruesome's Movie Morgue... my childhood was filled with some of the best obscure horror movie hosts ever. It's sad that horror show hosts seem to be a dying breed, because it really was some of the most entertaining stuff ever to grace the tube.
To Commander USA and any other other horror show hosts I grew up on... thanks for all the memories!
Meet me halfway... across the sky
2005-06-04 01:55:01
[music | Kenny Logins]

OVER THE TOP is finally out on DVD, and your lives shall remain forever worthless until you own a copy. It simply doesn't get any better than this. A movie that glorifies both a career in trucking and the sport of arm wrestling.
Fucking beautiful.
A Haunted Loaf of DOOM
2005-05-16 12:36:18

Is it me, or is eBay a haven for all things mystical and spooky? One day you're reading about mashed potatoes that sortakindadon't look like the Virgin Mary, and the next day it's a stain on a shirt that barely resembles Elvis.

Well, it seems as though this fad isn't over just yet. My pals over at Fright Catalog have just stumbled onto their own little haunted delight. Behold the Haunted Loaf of yeasty doom!

http://cgi.ebay.com/ws/eBayISAPI.dll?ViewItem&item=6532948998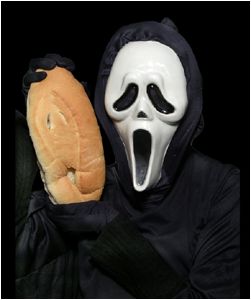 I wonder how a toasted ghost tastes with some grape jelly spread. Furthermore, will eating the ghost bread give you a haunted colon? My colon is already pretty scary I'm sure, but add a ghost to it? These are the things horror movies are made of... :o
Who poured Miracle Grow on this site?
2005-05-03 09:27:44
[music | Chingon - "Malaguena Salerosa"]

Since it first went up on the web, I-Mockery has always had a steady increase of traffic over the years. Last year our traffic actually doubled, so things continue to look up. With that in mind, I just received my web hosting bill for last month. We went 200 gigs over our allowed limit. That's a LOT of traffic!

Well, I'm happy to announce that we've just worked out a deal with our current host, and I-Mockery will officially be upgrading to a dedicated server in the next week or so. Yup, we're no longer going to be on a virtual private server, this one's all ours! What does this mean? It means more than double our current allotted bandwidth each month. It means improved site performance such as faster page load times and the ability to handle more simultaneous incoming traffic.

I'm really excited about this because I've always wanted to step the site up to that level, but I wanted to wait until I could really afford to do it. We'll probably be on the new server within the next week. Woo hah!

In other news, I just got my digicam back from the shop (it crapped out on me 2 weeks ago) so I'll be starting work on some new photo pieces for the site really soon. I've also been working on another new piece with some of the other staffers that you'll all easily relate to and it'll hopefully provide quite a few chuckles.

Oh yeah, I've also got another new piece going up on National Lampoon this week. Hopefully it'll be up by Friday, but it may be up as early as Wednesday. Keep your eyes on the I-Mockery homepage for it, cuz I'll post the link there once it's live.
I-Mockery and Newgrounds sitting in a tree...
2005-04-22 09:23:37

Had a great time in Philly last weekend and got to meet up with our pals from Newgrounds in addition to gorging on some o' my favorite cheesesteaks! And for the record, if you eat a cheesesteak anywhere other than Philadelphia, you are NOT eating a real cheesesteak. Trust me, there's just no comparison.

Anyway, here's a collection of some photos we took:

http://www.i-mockery.com/newgrounds
Oh spyware... how I loathe thee.
2005-03-31 00:44:44

You know, there's nothing I like more after a long day of work than spending a few hours of my evening removing gobs o' malicious spyware from my computer. It's things like that which make me feel happy to be alive. I can't wait 'til the next batch somehow sneaks past my security and cripples my computer for a few hours! It's gonna be a blast I'm sure!

Well anyway, in better news, I recently completed the script for the new PickleMan issue and PoX is already cranking out the artwork for it. I think you guys are really gonna love it. But the big surprise is... it's gonna be a printed comic! Yep, our first ever printed edition of PickleMan. More details about how you can get it will come later on; probably in June or sometime around then.

There's also a good chance I'll be attending the San Diego ComicCon this year. :o Are any of you going? Please let me know so I can give your photo to my security team. Touch me and I'll sue.
I gots me a Death Plague
2005-03-20 20:05:56

So I've been sick for over a week, the doctor thought I might've had the flu but the results came back negative. Still I had a temperature of 101 and had quickly become a coughing snot factory, so something was obviously wrong. They've had me on some strong antibiotics and I'm starting to feel better, though the cough is still there so I might have to go back in and get that checked out.

Being home sick really makes you go stir crazy though. I mean, you're basically confined to your bed or couch because you don't feel well enough to do anything. And while watching movies that first day can be nice 'n relaxing, it gets pretty bad after a week. When you're up at 2am with an illness and the only thing on TV is "Sidekicks" with Chuck Norris, you really wish you could just pass out.

Well anyway, it's back to working at my job tomorrow, so I'm sure I'll be wishing I was deathly ill again by noon.
Ah to be insured...
2005-02-23 20:11:08

Ever since I got a medical and dental plan, I've made sure that I get some good use out of it. I'm paying for it right? Might as well go and have them fix something. Or at least have them break something and then fix it. I just want them to do something!

So, I go to the dentist for the first time in 2 or 3 years, expecting to hear that my teeth look worse than Grizzlor trapped in the Slime Pit. And what do they tell me? They say that aside from the one cavity, my teeth are looking pretty healthy! Believe me, considering all the junk food I eat, I was just as shocked as you are. Well, maybe more.

Anyway, they tell me they have to drill out the cavity, which is no problem for me. I've had more than enough dental pain in my youth; drilling out one little cavity is nothin. Of course, after they inject you with novocaine, the numbness can last for HOURS. I went to a Mexican restaurant that night and I couldn't even taste the food, let alone tell whether it was actually going in my mouth rather than all over my shirt. I could've disgested a urinal cake and I wouldn't have known the difference.

Now here's the cool part... they let me watch the drilling on video! They had this little camera gizmo that they could stick in my mouth while they drilled away at my toof (that's gangsta for "tooth" yo) and I could watch all the action on the TV screen. I'm sure some people wouldn't want to watch that sort of thing, but it fascinates me... especially since I couldn't feel it anyway. The dentist was really nice, but not nice in that "I'll rape you while you're drugged up" kind of way. She even took a snapshot of my drilled toof using her little camera gizmo. And now... now I share with you the photo of my drilled toof, just before they fixed it.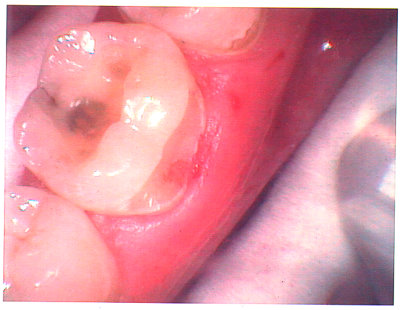 A cow for the ages...
2005-02-12 13:39:30
[music | MC Chris - "Robotussin"]

I'm sure you already saw the award I gave to my friend Eric not too long ago. Well, I've just given another award to Dr. Boogie for all of his service to I-Mockery. It's the highest honor someone working for I-Mockery can receive, and I'm sure you'll all agree, it's absolutely exquisite.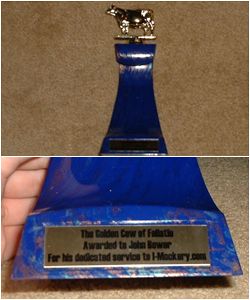 THE GOLDEN COW OF FELLATIO!
[click to enlarge photo]
Shall we play a game?
2005-02-05 15:42:27
[music | Golden Shower - "Video Computer System"]

So who likes free games? You? Good, glad to hear it because we've just posted a tutorial on how you can play an awesome game called Subspace with people from the I-Mockery forums! It's a free download and it can run on virtually any computer... doesn't matter how old your comp is, chances are it can run this thing.

Click here for the tutorial and join in the fun.

(and yes, I do play the game too, so you might even get to play against me once 'n a while. That's right, you'll have a chance to kill me... your dreams fulfilled.)
I-Mockery in National Lampoon!
2005-01-28 00:15:46
[music | VCR - "Back in Business"]

Have some pretty exciting news here! I was recently contacted by the National Lampoon to start doing freelance articles for them, and I've just had my first one published. You can check it out here:

Things That Could Easily Improve Men's Magazines

Lemme know whatcha think! And you can expect to see more from me on their site in the future. I'll keep you posted on any new material of mine that they publish. Really happy about this though, never thought I'd see my name appearing on the homepage of National Lampoon. Spiffy!
Greetings Professor Falken...
2005-01-13 13:53:22
[mood | waiting for the weekend]
[music | VCR - "Back In Business"]

What's that I see? I spy a new menu, a schnazzy lookin' one at that! So whaddaya guys think about the classic-arcade styled menu? Big thanks to PoX (the PickleMan comic artist) for creating the menu graphics.

With the unveiling of this new menu, we've also released the new Comics section! From this spot you'll have quick 'n easy access to all of your favorite PickleMan online comic books (along with all of the quick black & white comic strips that only appear in print), Pixel Pals (which I finally updated again), The Guy Who Can't Draw Comics, and any other comic-related pieces we put up on the site. You can expect to see this section grow more and more this year!

In other news, "House of Flying Daggers" is finally coming to my town this weekend, so I can see it on the big screen. I've been waiting to see this movie forever. Hooray for wire-fu!

And on a final note... I have a Drum of Eediots.
to p00p or not to p00p...
2005-01-05 14:59:48
[music | iPod Random Song Shuffle]

Maybe I'm the only one who's like this, but I hate taking a dump in public restrooms when other people are in there. I don't want to hear their ploops and plops, nor do I want them to hear mine. I just want to shit in peace... is that too much to ask?

That's why people in the military are so hardcore. They have to crap in front of each other with no walls. I guess their superiors feel that if the soldiers can build up the willpower to crap in front of one another, then they'll have no problem mustering up the strength to fight their way through a hellish war.

And you know something? They're probably right.
Birthday + Christmas = Birthmas.
2004-12-28 09:33:11
[mood | whyamiatwork]
[music | Patton & Kaada - "Romances"]

So Christmas has come and gone, and I'm really happy with the beefy chunks o' content that we cranked out this month. Christmas itself wasn't all that eventful for me this year, but I think that's mainly due to my being exhausted from working so much. Went up to D.C. for the day though and hungout with Re's sister and some friends, so that was nice 'n relaxing. So relaxing that I'm pretty sure I slept away 90% of the day.

Also, her sister made this incredibly ornate Christmas meal for everyone... it really was a spectacle. I think she took some pictures of it, and if she did, I'll post them here later on. Still, me being the insanely picky eater that I am (frankly, I put vegans to shame when it comes to pickiness), I brought a "safe meal" with me just in case. And sure enough, my Christmas dinner ended up being Macaroni & Cheese, because I was too scared to eat the pretty food. :o Don't worry though, she knows how picky I am about food, so she didn't take offense to it. Her friend, however, probably thought I was both rude and insane. Excellent.

Haven't really seen my family for the holidays yet because they were on a boat in Grenada (they're retired) when those hurricanes hit not too long ago, and frankly, they're lucky to be alive. Now that their boat is being repaired and they're back on land, I should get to see them and celebrate the holidays soon.

Also celebrated my birthday (December 26th... sucks I know) by going out with a bunch o' friends to catch that "Life Aquatic with Steve Zissou" movie (which needed MUCH more Willem Dafoe in it if you ask me) and then going to a Japanese Hibachi Steakhouse for some of the best food on the planet. Where else can you order steak with a side of steak? Badass.

I got some pretty cool gifts so far including a "Drum of Eediots" (the Ren & Stimpy version of a "Barrel full of monkeys"), Weezer's blue album (the remastered one with a 2nd CD of cool b-sides 'n what not), a "Death to all Monsters" magnet set, "America" the hilarious book from the Daily Show guys (between that and my huge Far Side collection, I've got a LOT of reading to do), a Tom Petty CD set, a "Napoleon Dynamite" DVD (long live Kip, Besides, because we all know that he's training to be a cage fighter), and a big-assed Batman belt buckle. Good stuff indeed, I may post pics later on once I'm truly done exchanging gifts with people... still have some more to do. So what'd you guys get?

Gifts I bought for people included a Batman gumball machine, an brozne Asian tea set, a "JEM and the Hollograms" DVD, the usual assortment of video games/CDs/DVDs, a cool green candle holder that hangs from chains, a Gemini Alien Freak controller, a 5-in-1 portable TV game (with Xevious on it), and the following engraved medal for a friend of mine who helped me build my most recent computer:
#1 computer builder. :)
#1 rapist. :(