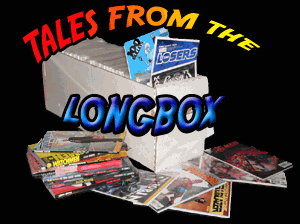 "The Most Halloweeny Comic Characters!"
9/30/09
by: Protoclown
There are lots of great spooky comic book characters out there that invoke the imagery and ideas of Halloween. Hell, when you consider that nearly every superhero or villain is wearing a crazy outlandish costume, just about every comic character can be tied to Halloween in some way. But there are certain characters that get all the spooky elements just right, so that they practically ooze Halloweenness out of every pore.
So break out your party hats, because today we're going to celebrate those characters who so expertly embody the most awesome of holidays. I'm mostly sticking to Marvel and DC characters here, with one exception, and bear in mind that this list in no way reflects on how awesome these characters are. Some of them are in fact quite stupid, but you at least have to give them props for representing Halloween. Oh, and guys like Dracula, Frankenstein's monster, and Jason Voorhees aren't making the list. I'm only considering original comic book characters. If they started out in some other medium, they're automatically disqualified from my list. So without further ado, let's have at it then.
Jack O'Lantern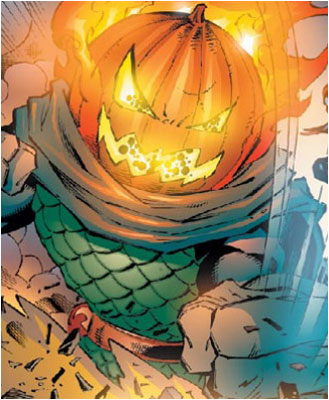 As far as Halloweeny characters go, the King of them all (at least in my book) has to be Jack O'Lantern. The first man to don the flaming pumpkin, Jason Macendale, was perhaps better known for his stint as another Halloweeny Spider-Man nemesis known as the Hobgoblin, but as he was just a copycat of the Green Goblin and not quite as Halloweeny as Jack here, I chose to represent him in this incarnation instead. Few things say "Halloween" like pumpkins, and when you carve an angry face into one, set it on fire and put it over your head, there are few people who are going to fuck with you. The only thing that overshadows how incredibly badass such a stunt is is the fact that it's completely fucking insane. Fortunately for him though, he's not so insane that he thought to go with the "flaming bag of poo" theme instead, representing another, more prankish element of Halloween. I'm sure Spider-Man thanks him for that every day.
Scarecrow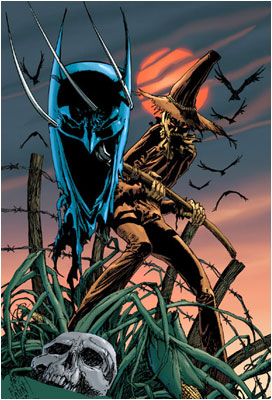 Most of Batman's Gotham City rogue's gallery pull off spooky rather well in one way or another, but Scarecrow is without a doubt the one who best represents All Hallow's Eve. Given that his whole shtick revolves around causing fear in those he encounters, the guy is kind of like a walking horror movie. Even knowing that it's just skinny Dr. Jonathan Crane behind that mask doesn't make him any less terrifying--something about those long lanky limbs when he's in that creepy costume give him a pretty unnerving aura. Of course, the fact that he uses fear-inducing drugs on his victims certainly helps. Maybe Batman and the Gotham City Police Department can team up for some kind of DARE ad campaign revolving around the scarecrow. I imagine teenagers probably follow him around trying to get high off his fear toxins, which must get pretty annoying when he's trying to be stealthy, having an entourage of stupid kids just trying to get fucked up.

Green Goblin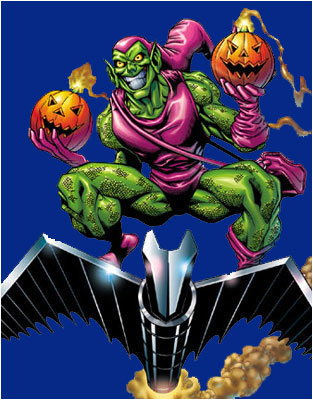 This guy's really got the spirit of Halloween down to perfection. Not only does he tool around town with jack o'lantern bombs, but he's even got a little satchel to carry all of his candy in when he goes trick or treating. Some would call it a purse, but those people would soon find themselves sucking on a fat pumpkin bomb, should they say that to Norman Osborne's face, on account of him being batshit crazy. And if you saw this guy fly up to your high-rise apartment on his little rocket sled on October 31st and say "trick or treat", I think you'd find yourself very agreeable to the idea of tossing a few Snickers his way. And just look at that hat! It's like a fucking windsock on his head!

Etrigan, the Demon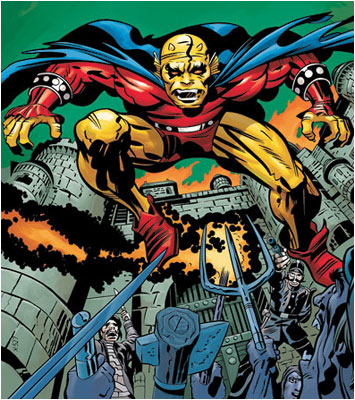 When you really think about it, Etrigan is kind of ridiculous: a squat yellow demon with fins for ears who leaps around in a blue cape and red underpants while speaking in rhyming verse. And he even wears little "booties" on his feet. I don't know what else to call them. (I'll bet when he goes to sleep he wears those pajamas with the little footies attached to them...and maybe a little trapdoor for his patootie). But there's still something about the guy that always makes me think of the Halloween season. I can't even explain why--it's not like his red, yellow and blue color scheme does anything to really invoke the holiday. Maybe it's the name of his human host Jason Blood. Maybe it's those orange glowing eyes surrounded by what appears to be large glops of black eyeshadow. Or the fact that I usually see him guest starring in stories that more fit the bill. Regardless, this little goober always makes me think of October, so I'm including him on my list.

Spawn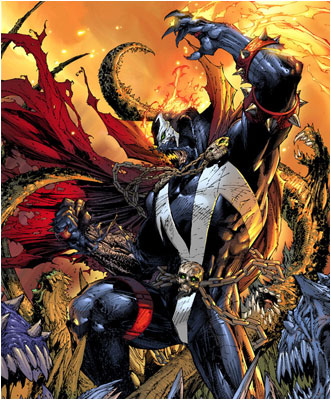 If you've ever read Spawn, you know that what started as an interesting concept turned into a terrible, crappy comic book that utterly refuses to take the story anywhere that doesn't involve Spawn sitting on a skull throne for countless hours brooding about how much his life (and comic) sucks. But much as I hate his comic, I at least have to give the guy his due: he does fit the Halloween bill pretty well, being a guy who went to Hell and managed to get out by agreeing to be a Hellspawn soldier in the demon Malebologna's (sorry, easy joke) army. His costume is adorned with spikes, chains, skulls, and a cape big enough for an entire boy scout troop to camp in and tell ghost stories (while parked directly under his ass... if that's not scary, I don't know what is). Combine that with the fact that in the good ol' days he was constantly tangling with bizarre creatures such as demons, clowns, demon clowns, self-mutilating religious fanatics, and cyborg gorillas, and you've got a recipe for a ghoultastic time.
Ghost Rider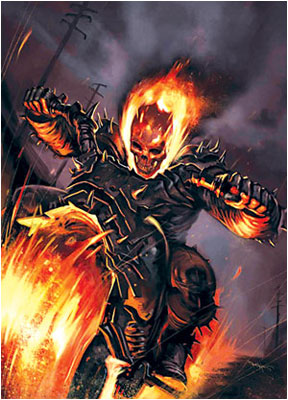 There have been several Ghost Riders over the years, but the best known one is easily Johnny Blaze. Cursed by the demon Mephisto, Johnny's head catches on fire at nightfall, which has really wreaked havoc on his sex life, except with women who are into that kind of thing, which let's face it, are probably few and far between. Limited to afternoon delights, Johnny gets on his flaming motorcycle and cruises the nights looking for rights to wrong and people to save. This is kind of like a modern version of the Headless Horseman, except that he has a head and it's on fire, and he's on a motorcycle instead of a horse, but aside from that, exactly the same!
Gentleman Ghost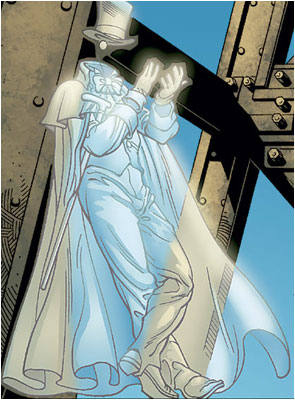 Gentleman Ghost is awesome, because never fails to strike me as absolutely hilarious every time I see him. I mean, it's a ghost dressed up in a fancy 19th century suit, with a cloak, tophat, and monocle. Oh, and no face. It's the kind of ridiculous villain that only could have been cooked up in the Golden Age of comics. I place him on my list above any and all other ghosts simply because he's nothing more than a walking wardrobe, and he's got style. Just look at that spectral bowtie! And what's that monocle hanging off of? Why would a ghost need a monocle anyway? Does that mean that ghosts can be near-sighted? Why would someone even bother wearing a monocle in the first place, because wouldn't that give him a headache to only have one eye's vision corrected? Oh, the questions I would ask him if he were real!
Baron Blood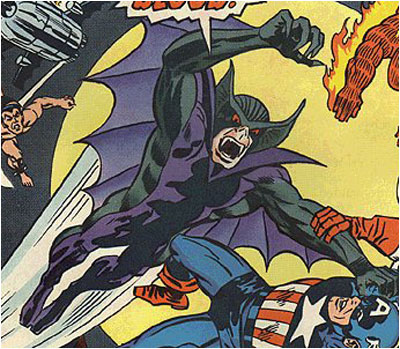 Baron Blood is a vampire created by Dracula who Captain America has to keep killing over and over again, because he totally sucks. Oh shit! You see what I did there? It wasn't even intentional. Introduced in the horror comics boom of the 1970s, Baron Blood was retconned into Cap's World War II past, facing off against and getting his ass kicked frequently by Cap and the Invaders. And let me just tell you, if you're a vampire, a guy who is on fire like the original Human Torch is probably not someone you want to have on your enemies roster. So I could have gone with Man-Bat here instead (he's far more respectable), but something about Baron Blood just cracks me up, to the point where I sort of find him endearing on some level. I mean, yeah, the guy's not threatening in the slightest, and you'd laugh if you saw a guy like this in real life trying to attack you, but hey, he's fucking trying, you know?

Swamp Thing


Sure, Swamp Thing's not to scary once you get to know him, but until then he's a freakish, mutated creature of the swamp. A classic DC horror character dating back to the 1970s, Swamp Thing just has an iconic horror look about him, and with a spin-off TV series, movies, and video games, he's instantly recognizable by many people who don't read comics. Swamps by themselves tend to be scary, because they're dark, often slimy, and carry all kinds of unknown threats. Toss in mutants and a healthy dose of occult mysticism, and you've got a recipe for a classic horror character. And you've got to respect a guy who takes the time out of his day to stop and smell the roses (or petunias, or whatever the hell that flower is).
Doctor Destiny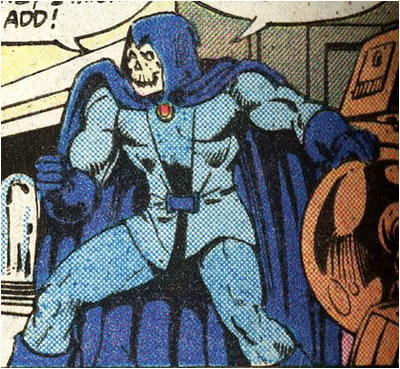 Skeletor owes a lot of his appearance to Doctor Destiny, thorn in the side of the Justice League since 1961. His ability to manipulate the world of dreams has an all-powerful sort of menace to it, much like the power Freddy Krueger enjoys over his victims' dreams. I mean, even if you're Superman, how can you fight a guy who has the power to turn all of your dreams into gay sex scenes? Robbed of his power to dream by the doctors in Arkham Asylum, he has gone completely mad over the years, making him ever more dangerous every time he inevitably escapes through Arkham's revolving door to menace the heroes of the DCU again. There are plenty of skull-faced comic villains who could have filled this spot, but those of you who have read Sandman know just how fucked up and scary Doctor Destiny can be (which is surprisingly scary for a guy who normally wears blue pajamas, cape and a skull mask).
So that's a pretty good start to what could end up being a long, ongoing thing. There are many other Halloween-inspired comic characters that could have made this list, but I had to draw the line somewhere. If there's enough demand though, I may well do a follow-up piece for next year, so if you didn't see a character you felt deserves to be on the list, sound off on the comments below and I'll take it under consideration for next time!
Have any questions or comments about this piece?
SHARE YOUR THOUGHTS IN THE READER COMMENTS SECTION BELOW!