I make mine hotter and without as much sauce as you're probably used to, but this is mine: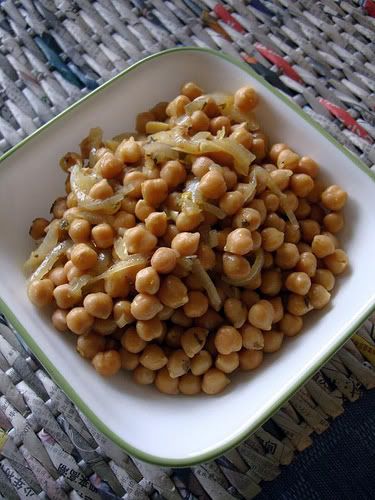 I normally wing it and don't use a recipe, so I had to look up the last recipe I bothered to write down and give someone.
2 cans chickpeas/garbanzo beans, drained and rinsed very well in cold water
2 teaspoons olive oil
1/2 small onion, chopped fine
3 cloves fresh garlic, chopped fine
fresh chives if available, I had to use dried ones but fresh are much tastier
1 teaspoon ginger root powder
1 teaspoon garam masala
dash cumin seeds (because I had some handy, but I don't think they're essential)
the juice of 1 lemon (halve and microwave it for a few seconds beforehand to make it easier to juice)
Deep frying pan or shallow saucepan
Dry-roast the seeds and garam masala over medium-high until fragrant, then quickly turn heat to medium and add oil, spreading it evenly over the pan.
Once the oil is warm, add the drained chickpeas, onion and garlic and toss for a few minutes. Sprinkle ginger powder and dried chives over the chickpeas and stir to coat evenly. When the onions start to take on a golden-brown look and become somewhat soft, turn the heat down to medium-low and add the lemon juice. From there, I just let it simmer for an hour or so. If you're lucky enough to have fresh chives, add them in toward the end.
You can eat it hot or do as I do and stick it in the fridge before attacking it. I love eating it cold.